Excerpts from CGS-CIMB report

Analyst: William Tng, CFA

ISDN Holdings Ltd
Industrial automation outlook still positive


ISDN

Share price:
63 c

Target:
96 c
■ We think ISDN remains keen on growth.
■ In our view, devoting more effort on software solutions could help improve profit margins.
■ Reiterate Add with unchanged TP of S$0.96.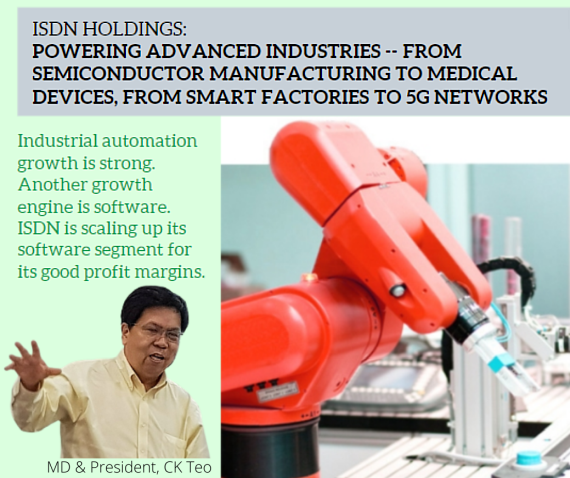 Industrial automation demand remains strong
In its 2021 Annual Report released on 28 Mar 2022, ISDN President Mr. Teo Cher Koon commented that he sees continued demand for industrial automation as countries recover from the Covid-19 pandemic and address rising wage cost by stepping up automation efforts.

ISDN believes that the Asia Pacific factory automation and industrial controls market represents an opportunity of over US$60bn and could grow at CAGR of 10.87% between 2021 and 2026.

Malaysia validates TV white space
On 18 Jun 2021, ISDN announced a partnership with Whizpace Pte Ltd (unlisted) to deliver wide-area Industry 4.0 and Internet of Things (IoT) solutions globally.

We note that, on 5 Mar 2022, the Malaysian government announced that that it will deploy TV white space technology to provide high-speed internet connectivity to students and villagers living in rural areas in Malaysia.

Software is the path to better margins
In our view, the next stage of development for ISDN is to increase the contribution of software solutions in its revenue mix.

As software tends to be scalable and offer better margins, we think devoting more efforts to the software side could help improve margins.

We note that ISDN incorporated a subsidiary in China in Aug 2021 to offer technical service, technical development, software development, artificial intelligence application software development, network and information development, sales of electronic products and industrial computing solutions.


Reiterate Add
We reiterate our Add call on ISDN with an unchanged TP of S$0.96, which is based on 12.3x FY23F EPS.

Our 12.3x target P/E multiple is 2 s.d. above ISDN's FY17-21 historical average forward P/E of 7.9x.

Potential re-rating catalysts include earlier profit contribution from its hydropower segment.



Downside risks include a prolonged Covid-19 outbreak, leading to travel restrictions that could affect ISDN's ability to service its customers.

Full report here.