Excerpts from Phillip Securities report

Analyst: Vivian Ye

A-Sonic Aerospace Ltd was listed on the Catalist in 2003 as a supplier of aircraft systems and aerospace components. Today, the company is mainly engaged in logistics. It operates in 29 cities in 15 countries, spanning four continents in Asia, North America, the Indian subcontinent and Europe. Around 75% of freight forwarding is wholesale and 25% retail (or end to end delivery). Margins are higher for retail due to additional service provided including warehousing, truck, custom clearance, insurance, etc.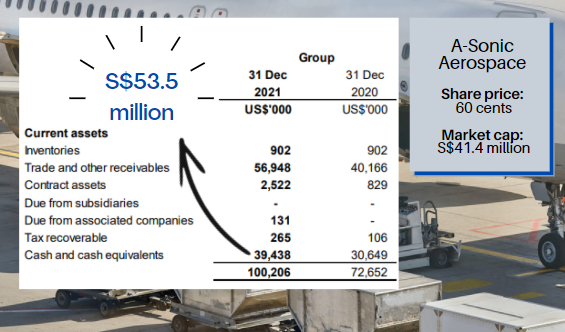  A-Sonic is involved in freight forwarding of cargo via sea and air. China, including Hong Kong SAR, accounted for 74% of FY21 revenue.

 2H21 PATMI jumped 127% YoY to US$3.4mn on the back of an 85% surge in revenue. Freight forwarding rates have surged due to the lack of supply. Customers are more price inelastic as availability and securing slots more critical.

 The share price is trading at a 24% discount to net cash and 31% discount to book value. Dividend yield is 8.9%

Trading below cash. The balance sheet is very strong, with net cash of US$39.4mn.


Y/E Dec, USD (mn)

FY19

FY20

FY21

Revenue

206.1

269.4

461.1

EBITDA

5.7

9.9

12.3

PATMI

2.5

6.3

6.6

Diluted EPS
(SGD cents)

5.9

14.9

13.8

P/E (X)

13.7

4.0

4.3

Dividend yield

1.7%

0.6%

8.9%

ROE

9.4%

18.2%

15.3%

ROA

3.9%

8.0%

6.2%

Source: Company, PSR
The share price is trading at a 24% discount to net cash and 31% discount to book value.

Assuming all warrants are delisted, final number of shares listed would amount to 73,097,289 shares, and market capitalisation would increase to S$43.5mn, according to last closing price of S$0.595.

This marks a 6% increase compared to the current market cap. Market cap would then be at a 19% discount to net cash, still very undervalued.

Dividend yield of 8.9% in FY21. In FY21, the company declared a special dividend of 4.8 Scts/share, on top of a final dividend of 0.5 Scts/share.

This implies a dividend yield of 8.9% and payout ratio of 34%.


FY20

FY21

Final

Interim

Final

Special Final

0.375

0.5

0.5

4.8

Since resuming profitability in FY18, dividend payout ratio and yield averaged 21% and 3.2% respectively.

With strong cash generation and a robust balance sheet, consistency in dividend payments is expected.

Full report here