Excerpts from DBS report

Analysts: Wei Le CHUNG and Lee Keng LING

Poised to re-rate higher

What's New
• Higher PE peg of 15.0x to reflect our belief of a higher re-rating of the stock


AEM

Share price:
$4.95

Target:
$6.04
• Higher revenues in FY22-23F on the back of significant investments from its key customer

• Next generation of handlers to be a key driver of growth in FY22F

• Maintain BUY with a higher TP of S$6.04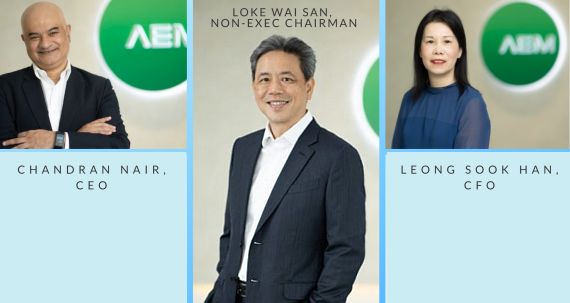 Investment Thesis:
Poised to re-rate higher on strong industry momentum. AEM's share price has a strong positive correlation with the US semiconductor equipment billings, which is one of the indicators of the industry's strength.

Despite 25 consecutive monthly (y-o-y) increases, preliminary estimates for October indicate a 41.3% y-o-y rise.

We believe AEM is in a strategic position to benefit from its key customer and industry uptrend, and could re-rate higher.

Key customer's capex indicates a strong outlook for AEM. Intel, AEM's key customer, believes that the semiconductor industry could double its market size to US$1tr by 2030.

It is ready to commit significant investments to ensure that it is at the forefront and we believe that this will translate into higher revenues for AEM in FY22-23F.

Near-term key catalyst – ramp-up of next generation of handlers to its key customer. In the semiconductor industry, investments in the back-end typically lag the front-end by several quarters.

After procuring front-end equipment, AEM's key customer has begun to ramp up its next generation of test handlers and we believe that this will be one of the key drivers of AEM's growth in FY22F.


Valuation:


Maintain BUY with a higher TP of S$6.04. We are raising our TP as we lift our FY22F PE peg to 15.0x and increase FY22F earnings by 11%.

Our higher PE peg is at a c.12% discount to peers. Where we differ: We are more optimistic on revenue and earnings growth.


Key Risks to Our View:
Single-customer concentration risk, geopolitical event.

Full report here.