Investors with healthcare industry backgrounds are putting up money through a share placement to support the growth of the new healthcare and e-commerce business of Metal Component Engineering (MCE).


MCE stock price

5.5 c

52-week range

2 - 10.4 c

PE

-

Market cap

S$24 m

Shares outstanding

437.6 m

Dividend
yield

-

1-year return

129%

Source: Yahoo!
They include Dr Lim Cheok Peng, the well-regarded former CEO of Parkway Holdings and former Managing Director of IHH Healthcare Berhad.


His investment vehicle, Kessler Investment Holding, is subscribing for 8,200,000 shares for $405,9000, or 4.95 cents a share.

Another investor is Mr Yong Yean Chau, the CEO of Parkwaylife REIT. He is subscribing for 17,000,000 shares for $841,5000.

His subscription is the largest of 15 subscribers who are investing $3.3 million for 66.53 million shares in total.

Catalist-listed Metal Component Engineering, long a metal stamping business, started diversifying into healthcare this year. (See: Will this company get new lease of life? In healthcare/e-pharmacy venture?)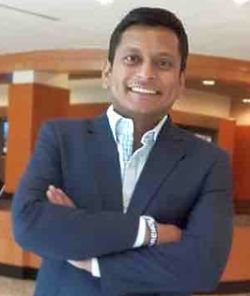 Chief Investment Officer of MCE, Mr Ahillan Pupalasingam (photo), said: "We are grateful to the new group of investors who believe in our growth story and coming onboard through their investments. MCE has progressed well to realise its vision of creating an integrated digital healthcare platform and we want to further leverage on our assets to be well placed in South East Asia.

"The funds raised will support Gainhealth's ePharmacy expansion, further deployment of MedTel smart devices to healthcare providers and initiatives into new businesses such as clinical nutrition via our recently incorporated Gain Foods Pte Ltd.

"All further new investments will be synergistic to our current assets with the intention to maximise shareholder value. We are also looking at opportunities to replicate our model in new markets like Philippines and Vietnam as well."

• Recently, MCE (through its wholly-owned subsidiary, 5Digital Pte Ltd) entered into a conditional sale and purchase agreement relating to an investment in PT Gaido Digital Medika on 14 October 2021, to create specific opportunities in the West Java region where its JV partner, the Gaido group is well entrenched.

This will accelerate the Company's smart hospital and ePharmacy initiatives into the Indonesian healthcare market.

• On 29 October 2021, the Company (through 5Digital Pte Ltd) also entered into a share subscription agreement relating to an investment in MedTel Healthcare Private Limited to provide a valued addition to MCE's healthcare plans.

For more info, see company announcement here.