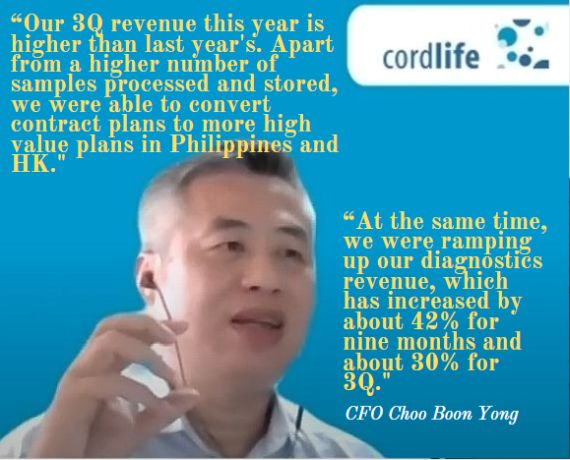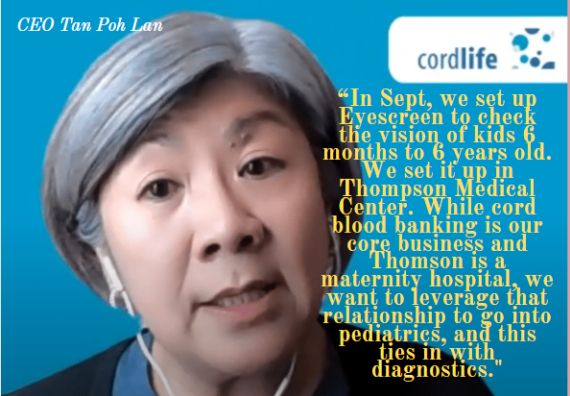 More info: https://eyescreen.cordlifetech.com/eyescreen-at-a-glance#


Excerpts from SCCM (SooChow CSSD Capital Markets) report on Cordlife

Analyst: Simeon Ang

3Q21 results saw uptick; Visit to RCS sales booth

9M21 revenue/NPAT met 65%/93% of our trimmed expectations as CLGL saw quarterly growth in overall performance.


Cordlife

Share price:
39.5 c

Target:
47 c
Headline 3Q21 revenue grew 9% YoY to S$12.7m, driven by both banking (+7% YoY) & diagnostics (+37% YoY) segments.

Nonetheless, we believe that FY21E will continue to be a challenging year for CLGL, with a potential for a stronger recovery only in FY22E.

Our TP of S$0.47, derived from LTV of CLGL clients and DCF, valuing CLGL at an undemanding 7.1x FY22E ex-cash P/E. Maintain BUY.

 3Q21 results saw an uptick: 9M21 revenue/NPAT continued to be battered by Covid19, slipping 5%/14% YoY, respectively to S$35.9m/S$4.3m or 65%/93% of our trimmed FY21E estimates.

Notwithstanding, 3Q21 revenue grew 9% YoY (2Q21: +1%) to S$12.7m.

This was attributable to resumption of revenue growth in banking (+7% YoY) as well as continued strength in diagnostics (+37% YoY).

3Q21 gross margin also expanded 3.7ppt YoY to 64.1% likely due to growth in banking revenue as well as successful PH client conversions towards higher-value banking plans.

3Q21 NPAT was 26% YoY lower at S$1.8m, likely due to lower government grants.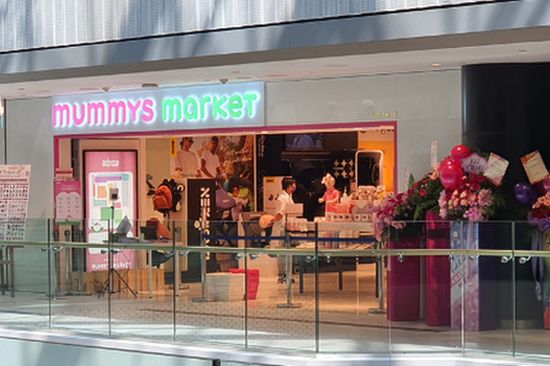 Level 3, Raffles Shopping Centre.
https://www.mummysmarket.com.sg/first-retail-store

 Site visit to Raffles City Singapore (RCS) sales booth: Management shared that it had recently opened a point-of-sales presence at RCS, level 3, inside Mummy's Market.

We visited on a weekend where we observed significant shopper traffic to Mummy's Market but failed to see any activity at CLGL's space.

This could potentially be due to scheduling issues and/or difficulty in securing resources.

Nonetheless, we believe that the presence could prove to be a strong sales conversion channel in lieu of mega exhibition events that were previously held at Singapore Expo.

 New shareholders could provide new impetus/guidance: Based on exchange filings, CLGL saw married trades for 71.5m shares at S$0.52 apiece (S$37.2m) between Hon Kwok Lung (vendor) and TransGlobal (acquirer).

In line with the trade, CLGL is expected to see the replacement of two directors on its board. TransGlobal is 50:50 held by Lui Yim Sheng and Yiu Chi Shing and is in the real estate business.


Reiterate BUY, TP S$0.47/share. We maintain TP of S$0.47/share, which values CLGL at 21.6x FY22E P/E or at an undemanding 7.1x ex-cash P/E.

Recall our valuation takes into consideration the lifetime value of CLGL's clients of SGD124.08.

Our FY22E forecasted cash and near-cash assets amounts to SGD81.5m or c.75% of current market cap.

A key risk to our forecasts would be further lockdowns across key markets, affecting both parents' willingness to have babies and reducing marketing channels.