Excerpts from KGI report

Analysts: Megan Choo & Tan Jiunn Chyuan (Kenny)

• 2020 – Strong results despite Covid-19 woes. ISDN reported top line growth of 24.4% YoY while the bottom line more than doubled from FY19, mainly due to a significant increase in gross profit, coupled with prudent cost controls and increase in other income.


ISDN

Share price:
73 c

Target:
85 c
• 1Q21 – Latest financials remain strong. 1Q21 sales rose 23.4% YoY and PATMI almost doubled YoY, mainly contributed by the strong rebound in PRC's sales.

• Sales momentum to continue. Sales to PRC is expected to grow in light of Sino-US tensions. Coupled with the growing trend in industrial automation, we expect a continued boost to ISDN's top line.

• Super Wifi. ISDN embarked on a strategic partnership with Whizpace in 2021 to penetrate into wide-area industries and offer automated industrial solutions.

• Maintain OUTPERFORM with new TP of S$0.85, a 15.1% upside from Friday's close. We update cost estimates and our hydropower business forecast and raise revenue growth forecasts for ISDN's side businesses.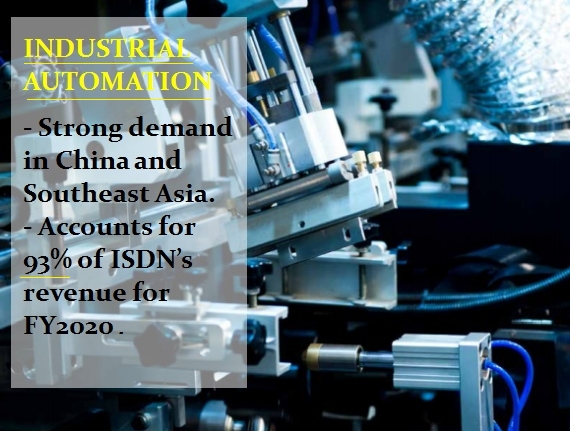 Forecasts: Major forecast adjustments pertain to hydropower plants, where we estimate 4Q21 tariff revenue for Sisira and Anggoci upon expected completion.

For FY22, we estimate tariff revenue from Lau Biang plant in 2H22 assuming completion in 1H22, as well as full year tariffs from Sisira and Anggoci.

Upon completion of all 3 plants by end FY22, full tariff revenue is expected to be recognised in FY23.


Valuation & Action: At 14x P/E, our updated 12M TP is now S$0.85, a 15.1% upside from Friday's close price.

We maintain our OUTPERFORM recommendation.

Further upside catalysts to come from the growth in Motion Control sales which is spearheaded by semiconductor growth in PRC, as well as from the collaboration with Whizspace for Super-Wifi.

Risks: Further delays on hydropower projects, order book delays, trade receivable write-downs, FX losses.

Full report here.