Excerpts from CGS-CIMB report

Analyst: Ong Khang Chuen, CFA
Too cheap to ignore
■ 3QFY6/21 NP of S$34.3m (a 56-fold increase yoy) was in line, despite logistical disruptions which continued to hamper sales volume.


UG Healthcare

Share price:
65.5 c

Target:
$1.20
■ Earnings could continue on an uptrend in 4QFY21, as production capacity growth offsets a gradual decline in ASP.

■ UGHC trades at an undemanding valuation of 5.4x CY22F P/E, and backed by net cash of S$50m.

Maintain Add, with a DCF-based TP of S$1.20.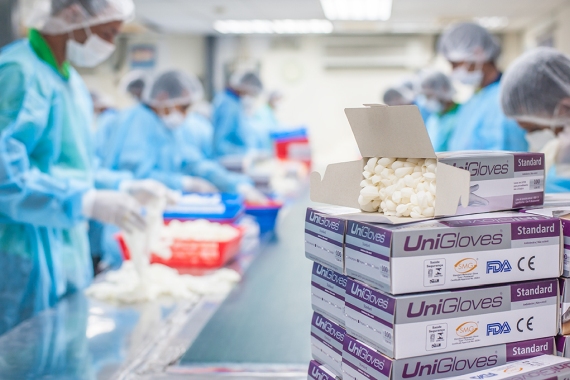 3QFY21: Stronger margins offset topline weakness UG Healthcare Corp's (UGHC) 3QFY21 net profit of S$34.3m (+6% qoq, a 56-fold increase yoy) was in line with expectations.

9M21 net profit made up 77% of our FY21F. Despite continued logistical disruptions and shipping delays which caused lower revenue recognition in the quarter, margins surprised on the upside

We understand utilisation rate of UGHC's production plans remained optimal (90-95%) during the quarter, and the higher inventory level (c.S$70m as of end-Mar) will be progressively recognised in coming months with gradual easing of shipping delays.

Gradual tapering off in ASPs
Given the increase in global glove supply with incoming capacity from new and existing glove makers, we understand that glove prices have generally started to taper off since Mar.

UGHC's ASPs is expected to normalise at a slower pace in 4QFY21 compared to peers, as we believe its original brand manufacturing (OBM) model allows it to have more control over pricing.

Our FY21F forecast remains intact as we had previously factored in monthly ASP declines since Apr; we continue to expect UGHC to report a stronger profit sequentially in 4Q as production capacity growth offsets the negative impact from ASP decline.

On the lookout for further capacity expansion
Capacity expansion of 500m pcs/annum came on stream since Apr 2021, and the new factory for additional 1.2bn pcs/annum capacity should be fully commissioned by end-Sep.

Post which, UGHC's total manufacturing capacity will reach 4.6bn pcs/annum (+59% yoy).

Leveraging on the industry's favourable demand-supply dynamics and UGHC's strengthened balance sheet (net cash of S$50m as of end-3QFY21), we see the possibility of further production capacity expansion in CY22F.


Reiterate Add with DCF-based TP of S$1.20

Ong Khang Chuen, CFAMaintain Add as UGHC continues to enjoy tailwinds of higher glove prices, and valuation is undemanding at 5.4x CY22F P/E, supported by net cash of S$50m.

However, in view of the inflection in selling prices, we switch to a DCF valuation methodology to better reflect earnings normalisation in coming years.

Our TP is lowered to S$1.20, implying 9.9x CY22F P/E.

Re-rating catalysts include stronger-than-expected demand for gloves; downside risks include steeper glove pricing decline.


Full report here.