Many areas of the life and health insurance ecosystem are in flux or are ripe for disruption. It's in those areas that new opportunities will arise.

Digital brokers and expert advisers that connect customers with product providers have evolved significantly over the past two decades.

Customers increasingly use aggregators at the start of their buying journey, to get an overview of the market, and at the end, make purchases directly from the aggregator rather than the product provider.

The ramifications from purchasing the wrong insurance can be devastating – a wrong purchase could set you back on a huge sum of money and expose you to risks that you thought you had mitigated.

Given the myriad of insurance companies and plans available in the market, buyers are often presented with too many choices and they often encounter a difficult time making a decision.

To make things worse, insurance terms and jargons are almost impossible to grapple with, for many ordinary folk.
Prices of insurance plans also vary from person to person depending on their personal profile, leading to non-transparent pricing and prohibiting buyers from comparing prices across different insurance providers and plans.

This is where an insurance aggregator brings value to buyers.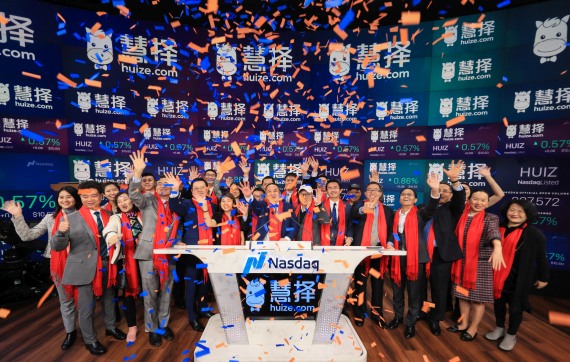 Huize listed on Nasdaq in Feb 2020, with a price of US$10.50 per American Depositary Share (ADS). Photo: Company
Founded in 2006 and based in Shenzhen, China, Huize Holding Limited (NASDAQ: HUIZ), or more widely known as Huize, is an independent online product and service platform in China with a focus on long-term life and health insurance.


Founder, CEO, Chairman
Founder Cunjun Ma has been chairman of the board of directors and the CEO of Huize since its inception. He has over 23 years of insurance-related experience, and holds exceptional insurance expertise and insights that have considerably contributed to the fast growth and unique corporate culture of the company. He founded Shenzhen Huize Internet Insurance Agent Co., Ltd. in 2006 and worked as its general manager until June 2011. Prior to that, he was the head of a subsidiary of Hua An Property Insurance Co., Ltd. for two years. He worked in Shenzhen branch of Ping An Property Insurance Co., Ltd. from August 1995 to February 2004. Mr. Ma obtained an MBA degree from Nankai University.
Huize cooperates with over 70 insurance partners, representing a substantial portion of all licensed insurance companies in China and offering more than 1,000 insurance products.

Huize allows its clients to compare and purchase insurance products according to their different risk preferences and obtain electronic insurance after payment.

Amongst the 279 life and health insurance products and 1,073 property and casualty insurance products offered by Huize in 2019, the organisation can recommend insurance products that are best suited to the needs of clients.

Huize offers one-stop integrated insurance services, via its online platform, covering insurance information and consulting, risk assessment, insurance planning, online purchase, intelligent underwriting, policy preservation and claims assistance.

To best service and assist its clients, Huize has a team of 760 consultants, sales and marketing professionals.

Huize was the largest independent online long-term life and health insurance product and service platform in China in 2018, as measured by gross written premiums ("GWP") and enjoys a 24% market share. Huize is well-positioned to capture the tremendous growth potential of China's insurance market, which is projected to reach RMB6.9 trillion by 2023, a CAGR of 13% from 2018 and 2023.

As of June 30, 2020, Huize boosted 6.5 million accumulated effective users and have insured 54.4 million. Also, Huize's proprietary technology platform allows it to tap on its massive multi-dimensional user data, enhancing its capabilities in risk analytics, customer segmentation and product design. Consequently, Huize is well-positioned to cooperate with its insurer partners to design and develop tailor-made insurance products.

As a result, in 2019, tailor-made insurance products contributed approximately 36.3% of the GWP facilitated on Huize's platform. (GWP: gross written premiums, the total premium - direct and assumed - written by an insurer before deductions for reinsurance and ceding commissions.)

Whenever a client purchases an insurance policy facilitated by Huize, it earns commission fees without having to bear any investment or underwriting risks, and Huize earns a larger commission fee on tailor-made insurance products.

Huize has signalled that it would continue to invest in technology such as data analytics and machine learning and have raised USD$55.1 million in an initial public offering on the Nasdaq. In the second quarter FY2020, research and development investment grew by 41.9% year-on-year to RMB10.6 million.


Stock price

US$7.37

52-wk range

US$4.83-
$14.80

Market cap

US$383.2 m

PE

--

Dividend yield

--

Shares outstanding

44.46 m
Recently trading at US$7.37, Huize is valued at US$383 million and has a robust liquidity position of approximately US$63 million as of June 30, 2020, enabling it to take advantage of potential M&A opportunities, or to carry out vertical integration.

Being asset-light, Huize can nimbly diversify into other insurance products to improve its product mix whenever necessary. Since the fourth quarter of 2019, Huize has been scaling up sales of annuity insurance products to cater to an increased demand.
R

ecognising its growth potential, Citibank maintains a 'BUY' rating on Huize with a target price of USD$10.60, representing an upside of approximately 44%.
Using the Price to Sales ratio places Huize at a more attractive valuation than its peers.

Its peers listed on NASDAQ and NYSE, GoHealth and SelectQuote, have a P/S ratio of 4.0 and 3.6, respectively.

Huize's P/S ratio stands at 2.1.
(P/S ratios quoted are forward-looking Bloomberg estimates.)