Excerpts from UOB KH report

Analysts: Nicola Ho & Jonathan Koh, CFA
Frasers Hospitality Trust (FHT SP)
Resumption Of Domestic Travel Provides Catalyst For Recovery
FHT provides exposure to a global hospitality portfolio with geographical diversity of 15 quality assets across nine key gateway cities in Asia, Australia and Europe.


Frasers Hospitality

Share price:
$0.450

Target:
$0.58
We see potential for recovery in domestic travel in Australia and the UK.

In particular, the UK will establish travel corridors, which will usher in tourists, especially from continental Europe.

Initiate coverage with BUY. Our target price of S$0.58 is based on DDM (cost of equity: 7.5%, terminal growth: 1.8%).

WHAT'S NEW
• Australia: Interstate travel gradually recovering. New South Wales and Victoria have lifted restrictions on interstate travel since 1 Jun 20.


"Frasers Hospitality Trust's (FHT) three hotels in Sydney, Novotel Sydney Darling Square, Sofitel Sydney Wentworth and Fraser Suites Sydney, will benefit from the recovery in domestic travel, which accounted for 74.5% of all visitations to Sydney in the year ending Jun 19."
-- UOB KH report
Queensland has reopened its borders on 10 Jul 20, followed by South Australia on 20 Jul 20.

The government aims to complete the three phases to reopen the economy by July. Qantas and Jetstar have ramped up domestic flights in July, in time for the school holidays.

Domestic travel suffered a temporary setback when Melbourne re-entered a 6-week lockdown on 7 Jul 20.


• UK: Hotels reopened and ready to welcome tourists. Hotels in the UK, along with pubs and restaurants, were allowed to reopen starting 4 Jul 20.

Domestic travel has recovered gradually since households were allowed to go on day trips by driving during phase two of the reopening in May 20.

Budget airlines, such as EasyJet and Ryanair, have increased capacity for domestic and international flights.

The government is finalising a series of travel corridors where international arrivals need not self-isolate. This will pave the way for a return of tourists, especially from continental Europe, in 2H20.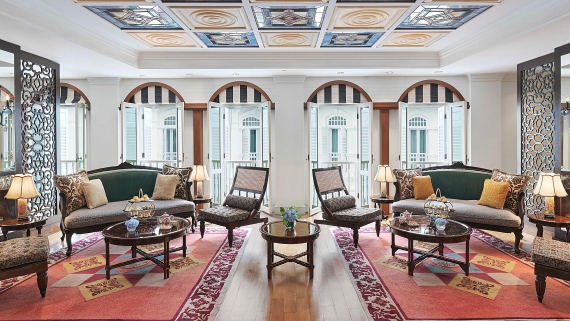 Intercontinental Hotel Singapore (406 rooms) is one of the 15 hotels in 6 countries under the Frasers Hospitality Trust. Photo: Company

• Singapore: Staycation provides some reprieve. Visitor arrivals to Singapore dropped 85% yoy in March and hit a historical low of 748 in Apr 20.

Hotels can now apply to the Singapore Tourism Board to resume providing accommodation for leisure purposes.

Singaporeans on staycations will partially mitigate the drastic fall in foreign visitors. For the Singapore portfolio, fixed rents of S$15.7m per year represented 50.3% of gross revenue from Singapore in FY19.


STOCK IMPACT


• FHT provides attractive distribution yields of 4.3% for FY20 and 6.1% for FY21. FHT's yield spreads are 3.6% for FY20 and 5.2% for FY21, above the 0.9% yield for 10-year Singapore government bonds.



EARNINGS REVISION/RISK


• We forecast DPU of 1.97 S cents for FY20 and 2.78 S cents for FY21.

VALUATION/RECOMMENDATION
• Initiate coverage with BUY. FHT provides distribution yields of 4.3% for FY20 and 6.1% for FY21.

FHT is trading at a 36% discount to NAV per share of S$0.71. Our target price of S$0.58 is based on DDM (cost of equity: 7.5%, terminal growth: 1.8%).

SHARE PRICE CATALYST
• Faster-than-expected easing of social distancing restrictions in affected countries.
• Domestic travel and staycation demand gains momentum.
• Earlier resumption of domestic and international flights.


Full report here.