Minority shareholders of Singapore eDevelopment (SeD) at an EGM last week okayed the sale of a wholly-owned subsidiary valued at US$
382
million by an independent valuer
,
Destum Partners.


The deal -- essentially a share swap -- was set at US$50 million, which looks incongruous with the valuation.

But the subsidiary in question, Impact Biomedical, has a suite of biomedical technologies that are largely in early-stage development.

That means they may never commercialise in the worst-case scenario, or they may become blockbusters, or somewhere in between those two extremes.

And the timelines are another key uncertainty.

The valuation, thus, was premised on many assumptions, not forgetting the large sums of money that will need to be raised to fund further R&D or steps towards commercialisation of the technologies.

SeD is selling to a NYSE-listed company, Document Security Services (DSS), whose shareholders will vote on the proposed transaction next month (July 2020).

Post-sale, SeD actually continues to be exposed to the fortunes of Impact Biomedical because the transaction is done through a share swap.

If all goes well, DSS will issue 14.5 million new shares valued at US$3.1 million and 46,868 convertible preferred stock valued at US$46.868 million to SeD.


Stock price

9.4 c

52-week range

1.9 – 10.8 cts

Market cap

S$115 m

PE

--

Dividend yield

--

1-year return

309%

Shares outstanding

1.23 b

Source: Yahoo!
Already, this potential allocation of DSS shares and preferred stock is valued at close to SeD's market capitalisation of around S$115 million (US$82 million).

Consider the recent DSS trading price range of US$8-10 per share.

The value of SeD's stake in DSS then ranges from US$61.7 million to US$77.2 million.

Theoretically, if all the DSS convertible stock were exercised into ordinary shares, SeD would control a massive 78.7% of DSS' expanded share base.

Aside from the future progress of Impact Biomedical itself, SeD likely will enjoy upside through a successful listing of Impact Biomedical on a US stock exchange.

DSS has plans for the IPO. The timeline has not been announced yet.


Let's switch our attention to DSS. Surprisingly, it itself is no giant – its market cap is below US$20 million and has been loss-making for several years.

DSS reported US$19.4 million in revenue and US$2.9 million in net loss in 2019.

Its current core business is not related to biomedical.

For over 15 years, DSS has protected corporations, financial institutions, and governments from sophisticated and costly fraud. DSS' innovative anti-counterfeit, authentication, and brand protection solutions are deployed to prevent attacks which threaten products, digital presence, financial instruments, and identification.

(For more information on DSS visit http://www.dsssecure.com).


DSS is a shareholder of SeD, owning 7.0% of SeD stock.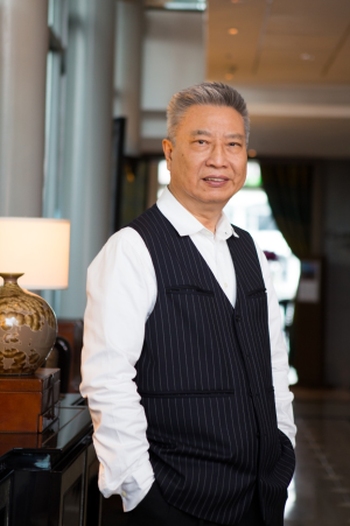 (Photo: Company)





Mr Chan is a self-described expert in financial engineering and a restructuring expert who has restructured more than 35 companies in over 40 years.





He is also a self-described "unicorn maker" and "game changer", among other things, on his website

(
http://fai185.com:8080/)
.



He cites four companies which he created great value at and which he since divested: Heng Fai Enterprises, SingXpress Land, China Gas and Global Medical REIT.





The first three were rescued from near-bankruptcy levels while the fourth one, the REIT, was started from zero and solely funded by Mr Chan.





Today, these four businesses are thriving and have a combined market value of about US$18 billion, and generate more than US$1 billion in profit annually.



The controlling shareholder of both companies is the same person – Chan Heng Fai (72.8% of SeD and 36.8% of DSS).

Mr Chan and his associates had to abstain from voting on the share swap relating to Impact Biomedical.

He is a central figure in the development and direction of SeD and DSS.

In 2014, he had taken over as CEO of the former CCM Group, renamed it Singapore eDevelopment, and disposed its legacy loss-making construction business.

From just 29.8% in 2014, his stake has risen to 72.8%.

Mr Chan's involvement with DSS was also by design.

He sought an entry into a US stock which was liquid and could be a platform for acquisitions and projects in the US that SeD could take part in.

Sometime back, he bought 1,000 shares of DSS, and kept accumulating the stock. He was given a board seat in 2017 and appointed Chairman in 2019.


Yet another IPO in the making
It's not just the Impact Biomedical deal that DSS and SeD have been working on. They have stitched together another mega deal.

They are stakeholders in a JV that will create a REIT, to be known as American Medical REIT (AMRE), for listing in the US.


AMRE intends to acquire state-of-the-art, purpose-built healthcare facilities and leases them to leading clinical operators with dominant market share under secure triple net leases. The company targets hospitals (both Critical Access and Specialty Surgical), Physician Group Practices, Ambulatory Surgical Centers, and other licensed medical treatment facilities
The AMRE management team is also the founding team of Global Medical REIT Inc. (NYSE: GMRE), which Mr Chan was the sole founder of.

He funded the entire Global Medical REIT from zero before listing it on the New York Stock Exchange in 2016, and exited.

Its current market capitalisation is over US$900 million and was recently added to the MSCI U.S. REIT Index

On 3 Feb 2020, two "well-established" investment banking houses were appointed as lead underwriter and co-manager to raise a minimum of USD 60 million for the proposed public offering by American Medical REIT.


The timelines are uncertain but would a successful listing of the REIT – and a listing of Impact Biomedical -- add fizz to the stock prices of both DSS and SeD?

Typically, many investors don't bet against the positive effects of such major milestones when they happen. (Again, the timelines are uncertain).