Fast, safe, convenient and discreet.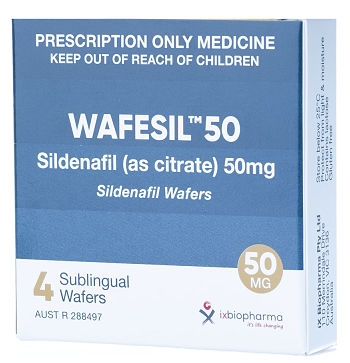 • Wafesil® is a novel dosage form of sildenafil (drug that increases blood flow to the penis to achieve an erection) and the only sildenafil product in Australia which is sublingually administered.

• Wafesil® is formulated using iX Biopharma's patented sublingual drug delivery technology, WaferiX® -- for better absorption and faster onset of therapeutic action.

• Silcap® is the only small capsule sildenafil product in Australia and is an alternative for patients who do not like to swallow tablets.
Telemedicine is coming to the forefront during the Covid-19 era, and through this channel, iX Biopharma said this morning that it has sold more than 4,500 boxes of its male erectile dysfunction products in Australia.

Following the news release, its Singapore-listed shares traded as much as 14% higher at 24.5 cents in the first hour.

Its Wafesil® and Silcap® are supplied to Australian pharmacies and are available to patients by doctors' prescription.

Doctors prescribe the medication after holding online consultations with patients, a novel approach that is disrupting traditional healthcare and recording unprecedented user growth in 2020 in Australia.
An example of a telemedicine platform which prescribes Wafesil® and Silcap® is Pilot, an online men's health platform.


Through its end-to-end service, "more than 4,500 boxes of Wafesil® and Silcap® have been supplied to patients through Pilot's online health platform to-date," said iX Biopharma.


(photo), Director of Corporate and Commercial Strategy of iX Biopharma, said with improved accessibility to phones and computers, "individuals in rural areas and busy urban areas can connect with a healthcare provider with ease. Ms Eva Tan

"We are eager to develop the telemedicine channel for iX products as we believe that after this crisis, these digital health platforms will become a permanent and well-accepted part of the healthcare ecosystem.

"Therefore, we are delighted that despite the current challenges, our sales team is able to identify yet another distribution channel and lay the foundations for growth."
About to enter China, Europe, SG markets
» China: In April 2020, iX Biopharma announced that it had out-licensed the right to distribute Wafesil® in China to Yiling Pharmaceutical Ltd.

Preparations to register Wafesil® in China are underway.

» Europe: iX Biopharma has applied to the European Medicines Agency for the registration of Wafesil® in Europe, where sildenafil (which is the drug for treating erectile dysfunction) can be supplied over-the-counter in certain countries in addition to via prescription.

» Singapore: Silcap® has also been filed for registration with the Health Sciences Authority in Singapore.