Excerpts from Maybank KE report

Analyst: Kareen Chan
Initiate with BUY; Defensive long term


Reinitiate coverage of ComfortDelGro (CDG) with BUY and DCF-based TP of SGD1.99 (WACC: 8.2%, LTG: 1%).
63% of CDG's revenues are secured by contracts.

Hence, every one month extension of the lockdown in Singapore will reduce PAT by just 0.3%, we estimate.

Our FY20/21E dividend payout assumptions of 60% are conservative (vs. 73% 5-year average) and offers 3.3% yield (a 220bps spread over 10-year SG bonds).

FY19 dividend payout ratio of 80% would imply a 4.4% yield.

The pandemic notwithstanding, we believe longer-term public policy and ESG preferences will favour public transport.

Together with a strong track record of accretive M&A in overseas markets, CDG offers significant exposure to this long-term structural theme.

Stable bus-contracting model (BCM)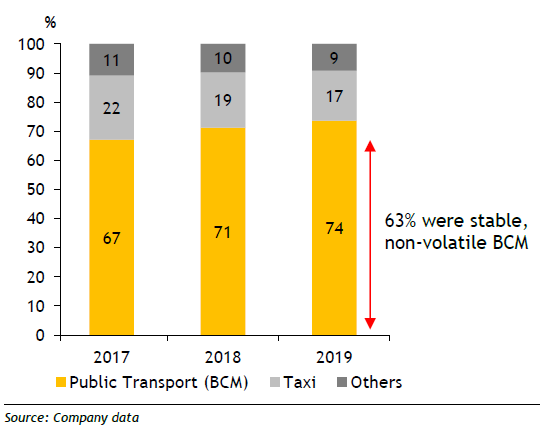 "The bulk of CDG's earnings come from its BCM-based public transport services globally. Over the long run, its earnings base should become more defensive given its acquisition guideline, ie, acquire only operators operating under BCM or a similar scheme."

-- Maybank KE

Increasingly defensive revenue base
63% of CDG's FY19 revenue came from stable, non-volatile BCMs (bus contracting models) that are not affected by volatility in passenger numbers caused by Covid-19.


Primary focus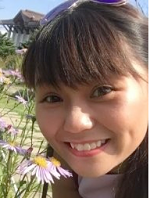 "Overseas revenues have increased from 26% of total revenue in 2003 to 42% in 2019. A primary focus of overseas acquisitions has been ensuring revenue stability. 42% of its acquisitions since 2014 have BCM-like revenue schemes in place, especially in its major markets such as Australia."

-- Kareen Chan (photo),
analyst, Maybank KE
A primary focus of overseas acquisitions has been on public transport operators with BCMs.

We estimate overseas revenues will overtake domestic revenue by 2023E and will further improve earnings visibility and reduce earnings risks through increased diversity.

CDG's SGD1b M&A warchest, implying 25% net gearing, can potentially add 6-21% to our base case TP.

Management is comfortable with up to 40% net gearing.

Taxi, train risks are 'known unknowns'
We estimate every one month extension of the lockdown would reduce PAT by only 0.3%.

We note that in Singapore, new infection rates have fallen 53% from their peak.

As a result, if the lockdown is not extended this would be an upside catalyst.

Competition between taxis and private hire super-Apps is moderating as the latter looks to expand in higher margin, non-transportation segments.

In addition, lower fuel costs due to falling oil prices and government subsidies should reduce opex pressure in the near term.


Offers value and structural growth
ComfortDelgro

Share price:
$1.46

Target:
$1.99
Near-term Covid-19 disruptions notwithstanding, we believe longer-term public policy support and ESG imperatives will continue to structurally favour public transport over private vehicle ownership.

Singapore is committed to zero-car growth for example.

CDG offers exposure to this theme, while trading at a 42% P/B discount to its historical mean.

Its balance sheet remains strong and free cashflow will be positive over FY20/21E, thus supporting dividends.

We note that CDG's share price rebounded by 75% and 90% in 8-10 months following SARS and GFC, respectively.

Full report here.