Excerpts from UOB Kay Hian report

Analysts: Lucas Teng & Llelleythan Tan
Slowdown Expected Although Robust Outlook In The Longer Term Remains
The current lockdown in Malaysia adds a further strain as construction materials such as precast components are imported from Malaysia, impacting local supply that may run short.


BRC ASIA

Share price:
$1.10

Target:
$1.65
A slowdown is expected from the effects of the COVID-19 pandemic due to project delays.

BRC's prospects remain robust with the industry recovery intact in the longer term.

We opine that public projects will likely come back into the fray once the virus outbreak subsides. Maintain BUY with a lower target price of S$1.65.

WHAT'S NEW
• Projects' slowdown from COVID-19. BRC Asia's (BRC) management noted that volume deliveries have dropped 5-10% in Feb 20 with the outbreak of COVID-19.

Projects have been delayed and this is largely expected, given the manpower crunch from the lack of China workers at construction sites in the preceding weeks.

Malaysia's lockdown would add a further strain as complementary construction materials such as cement and pre-cast components are imported from Malaysia, and this has affected local supply.

The worst-case scenario would be project cancellations although this appears unlikely for now.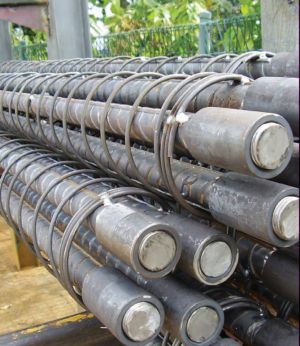 BRC Asia designs, manufactures and markets steel meshes under the BRC brand name.• Weary demand with fewer contracts for now. Public-sector construction contracts awarded have slowed in 1Q20, possibly awaiting favourable operating conditions.

We note that among large contracts awarded, the value accounted for in 1Q20 is only S$690m (as of 24 March), compared to a high of about S$1.6b in the previous quarter.

According to The Business Times, contractors are also increasingly seeking legal advice for relief on expected delays in construction projects. However, in the longer term, we still expect robust demand from public sector projects, given the pipeline of works commissioned.

• Operating margins still robust; 1QFY20 net profit of S$12.7m, up 106% yoy. BRC's 1QFY20 net profit came in ahead of estimates, forming 35% of our full-year estimate.

Operating profit surged 104% yoy to S$15.5m, with a higher operating margin of 6.8% (4QFY19: 5.0%), contributed by continued cost savings from bulk purchases of raw materials.

STOCK IMPACT

Big infrastructure
"The sector is set to benefit from public-sector projects which make up about 60% of the forecasted demand in 2020, spurred by major infrastructure projects such as the Integrated Waste Management Facility, Jurong Region MRT Line and Cross Island MRT Line, a sizeable proportion in the transport sector. While project awarded appears to be delayed from COVID-19, we opine they will likely come back in the longer term."

-- UOB KH report
• Construction demand possibly delayed although positive outlook remains intact in the longer term. According to BCA forecasts, construction demand barring COVID-19 had been expected to remain strong in 2020, ranging S$28b-33b.

Total construction demand expanded 9.5% yoy in 2019 to reach a 5-year high of S$33.4b. Similarly, steel rebar demand is expected to increase in 2020.

• Downside risks from COVID-19 may linger in progress claims. The prolonged and widespread factory closures in China as well as travel restrictions have affected project progress.

Contractors and builders have renegotiated on project deadlines while some contractors may also be vulnerable to cash flow issues if the situation persists.

We think that herein lies a proportionate risk, especially if smaller contractors fail to achieve their project progress claims and go under, possibly leading to bad debts for BRC.


EARNINGS REVISION/RISK


• Lower earnings for FY20-22 by 2-5%. We factor in slower volume growth and up to two quarters of impact from COVID-19.



VALUATION/RECOMMENDATION


• Maintain BUY with a lower target price of S$1.65, based on 11.5x FY20F PE, pegged to its long-term average mean (excluding outliers of >2SD at 25x).

The exclusion is primarily from the high base in FY17-18.


SHARE PRICE CATALYST
• Strong earnings on the back of construction upcycle.
• More public housing projects.
• Divestment of non-core assets.

Full report here.