With the percentage of its customers in China resuming operations rising to 70-80%, ISDN Holdings is leaving behind the worst of the Covid-19 pandemic behind it.
Market rebound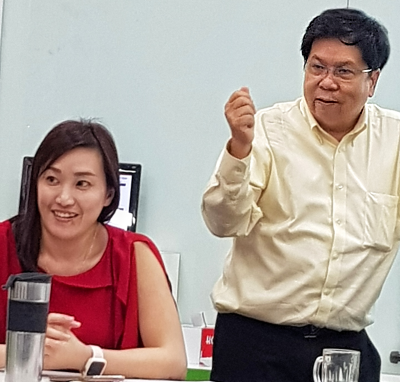 "While global concerns remain, we have observed a rebound in market activity around semiconductors, 5G, interest in energy independence, and Industry 4.0. Looking ahead into 2020, we aim to strengthen our operations and market position to take advantage of the long-term Industrial 4.0 opportunities."

-- CK Teo, ISDN President,
with CFO Christine Ho
(NextInsight file photo)

It is banking on a gradual return of momentum in its business which had seen a jump in 4Q19, its strongest quarter for 2019.

Revenue came in at S$79.3 million in 4Q19, up 22.6% y-o-y and 11.5% q-o-q.

The drivers were its customers in the medical device sector and in the telecommunication and transportation sectors.

They are part of a wide range of industries that ISDN supplies motion control solutions that are used in fully automated or semi-automated production lines.




Revenue in 2019 would have been S$12 million higher if not for:

a) To manage counterparty risk, certain sales accounts were deliberately not renewed resulting in a decrease of S$5.0 million sales.

b) Renminbi depreciation lowered sales (reported in SGD) by S$7.0 million.
REVENUE by BUSINESS SEGMENT

Core Industrial Automation

Renewable Energy

Motion Control

Other Specialised Engineering Solutions

Industrial Computing

Renewable Energy

$220.4m
(75.7% of total)

$59.3m
(20.4% of total)

$6.3m
(2.2% of total)

$4.9m
(1.7% of total)

Source: Company
For ISDN, business derived from the medical device sector has been growing in double-digit percentages annually.

It supplies its high-tech precision control systems to manufacturers of devices such as insulin pumps and surgical instruments.

This sector has cushioned ISDN from softness in the electronics and semiconductor sectors.

Done through a JV with Maxon Motor, this business' contribution can be seen in the fact that ISDN reported S$14.2 million in net profit but S$7.1 million in net profit attributable to equity holders.

The other $7 million went to several non-controlling interests such as Maxon Motor.


Margins:


• Gross margin: Annually, ISDN records gross margins in the 25 – 28% range. In 2019, the margin was 26.6%.



• N

et margin: It typically hovers in 4-6% band. In 2019, it was 4.9%.
| | |
| --- | --- |
| BUSINESS SEGMENTS | STRATEGIC PLANS |
| Motion Control | Aim to deliver one-stop-shop services to both equipment producers and system integrators |
| Software Business | Create new business opportunities with the SME owners and MNC Management Teams through implementing digitization and Industrial 4.0 solutions |
| Precision Manufacturing | Services to include external customers built on our machine knowhows and IPs in metal injection moulding |
| System Solution (Mechatronic) | Provision of module and sub modules to be part of the approved supply chain for machine builders |
| Renewable Energy | Developing mini hydropower plants to spin off at the right time |
Stock price

16.1 c

52-week range

14.8 – 25.5 c

PE

9.5

Market cap

S$69 m

Shares outstanding

429.6 m

Dividend
yield

2.7%

One-year return

-36%

Source: Yahoo!

On 16 March 2020, Assetraise Holdings, which is jointly owned by Mr CK Teo and his wife, bought 315,000 shares of ISDN at 15.0676 cents on average from the open market.
Operationally, ISDN said it made good progress with consolidating its engineering and administrative operations to unlock cost efficiencies and grow engineering capabilities at scale.

These activities will continue through 2020 as ISDN unlocks further cost efficiencies while growing its long-term technology capabilities.

Strategically, the Group made prudent investments to advance its long-term growth prospects.

It established the ISDN Software business, and invested in Metal injection opportunity.

These focused growth directions allow ISDN to increase high-value capabilities delivered to customers, and participate in attractive revenue models such as software subscription, service and intellectual property sales.

Novo Tellus, a private equity firm, last year bought a 8.9% stake in ISDN last year, and is the second largest shareholder after Mr Teo.

See also Powerpoint presentation here.