Excerpts from Maybank Kim Eng report

Analyst: Lai Gene Lih, CFA

Continues to outperform
Strong FY19 beat; raises FY20 guidance; BUY
AEM's 4Q19 net profit of SGD16.7m (+281 YoY%/ +22% QoQ) was a strong beat, largely driven by key customer Intel.
AEM

Share price:
$2.25

Target:
$2.82
FY19 net profit of SGD52.9m (+58%) accounted for 120%/ 117% of our/ street estimates.

We raise FY20-21E EPS by 6-12% to factor in management's update to FY20 revenue guidance, now at SGD360-380m from SGD330-350m previously.

ROE-g/COE-g TP rises to SGD2.82, on unchanged 3.8x blended FY20-21E P/B.

We see potential for further guidance raises as a catalyst. BUY
4Q19 revenue grew 125% YoY/ 6% QoQ, primarily driven by strong sales to Intel across all product lines and consumables.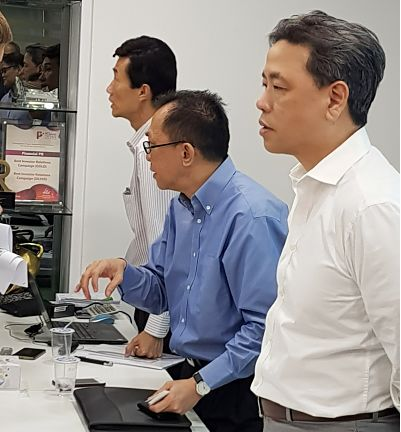 L-R: CFO Soh Wai Kong | CEO Chok Yean Hung | Executive chairman Loke Wai San.
NextInsight file photo.Further, other segments, such as MEMS (+48.7% YoY), SLT-i (+30.8% YoY) and TMS (+101.6%) are also gaining traction with both new and existing customers.

Gross material margin jumped 7.3ppt YoY to 49.9% on the back of favourable product mix.

Management indicate that FY19's gross/ net margin levels of c.40%/ c.16-17% is a fair indicator of what is achievable for FY20.


Drivers of upside; limited Covid-19 impact
To-date, AEM has received order book for FY20 delivery amounting to SGD338m.

Our FY20E revenue is at the mid-point of latest guidance. Drivers of upside may materialise from

i) stronger than expected order momentum in FY20E; and/ or

ii) improving visibility of the traction from new products/ diversification initiatives as FY21-22E approaches.
Structural beneficiary of need to lower cost of test
With 5G, autonomous driving and AI applications driving highly complex chip integration and mission critical performance, AEM believes its sophisticated system level test (SLT) solutions can help customers test chips efficiently and with greater assurance.

According to AEM and VLSI Research, the total addressable market (TAM) of SLT equipment and consumables is expected to enjoy a 2019-24 CAGR of 21.6% to USD3.2b.


Further guidance raises?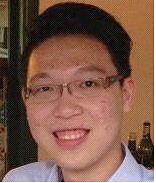 "We raise FY20-21E EPS by 6-12% following AEM's 4Q19 results and latest guidance update. Our FY19 revenue is at the mid-point of the current guidance range.

If the order momentum remains strong, we continue to see a possibility for further guidance raises, especially in 2H20, as current order book already makes up around 90% of the upper end of full year guidance."

-- Lai Gene Lih (photo),
Maybank KE analyst
AEM expects to be a beneficiary of this given its entrenched know-how.

On the Covid-19 situation, management suggested most of its suppliers are Malaysia, Singapore and Japan centric.

Further, components from China are largely non-critical.

As such, a key risk to our view is if the Covid-19 situation worsens to a degree that that disrupts production of AEM and/or its suppliers in these regions.

Final DPS of SGD3.1cts was announced, taking full year DPS to SGD5.1cts (FY18: SGD3.4cts).

Our ROE-g/COE-g TP is based on 3.8x blended FY20-21E P/B, in turn based on average FY20-21E ROE of 34.4%, and LTG of 2%.

Full report here.