Stock price

74 c

52-week range

68 - 80.5 c

Market cap

S$590.1m

PE (ttm)

12.3x

Dividend yield

8.0%

P/B (ttm)

0.9

Shares outstanding

747.4 m

Float

50.0%

12mAve Daily Trading Vol

$632.5K

Source: Bloomberg (25 Nov 2019)
Company Overview


EC World REIT focuses on income-producing real estate used primarily for e-commerce, supply-chain management and logistics purposes with an initial geographical focus on China. As of end September 2019, its portfolio comprised 7 properties in Hangzhou and 1 in Wuhan, across specialised, ecommerce and port logistics assets. Link to StockFacts company page.


1. What are some of EC World REIT's notable developments since listing?
• Since its listing in July 2016, EC World REIT has delivered consistent and predictable performance with quarterly distributions. During the first two years of listing, Distribution Per Unit (DPU) exceeded analysts' forecasts by 0.2% and 1.5% in FY2016 and FY2017 respectively and in FY2018, DPU grew 2.6% to 6.179 cents.

• FY2019 has been a busy year for EC World REIT where the REIT successfully entered into 3 new master leases with embedded annual rental escalation. In August 2019, it also completed its second acquisition – Fuzhou E-Commerce, a quality sizeable e-commerce logistic asset in Hangzhou, which is DPU accretive and will help to increase EC World REIT's exposure to China's fast growing ecommerce industry.

2. What are the key milestones achieved for EC World REIT in recent years?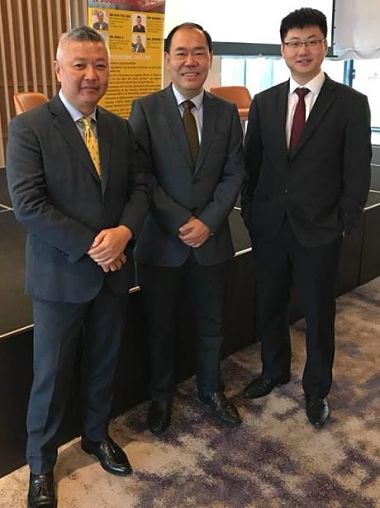 L-R: Johnny Tng, CFO | Goh Toh Sim, CEO | Li Jinbo, Head of Investments, Asset Management and Investor Relations. Photo: GCP Global• The 3 new master lease agreements in FY2019 provide organic growth to its portfolio and extend the portfolio's weighted average lease to expiry ("WALE") by Gross Rental Income to 4.3 years as at 30 Sep 2019. According to our findings, we believe this is one of the longest WALE amongst industrial REITs in Singapore.

• In 2018, we made our first acquisition of a 3rd party asset – Wuhan Meiluote, an e-commerce warehouse. It is leased to reputable logistics and e-commerce tenants such as JD.com and Dangdang. Along with our second acquisition (Fuzhou E-commerce), both were DPU and yield accretive, providing resilient and stable distributions to Unitholders.

• Successfully refinanced loans due in July 2019 and entered into new facility agreements to acquire Fuzhou E-Commerce, and to finance EC World REIT's working capital at competitive rates.


3. EC World REIT is heavily focused on China, are there any plans to diversify into other Asian markets?
• While China remains as a core focus due to its rapidly expanding e-commerce sector, the REIT is constantly sourcing for high growth opportunities outside of China to maintain attractive yield and consistent returns for unitholders.

• The Sponsor, Forchn Holdings Group, operates a private fund in Singapore to focus on building logistics assets within Southeast Asia, with the aim of expanding its operations into Southeast Asia and forming a pipeline for the EC World REIT. The Sponsor is closely monitoring developments of the e-commerce sector as well as demand and supply dynamics in countries such as Vietnam and Indonesia.

4. How do you think EC World REIT will be affected by US-China trade tensions, given that its key market is in China?

• EC World REIT's underlying tenants' operations are also likely to stay resilient due to their focus in China's domestic operations, and are expected to be resilient despite heightened trade tensions.

• Our port logistics assets includes the Chongxian Port Investment, a leading inland river port which handles domestic import of steel materials within the Hangzhou area.

• China's online retail sales continued to grow, with 17.8% year-on-year increase in 1H2019, according to China's National Bureau of Statistics. This is fueled by a rise in disposable household income, up from RMB 21,966 in 2015 to RMB 28,288 in 2018, representing a CAGR of 6.5%.

• Despite the unfavourable export environment, EC World REIT believes that domestic consumption in China is set to grow and the e-commerce logistic sector is poised to benefit from this trend.

5. What is EC World REIT's acquisition strategy? What are some considerations when making strategic investments?
EC World REIT focuses on value creation for its unitholders through a multi-pronged strategy:

• Active Asset Management:

Deliver positive rental reversion, actively manage lease expiries and proactively conduct asset enhancements to achieve healthy return on investment.



• Yield Accretive Investments:

Leveraging on Sponsor's strong business network and private funds, to pursue logistics assets driven by e-commerce, with a core focus in China while being opportunistic in Southeast Asia.



• Prudent Capital Management:

Manage foreign currency and interest rates exposure, diversify capital base and build long term relationships with stakeholders within capital markets.


6. How will the acquisition of Fuzhou E-Commerce add value to the shareholders of EC World REIT?
• Fuzhou E-commerce is an integrated e-commerce logistics asset strategically situated next to the existing asset, Fu Heng Warehouse. This acquisition enhances EC World REIT's operational efficiency by creating a rare and sizable 308,571 sqm logistics hub, catering to the fulfilment of the rapidly expanding e-commerce demand in Hangzhou and China.

• Both the newly acquired Fuzhou E-Commerce and Fu Heng Warehouse are 100% occupied with built-in rental escalations of between 2% to 2.25% per annum, providing a steady stream of income for EC World REIT. The two properties are leased to Ruyicang, a leading e-commerce logistic services provider in China and one of the earliest founder of Cainiao (Alibaba's logistic platform).

7. How does EC World leverage on the sponsor's, Forchn Holdings Group, expertise and market position in China?
• The Sponsor, Forchn Holdings Group, is a diversified enterprise specialising in e-commerce logistics services, real estate, consumer goods, industrials and health & wellness. Along with Alibaba and Fosun Group, it was one of the founding members of Cainiao Network Technology, a joint venture created to transform China's logistics infrastructure through an open, transparent data sharing platform.

• Asset Acquisition & Management - The Sponsor manages four private funds with targeted AUM of c.US$1.2 billion with blue chip partners including Cinda Asset Management.

• Operating Expertise - The Sponsor expanded its operations in the growing e-commerce market by launching Ruyicang more than three years ago. Its clients include large e-commerce and logistics brands such as JD.com, Alibaba, Yunda, Unilever and P&G.

• The Sponsor's experience in e-commerce logistics sector allows EC World REIT to not only benefit from the operational know-how but also offer stable clientele and assured occupancy, while its private funds ensure a robust pipeline of high-quality assets for acquisition.

8. Can you comment on the delivery, logistics & distribution, and e-commerce service industries? Are there any opportunities which EC World REIT can take advantage of?

• EC World REIT's core focus is in China, where the recent boom in e-commerce has fueled the rapid expansion of the logistics and distribution sectors. Online retailers recognize the strategic importance of efficient warehousing and distribution. We believe EC World REIT is well positioned to leverage on this opportunity as a leading operator with assets in prime locations and a comprehensive service capability.

• E-commerce companies are also exploring new business opportunities, amidst intensifying competition. For instance, Alibaba's Ling Shou Tong ("LST") aims to re-invent traditional convenient stores by connecting them with Fast Moving Consumer Goods ("FMCG") brands via a centralized platform, eliminating the need to buy from multiple distributors. As ecommerce companies move beyond the conventional B2C model and into B2B and B2B2C markets, EC World REIT is set to benefit from this trend via the Sponsor's Ruyicang, which provides logistics services to the new LST.

9. Given EC World REIT's key market is in China, how do you manage foreign exchange risks?
• The REIT manager adopts a proactive stance in monitoring foreign exchange movements and has a policy to hedge majority of the expected distributable income on a rolling six months forward basis to ensure sustainable returns. EC World REIT will continue to monitor and review existing policies to ensure stable and consistent distribution for Unitholders.


10. What is EC World REIT's value proposition to its shareholders and potential investors?
• EC World REIT's defensive lease structure provides stability and visibility of future cash flows. We believe that EC World REIT has one of the highest WALE amongst industrial REITs in Singapore. It also has a high occupancy rate of 99.2%, compared to the average of 91.6% across Industrial S-REITs, according to our findings.

• EC World REIT is able to capitalise on the Sponsor's expertise and network in operating e-commerce logistics fulfilment platforms and the REIT manager's extensive track record to ensure sustainable and predictable returns.

• Almost 50% (by net lettable area) of our portfolio is in e-commerce logistics, compared to other Industrial SREITs which focus on traditional warehousing and industrial assets located mostly in Singapore and Australia.

First published on SGX website
10 in 10 – 10 Questions in 10 Minutes with SGX-listed companies
Designed to be a short read, 10 in 10 provides insights into SGX-listed companies through a series of 10 Q&As with management. Through these Q&As, management will discuss current business objectives, key revenue drivers as well as the industry landscape. Expect to find wide-ranging topics that go beyond usual company financials. This report contains factual commentary from the company's management and is based on publicly announced information from the company.

For more, visit sgx.com/research.
For company information, visit http://www.ecwreit.com/