Excerpts from UOB KH report

Analysts: Lucas Teng & John Cheong


1QFY20: Better Days Ahead


ISOTeam announced a 1QFY20 core net profit of S$1.1m, up 44% yoy.


ISOTeam
Share price:
25 c

Target:




34 c
1Q seemed seasonally weaker and we remain optimistic of the group's ability to deliver better performances in subsequent quarters given its record high orderbook.

The acquisition into Pure Group remains fundamentally sound and the group expects to complete the acquisition by the end of Nov 19.

Maintain BUY with an unchanged PE-based target price of S$0.34.


RESULTS
• Seasonally weaker quarter; looking for better days ahead. ISOTeam reported 1QFY20 net profit of S$1.1m, up 44% yoy. Not accounting for the Pure Group acquisition, earnings came in at 17% of our full-year estimates for a seasonally lower quarter.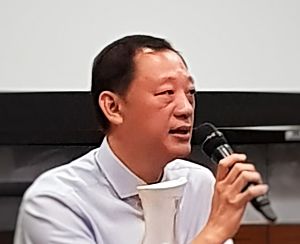 CEO Anthony Koh. NextInsight file photo As a comparison, 1QFY19 formed 12% of our full-year estimate. We remain optimistic of better performances in subsequent quarters, especially given that this can be fulfilled from its high orderbook.

• Flat revenue... 1QFY20 saw revenue growth of 4% yoy, up to S$33.1m. The Repairs & Redecoration (R&R) segment and Coating & Painting (C&P) segments grew strongly, achieving yoy revenue growth of 133% and 54% respectively, but this was partially offset by a weaker Addition and Alteration (A&A) segment.

• … but better net margins on a yoy basis. ISOTeam's net margins increased in 1QFY20 to 4.1% - an improvement yoy (1QFY19: 2.9%) though lower qoq. The better yoy performance was mainly due to lower operational expenses due to higher efficiency from the consolidation of its operations at its headquarters at Changi North.

Admin expenses were kept in check nicely at S$3.4m for the quarter, down 8% yoy.

ESSENTIALS
• Orderbook recording another high. ISOTeam's orderbook recorded another high of S$148.2m as of end Oct 19. New order wins in the quarter included contract works from the transportation sector, through the supply, installation, construction, completion and maintenance of architectural works to Lentor MRT Station.

Given the strong trend in R&R project tenders, we expect the group to continue with contract wins in the near term.

• Slight delay in Pure Group acquisition, but still fundamentally sound. The group has had a slight delay in the completion of the acquisition of Pure Group, the project and construction management services company, which had been announced back in July. It now expects to complete the acquisition by the end of Nov 19.

Fundamentally, the acquisition is still a positive as it allows the group to move into private sector projects, up the value chain; this is a move that can help garner better margins.

To recap, the acquisition consists of consideration warrants released from escrow upon Pure Group achieving an earned-out payment.

The earned-out payment for FY20 of at least S$3m, if unachieved from completion date till end-FY20, will be made up through cash payments on the shortfall.


EARNINGS REVISION/RISK


• None. We remain optimistic of ISOTeam's ability to deliver on earnings in the subsequent quarters, especially with a high orderbook and the prospects of an election, which may backload profits for the group based on previous trends.



VALUATION/RECOMMENDATION


• Unchanged PE-based target price of S$0.34. This is based on a 12.4x 1-year forward PE, in line with ISOTeam's mean forward PE (excluding low base earnings effect in 2018). The group's growth looks to be intact with its recent acquisition.



SHARE PRICE CATALYST


• Accretive M&As
• Contract wins
• Margin improvement from new headquarters


Full report here.