Excerpts from CGS-CIMB report

Analyst: William Tng, CFA


Twin peaks


■ 3Q19 core net profit came in 4% above our forecast. AEM raised its FY19F revenue guidance again.


AEM

Share price:
$1.53

Target:
$2.12
■ We think AEM could report higher profits for FY19F and FY20F. Our channel checks suggest that AEM is in the process of expanding capacity.

■ Maintain Add. We raise our TP to S$2.12 as we roll over to FY20F and due to our higher earnings expectations.
3Q19 core net profit of S$13.7m was 4% above our expectation of S$13.2m.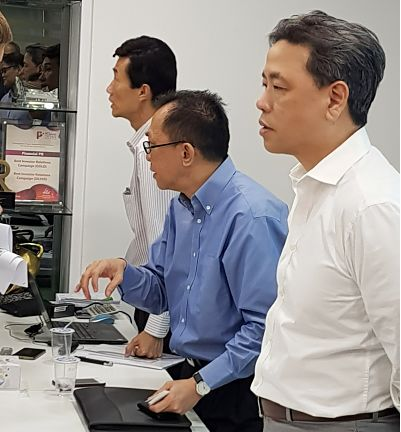 L-R: CFO Soh Wai Kong | CEO Chok Yean Hung | Executive chairman Loke Wai San.
NextInsight file photo.With 9M19 core net profit at 93% of consensus expectations (89% of our FY19 forecast), we expect the street to raise FY19 profit forecasts.

As expected, we saw a double-digit increase in staff costs as AEM added to its capability.

Marketing expenses rose 117% yoy as AEM spent to promote awareness of its other products. Gross material margin at 37.8% was an increase both qoq and yoy.

Outlook on FY20
We were surprised by its higher revenue guidance. AEM announced that it now expects FY19 revenue between S$305m and S$315m versus its previous guidance of between S$285m and S$305m.

As semiconductor chips become more complex and their use in mission-critical applications (such as 5G, electric vehicles, Industry 4.0, etc.) increases, AEM believes its products are well-placed to tap into this demand.

Although Intel remains the key revenue contributor, there were improvements in AEM's other businesses too.

A twin peak scenario
We think AEM can achieve strong profits in FY19F and FY20F given

a) demand for existing products remain strong,

b) a greater need for system level testing (for which AEM already has an established product) and

c) the launch of a hybrid Test Handler (TH) in 2020 which we think could command the same price range as existing THs.


Our channel checks also suggest that AEM has leased new factory space to cope with the stronger demand.


We raise our TP to S$2.12
We raise our earnings forecasts for FY19-20F on the back of our higher assumptions.

Our ROE-g/COE-g derived P/BV multiple increases to 3.58x (previously 3.24x) given the uplift to ROE from higher earnings.

We also roll over to FY20F BVPS. Potential re-rating catalysts include further order wins from its major customer.


The key downside risks to our Add call are order pullbacks or a slowdown from its major customer.

Investors need to bear in mind that AEM's earnings are still dependent on orders from Intel and this drives our earnings estimates. Variations in Intel's orders can swing our earnings expectations both ways.

Full report here.