Nordic Group has recently inked a non-binding term sheet that could lead to its fourth corporate acquisition in 8 years.

Nordic is doing due diligence on

Envipure Pte. Ltd, whose sole owner,

Sunalps Pte Ltd, is looking to sell its entire stake.

The people behind Sunalps are financial investors of Envipure, ie they are not founders nor operators of Envipure.

Envipure is principally a service provider in the semiconductor space (which Nordic has little exposure to as it is a service provider for the oil majors in Singapore.)

Envipure's business encompasses turnkey engineering solutions in process, industrial plant and environmental engineering services, air pollution control, odour abatement, and water and waste-water treatment.

Nordic's acquisitions

2011
Multiheight Scaffolding

2015
Austin Energy

2017
Ensure Engineering

2019 ?
Envipure?

Acquired for S$29m

Acquired for S$26m

Acquired for S$17m

Under negotiation
S$14 - $15.5 m

Provision of scaffolding services & equipment

Provision of services relating to insulation, fireproofing and industrial coating

Provision of services relating to engineering repairs, maintenance, plant turnaround, and decontamination & recovery

Provision of services, including turnkey engineering solutions in process, industrial plant and environmental engineering services, air pollution control, odour abatement, and water and waste-water treatment

5 things to know, as we learned from an investor briefing last Friday:

1. Established player: Envipure's client list reads like a who's who in various industries: Infineon, Samsung, Hyundai, Public Utilities Board, Land Transport Authority, etc.

It goes without saying that it holds an impressive string of government-awarded licences in Singapore and Malaysia. (Example: L6, the highest licence in mechanical engineering awarded by the Building and Control Authority in Singapore).

A significant part of Envipure's business is maintenance services which are recurring in nature, which mitigates the lumpy nature of its projects.

2. Attractive price: Nordic is to pay cash in the range of S$14.0 million to S$15.5 million for 100% of Envipure.

This looks attractive considering that the net tangible assets of Envipure as at 31 December 2018 was S$11.1 million.

Nordic's executive chairman, Chang Yeh Hong, said Envipure's books indicate that the NTA has grown closer to $13 million.

What boosts its attractiveness to Nordic is that the NTA is made up largely of cash.

Specifically, Envipure doesn't own any property and has no borrowings.

Under the term sheet agreement, Envipure is to have cash and cash equivalent of not less than S$8 million on the completion date of the deal.

Again, the recent picture is encouraging: Mr Chang said the company has about S$10 million cash.

On a price-earnings basis, the acquisition is expected to be at a ratio of around 6X.

Nordic has not disclosed details of Envipure's financial performance of recent years nor its current orderbook.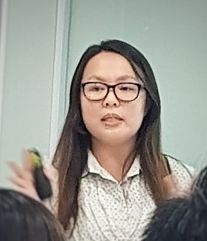 Jeanette Lee, GM of sales at Nordic Group, also presented at the recent briefing. NextInsight photo3. Synergies: Envipure, it was revealed, has been a client of Nordic.

A relatively small client -- but there is a lot of outsourced work that various subsidiaries of Nordic (such as Ensure Engineering) can take up, as highlighted in a presentation by Jeanette Lee, GM of sales at Nordic Group.

The key beneficiary is likely to be Nordic Flow Control, the arm of Nordic Group that is into systems integration solutions for offshore and onshore projects.

(For details of work that potentially could be done by Nordic Flow Control, see pages 13 & 14 of Powerpoint presentation)

Furthermore, Nordic and Envipure can share resources in operations and management of projects.

The synergies work in the opposite direction: Nordic Flow Control potentially can open doors to offshore opportunities for Envipure.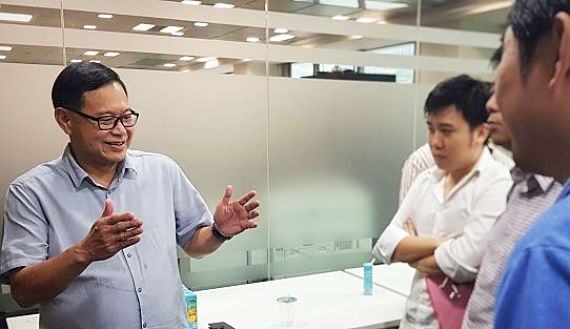 Nordic executive chairman Chang Yeh Hong fields more questions after the presentation on the proposed Envipure acquisition. NextInsight photo
4. Paying for it: As with its past acquisitions, Nordic will use its internal funds and bank borrowings.

As at end--June 2019, Nordic had $38.4 million cash, largely built up from operating cashflow. It had $42.7 million in borrowings from funding past acquisitions.

Net gearing is a low 8%.


Stock price

27 c

52-week range

24 – 51 c

PE (ttm)

13

Market cap

S$104 m

Shares outstanding

392 m

Dividend
yield (ttm)

2.9%

1-year return

- 41%

Source: Bloomberg
5. Risks: Envipure's business risks which Nordic is cognisant of include project over-runs, and country risks (when Envipure takes on jobs in developing countries).

Envipure apparently has had a few disappointing years mainly owing to a project it executed for an oil major overseas.



Nordic reckons that if its due diligence results are satisfactory, the deal can be consummated at year-end.




Nordic's announcement on the term sheet is here, and the Powerpoint presentation is here.