Excerpts from CGS-CIMB report
Analyst: William Tng, CFA


A trading opportunity


■ We think 2Q19 results due on 8 Aug could show at least S$9.7m net profit.


AEM

Share price:
$1.04

Target:
$1.23
■ FY19 earnings decline is looking less alarming and likely priced in.

■ We upgrade AEM from Hold to Add with a TP of S$1.23.

2Q19 results should be strong
We think AEM could report 2Q19 net profit of at least S$9.7m (+2.2% yoy, +47% qoq) on 8 Aug 2019. The reasons behind our thinking are

a) In both 2Q17 and 2Q18, net profit grew sequentially (2Q17: +98% qoq, 2Q18: +16% qoq). On average, net profit grew 57% sequentially in the last two years.

b) Its major customer (Intel Corp, INTC US, Unrated) remains on track to have 10nm products for the 2019 year-end holiday season followed by its server products in 1H20. According to Digitimes (16 Jul 2019), Intel will launch its to-end desktop processors in Oct 2019.
We believe this would mean that AEM's Test Handlers (TH) will need to be delivered to Intel's test and assembly facilities in 2Q19 and 3Q19 in preparation for the product launch.

CPU to XPU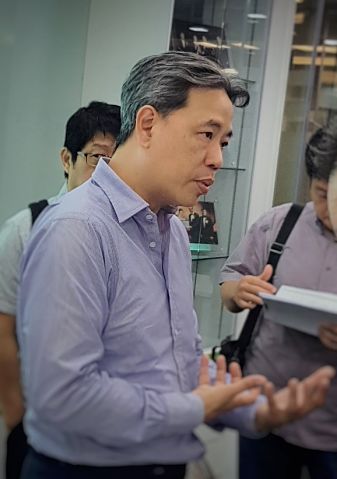 Executive chairman Loke Wai San. NextInsight file photoIntel has traditionally been the CPU (Central Processing Unit) leader (inside the computer and then servers).

Today, Intel is looking at expanding its dominance into what the company terms XPU (that is a future with more and more Intel product architectures and innovation that the company can build into to address the demand for data).

This will mean more complicated processors/processor combinations to address new markets such as 5G, Artificial Intelligence, Autonomous Vehicles, Internet of Things etc.

As Intel continues to test the majority of its products in-house, the demand for Test Handlers (THs) in varying hybrids could continue in the next few years.

AEM is still sole TH supplier
We believe AEM remains the sole source for the THs it is supplying to Intel. Going through Intel's 2018-2019 Sustainability Report, we do not see AEM's traditional competitor Cohu (COHU US, Unrated) in the top 100 supplier list.

At the same time, AEM highlighted in its 1Q19 results that it has secured follow-on projects from its key customer to develop hybrid extensions to the group's existing handlers. These new projects are expected to deliver meaningful revenue in 2020 and beyond.


Upgrade from Hold to Add
We tweak our FY19-21F EPS to reflect a smaller outstanding share base. Our TP changes slightly to S$1.23 for the same reason.

We upgrade AEM to an Add as FY19 slowdown concern has been priced in. Valuation basis is an unchanged 10x FY20 P/E (in line with sector average).

Downside risks to our call are order cancellations/delays by its major customer while upside earnings risk comes from stronger-than-expected orders from its major customer.

On the charts, immediate support at S$0.995–1.00 should hold in the near-term. If resistance is broken at S$1.08, the share price could move higher to the S$1.15-1.17 resistance area.

Full report here.