Excerpts from UOB Kay Hian report

Analysts: Joohijit Kaur & John Cheong

Positive Industry Macro And Good Traction In Operations
We remain positive on Koufu's ability to deliver a 19% EPS growth in 2019, backed by:

a) robust growth in the F&B macro data,

b) better performance in the food court management segment on full-year contribution from Rasapura and new outlets, and

c) stronger F&B retail segment from turnaround at both R&B Tea outlets and Elemen restaurants.
Maintain BUY and PE-based target price of S$0.95. Koufu is undervalued at 10.3x 2019F ex-cash PE, vs peers' average of 21.7x 2019F PE.

WHAT'S NEW


KOUFU

Share price:
72 c

Target:
95 c
• Positive macro data for the F&B industry, especially food courts. The latest F&B service index (FBSI) data from Singstats indicates that ''other eating places'', which excludes restaurants, fast food outlets and caterers, is showing a healthy growth trend since 4Q18 (c.3-4%yoy) compared with 0% growth in the first three quarters of 2018.

On the other hand, the restaurant industry's growth is declining. This could indicate that consumers are switching to lower-value dining options amid a weaker economic backdrop.

• Food court segment on track to perform better on the back of refurbished Rasapura and new outlets. We expect Koufu's food court management segment to perform better on full-year contribution from Rasapura food court and more new outlets.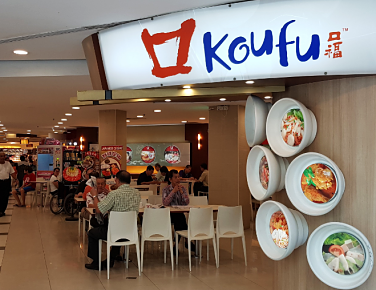 To recap, Rasapura - Koufu's largest contributing food court in terms of revenue - was partially closed for refurbishment in 2Q-3Q18. Upon reopening, Rasapura has showed notable revenue improvement since 4Q18 and lifted Koufu's same-store sales growth.

On the other hand, Koufu has opened four new food courts in Singapore (three) and Macau (one) so far. We understand that the majority of the new food courts are performing well and have reached EBITDA breakeven level.

• R&B Tea and Elemen turnaround should boost F&B retail segment. We expect R&B Tea to be on track to contribute around S$1.5m earnings in 2019 (2018: breakeven, and Elemen to contribute about S$0.5m earnings in 2019 (2018: marginal loss-making).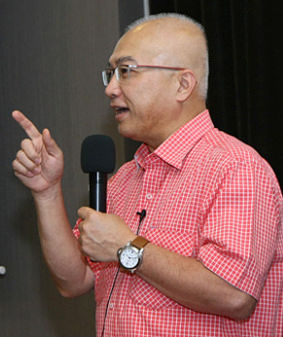 Pang Lim, executive chairman of Koufu. Photo: SFCCAOperationally, the R&B Tea business is gaining good traction from a faster breakeven period while the recent tie-up with food delivery companies has continued to help the business to grow.

• Growing cash hoard and its position as most-profitable listed F&B company not fully appreciated yet. Despite ytd share price increase of 17.1% due to increased analyst coverage and subsequent increased market awareness of the company, as well as an improved financial track record, we believe the market has yet to fully realise Koufu's strong cash flow generation ability which has helped it build a significant cash hoard of S$98.7m as of 1Q19, equivalent to 25% of its market cap.

In addition, the market has also not fully appreciated Koufu as the most-profitable listed F&B company.


STOCK IMPACT

• We remain positive on Koufu's ability to deliver 19% EPS growth for 2019. 1Q tends to be seasonally weaker due to a short month in February as well as extended closures during Chinese New Year. With full-year contribution from Rasapura, new outlets ramping up and steady roll-out of R&B Tea outlets, we think net profit for 2019 is on track to meet our expectations.

EARNINGS REVISION/RISK

• We maintain our earnings estimates.

• Risks include failure to renew leases, inability to secure new outlets, departure of key tenants and food stalls, changing consumer preferences, higher-than-expected competition, and execution risks on expansion plans.

VALUATION/RECOMMENDATION

• Maintain BUY and PE-based target price of S$0.95, based on 18.1x 2019F PE, pegged to a 16% discount to peers' average PE.


SHARE PRICE CATALYST

• Sale of two central kitchens and special dividend.

• Better-than-expected contribution from R&B Tea.

• Better-than-expected performance from food court management segment.

Full report here.