Company Overview
Established in 2002, Koufu is one of Singapore's most established and largest operators and managers of food courts and coffee shops, with a presence in Macau. It has two business segments –
1) outlet & mall management comprising of 49 food courts under brands such as Koufu and Cookhouse, 15 coffee shops, 1 hawker centre and 1 commercial mall, and

2) F&B retail comprising of 73 F&B stalls, 16 F&B kiosks, 8 quick-service restaurants and 3 full service restaurants.
Link to StockFacts company page.
Link to Koufu Group's IPO Market Update


1. What are some notable developments that Koufu's shareholders can look forward to?
Stock price

72 c

52-week range

82.5 - 58.5 c

Market cap

S$399.7m

PE (ttm)

15.2x

Dividend yield

3.1%

P/B (ttm)

4.4

Shares outstanding

555.2 m

Float

22.8%

Ave Daily Trading Vol
(since IPO)

$906,011

Source: Bloomberg (16 May 2019)
• We intend to expand and strengthen our presence in Singapore and overseas. For overseas expansion, our initial focus will be in Macau.

Our second food court in Macau has started its operations in April 2019 at the University of Macau and we are in the midst of finalising the lease for a third Macau food court opening in 2H 2019. For expansion into other new markets, we are also in talks to finalise joint venture terms with partners in Indonesia and plan to open our first R&B Tea, Supertea and Elemen outlets in 2019.

• In Singapore, we have opened 2 new food courts (The Woodgrove and Buangkok Square) and opening of our Kallang Way food court is slated for 3Q 2019. By the end of the year, we also hope to have 20 R&B Tea and Supertea outlets, as well as 4 Elemen restaurants.

• Our integrated facility in Woodlands Ave 12 is also expected to complete in 2020, which we believe will be our growth catalyst. The facility will have collaborative features that will generate recurring rental income, such as smaller central kitchen spaces that could be rented out to our chain stall operators, to support their expansion and growth, which is crucial to us. We are also exploring potential partnerships for dim sum and bakery items to widen our customer reach to third-parties and to expand our range of products sold at retail outlets.


2. What are some of Koufu's main business segments and their growth drivers?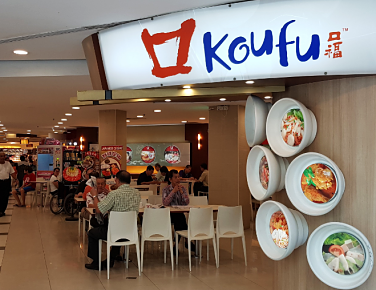 1. Outlet & Mall Management (c.50% of FY18 revenue) – Operating and managing of food courts and coffee shops, alongside a hawker centre and commercial mall in Singapore. We are committed to expand our network of outlets both in Singapore and abroad to drive organic business growth and take a prudent approach to selecting new locations and lease renewals.

2. F&B Retail (c.50% of FY18 revenue) – Operate F&B stalls, kiosks, quick-service restaurants and fullservice restaurants. We have a multi-brand strategy and focus on different market segments with different price ranges to capture greater market share. We plan to expand the R&B Tea, Supertea, and Elemen brands locally and overseas in Indonesia, Philippines, Malaysia, China and Australia, some of which are through our partners.

3. How does Koufu differentiate itself from its competitors, both locally and regionally?

• We believe that our strong brand association with value-for-money options within a warm and friendly ambience at our dining places, congruent with our ethos of "Better Food, Better People, Better Life", has allowed us to be one of Singapore's most established operator and manager of F&B establishments. We also have strong relationships with stall operators via our active manager-operator partnership.

• Our competitive strengths include our end-to-end business model which gives us greater operational and cost controls. We also place emphasis on using technology as a key enabler – we were the first food court manager to introduce cashless payment via NETS unified payment terminals and smart tray return robots. We also piloted self-ordering and payment kiosks and RFID tray return system. In 2018, we launched our Koufu Eat mobile ordering application and will be piloting our first traditional coffee-making machine in our upcoming new outlet in June 2019.

4. In Singapore, how does Koufu identify potential strategic locations or plan to grow organically?

• We intend to expand our footprint with a focus on hospitals, commercial malls, tertiary education institutions and new housing estates. In selecting locations, we take into consideration factors such as demographics, catchment population and lease terms to maximise revenue. For instance, we may be able to carve out space at our food court for other concepts – e.g. R&B Tea at Rasapura Masters (Marina Bay Sands).

5. Koufu has successfully ventured into Macau (Sands Cotai Central) in 2012. What are the company's overseas strategies to becoming a regional F&B player?

• We intend to leverage on Singapore and Macau as springboards for expansion into overseas markets which may potentially include China, Malaysia, Indonesia, Philippines and Australia.

• Macau was an opportunity for us to partner the Las Vegas Sands Group after the successful opening of our Rasapura Masters in Marina Bay Sands, and we have since accumulated extensive inhouse knowledge and contacts to grow. We expect Macau's positioning as a tourism hub to grow with infrastructure developments such as the Hong Kong-Zhuhai-Macau Bridge for a more integrated Greater Bay Area.

• Apart from Macau, we are also in the midst of active negotiation with partners to bring R&B Tea to Malaysia, Indonesia, Australia and Philippines, and Elemen to Malaysia and Indonesia.

6. How do you expect the new integrated facility in Woodlands to complement Koufu's business?

• The proposed 7-storey integrated facility at Woodlands Ave 12 has an estimated gross floor area of 20,000 sq m. It is due for completion in 1H 2020 and will be our growth catalyst. We intend to collaborate with potential joint venture partners to leverage on their expertise and expand our range of food products to third parties and food delivery services.

• The larger central kitchen will also allow us to better support and cater our future business expansion needs, and enhance our productivity and operational efficiency, including that of our stall operators. We have thus allocated smaller central kitchen units to be rented to our chain stall operators to support their growth, and at the same time, allowing us to generate recurring rental income.

7. Koufu has been using technology as a key enabler in your food courts. Will the use of technology have any financial impact on bottom-line earnings?

• While development of new technologies does incur costs, we believe the benefits far outweigh the costs amidst a challenging operating environment where operational costs are increasing.

• These investment costs are not significant, and it has proven to be effective in reducing our reliance on manpower and helps to streamline efficiencies at our outlets (e.g. faster tables turns).

• We also believe that investing in innovation and technology is necessary for our business to remain relevant and competitive in order to stay ahead of the curve and ensure long-term sustainable growth.

8. What is Koufu's mergers & acquisitions (M&A) Strategy? Are there plans for future joint ventures?

• We are constantly evaluating opportunities for joint ventures, strategic alliances, acquisitions or with parties who have the potential to add value to our business or are able to facilitate entries into new markets, strengthen our market position and/or develop our supply chain.

• We take a prudent approach to evaluating such opportunities, considering factors such as the acquisition of capabilities, skills, technology and/or operational processes which are synergistic to our business.

9. According to the IPO prospectus, Koufu intends to distribute in dividends at least 50% of income in FY18 and FY19. Does Koufu intend to continue to recommend this distribution?

• We are committed to enhancing value for our shareholders. However, as a growing company, there is a need for us to balance distributing dividends and retaining sufficient capital for financial flexibility and funding growth.

• We had made good on our promise in the IPO Prospectus – we had declared a final one-tier tax-exempt dividend of 1.2 SGD cents per ordinary share for FY18, including the 1.0 cent interim dividend paid earlier, representing a dividend payout ratio of 50.0%. While we do not have a fixed dividend policy, we intend to recommend dividends of at least 50% of our net profit after tax generated in FY19.

10. What is Koufu's value proposition to its shareholders and potential investors?

Our growth roadmap offers investors diversification in revenue streams focused on these key areas:

• Solidifying our strong foothold in Singapore and continue to expand number of food courts and coffee shops

• Expanding our network of food courts overseas with the initial focus in Macau

• Increasing brand recognition and multi-brand strategy through concept stores locally and overseas

• New integrated facility as our key growth catalyst that may create new revenue streams

• We believe our current valuations are attractive, taking into consideration our proven business model, market leadership, and growth potential as we export our proven business model overseas.
This article was first published on the SGX website.

10 in 10 – 10 Questions in 10 Minutes with SGX-listed companies
Designed to be a short read, 10 in 10 provides insights into SGX-listed companies through a series of 10 Q&As with management. Through these Q&As, management will discuss current business objectives, key revenue drivers as well as the industry landscape.

Expect to find wide-ranging topics that go beyond usual company financials. This report contains factual commentary from the company's management and is based on publicly announced information from the company.
For more, visit sgx.com/research.
For company information, visit www.koufu.com.sg
Click here for FY2019 1st Quarter Earnings Announcements