AppFan contributed this article to NextInsight

There's a new home-grown app for investors called WealthPark.

WealthPark is a financial and analytical tool based on value investing methodologies and a proprietary framework to advocate investors' control over their own financial goals by making stock investments Smarter, Faster and Easier.

It's developed by 8Bit Global Pte Ltd (a joint venture between 8VIC Global and 8I Holdings).
#1 Smarter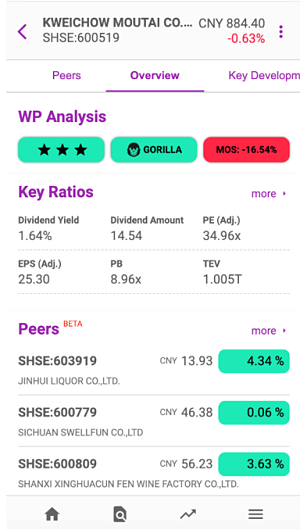 WP Analysis – a drawer on the watchlist containing the WP Rating, Animal Rating and MOS (Margin of Safety)Despite being spoilt for choices of online investing tools, many investors would still be put off with common problems such as clunky interface, inaccurate data, lack of explanation. Then there are tools that just take in a single-dimension analytical approach to reduce complexity in the results.

On the contrary, WealthPark focuses on a multi-dimensional approach towards company analysis to provide a holistic view on company financials, strengths and characteristics.

With its backend comprehensive data acquisition supporting one of its key features, WP Analysis, WealthPark makes sense of information and turns it into actionable items for the user by generating specific analysis with regards to the characteristics and hidden qualities of a company.


#2 Faster
WealthPark is available on the Apple Store and Google Play, so users are able to have access to the platform anytime via their mobile phones or desktop portal to receive continuously updated insights.

With its comprehensive information presented in a concise, simple and digestible format, users are now able to get a quick summary of risk rating in the business, the strength of the business model, and value of the company in a single glance.

Its stock screener and watchlist function shortens the fact-finding and evaluation process of preferred companies.

WealthPark is also in talks for complementary third-party services to improve the user experience even more. One such link-ups is the incorporation of the SGX Research Market Update by end May 2019 as WealthPark relaunches the News Feed for SGX-listed stocks.

#3 Easier
Other than providing the essential tools for analysis, WealthPark provides a straightforward approach to tracking users' investment and returns where gains, loses, and foreign exchange impacts are calculated automatically.

Access to global markets are also made seamless with coverage of 24 global stock exchanges available in seven languages.

Other than giving users access to comprehensive data, acquired from Standard and Poor's Capital IQ, of companies across 11 categories and listed on 24 stock exchanges, WealthPark also offers investors with a wide array of proprietary tools to make their buy and sell decisions easier.


WP Rating
The WP Rating is a probabilistic framework that examines 13 different areas of investment risk due to potential aggressive accounting. The 13 areas include:
• Shareholder Dilution


•

Payables Management


•

Receivables Management


•

Earnings Management Risk


•

Inventory Management


•

One-off Item Mangement


•

Window Dressing

•

Goodwill & Intangible Assets


•

Book Tax Difference


•

Cash Analysis


•

Contingent Liability Risk


•

External Capital Dependency Analysis


•

Quality of Earning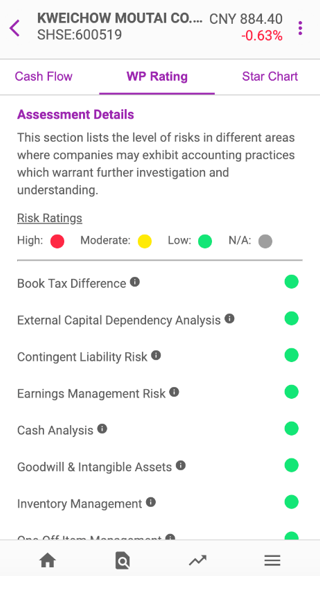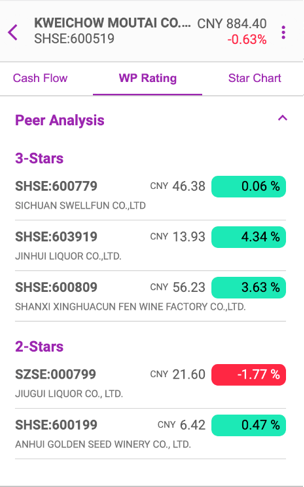 This rating enables users to have a quick yet comprehensive tool to eliminate companies exhibiting higher risk levels and highlight areas which warrants further investigation and understanding
Star Chart
The Star Chart summarises 107 data points of a company to provide a snapshot of its performance in five different areas such as Profitability, Financial Health, Growth, Asset, and Dividend.

With this analysis, the companies are further classified into one of six animals, each representing a different type of company depending on their characteristics, such as Gorilla, Cheetah, Cow, Elephant, Sloth, and U.F.O.
More incoming features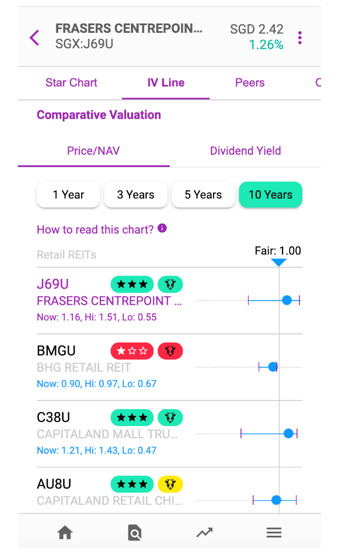 Despite having extensive features readily available in WealthPark currently, the development team are constantly looking to implement improvements for the users' benefits.
WealthPark is looking to launch all additional features in May 2019 which also includes a REITs assessment module in the second quarter of 2019, which would provide analysis specifically for REITs, one of the favourites for Singapore's investors. The REITs assessment module would include the REIT – IV (intrinsic value) Line, which provides investors with a comparative valuation amongst peers based on the Price to Net Asset Value and other essential matrixes.
Further improvements to the platform which include optimisation for the analysis of complex industries such as insurance, banking and finance industries are also in the pipeline and expected to launch in 2020.
WealthPark is now available on the Google Play and the App Store. Users can also access the platform on their desktops.
A walkthrough video is also available on Youtube via the following link:
https://www.youtube.com/watch?v=xanaDqmMS9g&feature=youtu.be