Excerpts from DBS Vickers report

Analysts: Derek TAN and Carmen TAY


Boon from e-commerce boom
• Specialised logistics operator with growing China e-commerce footprint, also setting its sights on high-potential ASEAN market


EC World REIT

Share price:
74.5 c

Target:
86 c
• Anchored by stable leases, offering above-average yields north of 8%

• Low gearing signals acquisition capacity, with GFA of nearly 500,000 sqm in its ROFR pipeline

• Initiate with BUY and TP of S$0.86

Scaling the e-commerce ladder. EC World REIT, a diversified logistics operator, is in the midst of scaling up its e-commerce business, which has taken the group beyond Hangzhou into Wuhan.

It typically derives a substantial c.70% of revenue from master leases, which provides a high level of income certainty with visibility of growth.

Building a firm acquisition pipeline. Sponsored by China-based property group Forchn Group and through its recent strategic initiative with leading logistics operator, YCH Group, EC World REIT has acquired a substantial ROFR pipeline of over 500,000 sqm in GFA, comprising Fu Zhou E-commerce Properties in Hangzhou (China) and potentially 13 warehouse assets across Asia.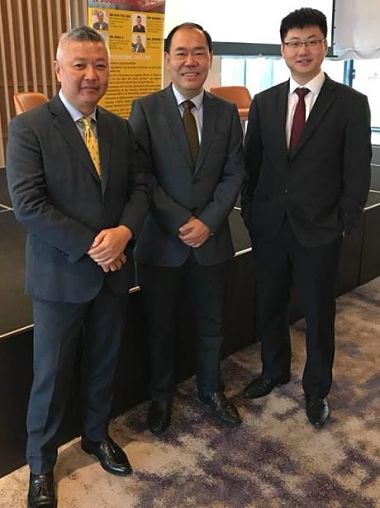 L-R: Johnnie Tng, CFO | Goh Toh Sim, CEO | Li Jinbo, Head of Investments, Asset Management and Investor Relations. Photo: GCP Global Given ample debt capacity, we believe that an acquisition may be on the horizon, which has yet to be factored into our estimates.

Underappreciated stock trading at attractive valuations. While our BUY call is premised on the successful extension of its master lease at end-2020 – a key overhang on the stock, we believe that at current prices, the risk-to-reward ratio has turned favourable.

Given the slack in underlying occupancy at Bei Gang Stage 1, our scenario analysis implies a fair value of S$0.70 with FY21F yield of 7.5% if the extension does not materialise, which suggests limited downside.

Conversely, the successful extension of master leases would be a key re-rating catalyst for the REIT.


Valuation: Initiate with BUY and DCF-based TP of S$0.86, based on WACC of 8.7% and terminal growth rate of 2%.

Key Risks to Our View: Key risks include Sponsor-related risks such as failure to extend master lease agreements and challenges in underlying occupancy.