Quarz Capital Management today emerged again with another "how-to-increase-shareholder value" open letter, this time to Sunningdale Tech.

TO ENGAGE ON THE PROPOSALS TO INCREASE DIVIDEND DISTRIBUTION, EXPEDITE ON EXPANSION STRATEGIES AND PROMOTE SHAREHOLDER ENGAGEMENT - POTENTIAL TOTAL RETURN IN EXCESS OF 40% OVER THE MID-TERM

Dear Mr. Khoo, Ms. Soh and Members of the Board,

Quarz Capital with its affiliates have collectively built up a stake of just under 5% in Sunningdale Tech Ltd (the "Company", "Firm"," "SUNN SP", "Sunningdale" or "SUNN"), making us one of the top 5 shareholders of the firm. Our sizeable stake demonstrates our significant level of conviction in the value opportunity present at Sunningdale today.

We congratulate board and management's first-rate execution in establishing Sunningdale as a global player in precision plastic engineering. SUNN has significantly out-spent its Singapore peers by investing more than S$135million (>50% of Market Cap) since 2014 to increase its technology lead, automation and global production setup.

The firm has recently been qualified to produce key components for the aerospace industry, a strong testament to its strong engineering capabilities.

Sunningdale designs and manufactures some of the most complicated high-volume plastic components in their key automotive and consumer products segment (~35%/~60% share of Operating Profit). The firm's products are ubiquitous in our daily life such as the center console, climate & audio bezels, cluster, and modules for a number of mass market and luxury automotive brands. The firm also produces precise plastic exteriors, gears and components of printers, point of sales machines, routers and other industrial and consumer lifestyle products.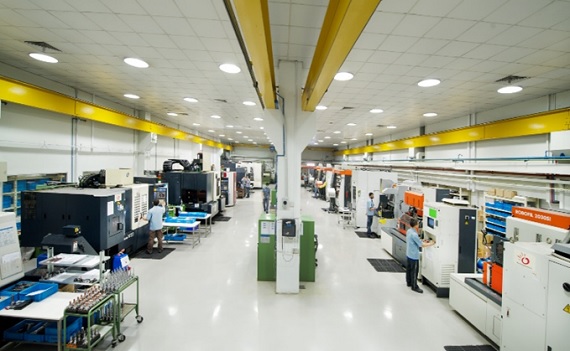 The firm has established long-term 'sticky' relationships with a diversified base of MNCs such as Continental, Magna, Gemalto, Dyson, Roche, Phillips and HP which can increase revenue stability. High cost of production disruptions pushes these MNCs to prioritize suppliers such as SUNN who have met their stringent approval process and built strong track record in consistently delivering high-quality products. As MNCS roll out global manufacturing platforms with 'Just in time' production and product launches, SUNN's global footprint puts itself in prime position to support these major projects.

The firm's substantial production footprint in South East Asia also increases its flexibility of shifting production from China if necessary. We are optimistic that SUNN will be a key beneficiary of MNCs increasingly seeking ex-China suppliers to reduce their supply chain's exposure to China-US trade tensions.

SUNN's Net Income in 2018 was disrupted by start-up cost of new plants, end-of-life cycle of multiple consumer products and trade tensions impacting and pushing orders to 2019. The firm also has a comparatively high base in 2017 where it achieved peak Core Net Income of over S$42million.

With the ramp-up in production of new consumer products, lower oil price, adjustment of supply chains and the increased utilization of the firm's new Chuzhou and Penang plants, we forecast that SUNN can achieve a conservatively estimated core net profit of S$31million for 2019E (P.E of 8.6x). Free Cashflow will improve materially to more than S$35million as the company concludes its heavy CapEx phase by 2018. SUNN's growth in the mid-long term are driven by structural trendssuch asthe migration from steel to light-weight plastic to enhance fuel efficiency and safety in automotive. Successful qualification to produce higher value products in medical technology and aerospace industries can further lift its profit margins.


Despite its attractive growth drivers and strong balance sheet (negligible net debt), Sunningdale continues to trade at a severe undervaluation with Price/Earnings, Price/Tangible Book, EV/EBITDA of 8.6x, 0.7x, and 3.6x (2019E) respectively. Privatizations and takeovers of SGX-listed precision engineering players have been completed at Price/Tangible Book in excess of 1.0x and significantly higher earnings multiples.

We believe that the investment community

lacks familiarity with SUNN's engineering expertise, products, resilient business model, recurring cashflow, and strong corporate governance.



The lack of communication from the company has resulted in

investors' short-term oriented focus on FX profits and quarterly earnings.

Quarz intends to take advantage of this temporary vivid price/value disparity and increase our shareholding on further price weakness.


We urge Sunningdale's board and management to take decisive actions to address the severe undervaluation and promote shareholder value. As Sunningdale's free cashflow and balance sheet strengthen in 2019, we recommend the firm to increase its dividend distribution to ~60% of Core Net Profit. This can potentially provide an attractive dividend yield of ~7% to all shareholders. SUNN can continue to invest ~S$25million in CapEx and retain ~S$17million of cash flow per year. We also propose SUNN to distribute more than 50% of the proceeds from the disposal of its Zhongshan factory in consideration of its fortified balance sheet (potentially >4% Dvd Yld).

We believe that the retained cashflow is more than sufficient to expedite on organic and inorganic growth strategies to undertake larger volume, more complex and higher margins projects. The transformational acquisition of First Engineering in 2014 extended SUNN's client base and technology particularly in the automotive sector. We advocate the firm to apply its engineering expertise and seize structural growth opportunities in 'Megatrends' such as Electro-mobility, Autonomous Driving and Connectivity which can further drive profitability.

As an immediate step, we call on Sunningdale to enhance investors' confidence by increasing its disclosure on its strategic plans, products and business segments. Strong corporate governance and leadership coupled with increased understanding of the company can readily rectify the current depressed valuation of the firm.

Quarz believes that its recommendations can provide a clear pathway for Sunningdale to generate a potential attractive total return of more than 40% for all shareholders in the mid to long-term. As longterm shareholders, Quarz looks forward to working with Sunningdale's board and management to move forward expeditiously on delivering value to all shareholders.

Sincerely yours,
Mr. Jan F. Moermann Chief Investment Officer, Quarz Capital Management, Ltd.
Mr. Havard Chi, CFA Head of Research, Quarz Capital Asia (Singapore)