Excerpts from CGS-CIMB report

Analyst: Lock Mun Yee

Unique e-commerce landlord
■ ECW has exposure to China's e-commerce and logistics sectors via its portfolio of seven well-located assets.

■ Visible organic revenue growth drivers in the form of inbuilt rental escalations.

■ The stock is trading at 8.8% annualised 9M18 dividend yield.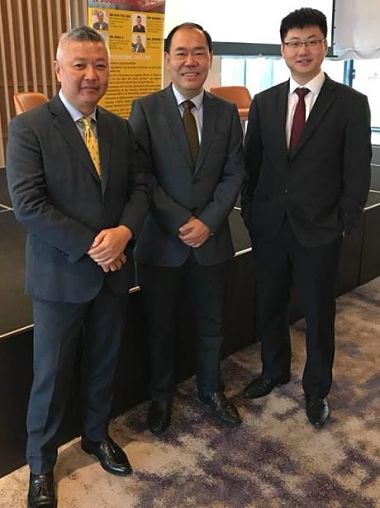 L-R: Johnny Tng, CFO | Goh Toh Sim, CEO | Li Jinbo, Head of Investments, Asset Management and Investor Relations. Photo: GCP GlobalExposure to China's e-commerce and logistics sectors
EC World REIT (ECW) owns seven assets in China (six in Hangzhou, one in Wuhan), valued at S$1.33bn at end-3Q18, spread over 747,173 sq m of net lettable area.

The largest asset by value is the Chongxian Port Investment, accounting for 33% of portfolio AUM and 46.8% of 9M19 net property income. This is followed by Hengde Logistics (22% of AUM) and Phase 1 Beigang Logistics (19% of AUM).

In terms of asset value by trade sector, an estimated 47.6% of portfolio value is derived from port logistics, 30.5% from ecommerce and 21.9% from specialised logistics.

High portfolio occupancy
Portfolio occupancy stands at a high 99.2% and the see-through underlying portfolio occupancy is at 96.9% at end-3Q18.

Three assets – Stage 1 Beigang Logistics, Chongxian Port Investment and Fu Heng are master leased to subsidiaries of Forchn Group Holdings. The remaining four properties – Hengde, Fuzhou Industrial, Wuhan Mei Luo Te, Chongxian Port Logistics are multi-tenanted.

In-built organic growth
According to the company, all of its properties except Wuhan Mei Luo Te have inbuilt rental escalations in their rental structures until 2020-21 or 2029, giving the REIT visible earnings growth.

The master lease assets have inbuilt rental step-ups of 1-4%. As at 3Q18, 37.8% of portfolio gross rental income, 35% of leasable area and 30.5% of valuation comprised e-commerce assets, making ECW uniquely exposed to the ecommerce sector in China. Management indicated that Wuhan Mei Luo Te is underrented.

Strong sponsor
ECW's sponsor, Forchn Holdings Group (unlisted), is a diversified enterprise group involved in the real estate, industrial, e-commerce, logistics, finance and health & wellness sectors.

It has a 44.28% stake in ECW as at Mar 2018. The sponsor founded Ruyicang, a leading PRC e-commerce logistics and supply chain management services provider, in 2013 and is a founding shareholder of Alibaba's logistics platform Cainiao. Forchn's experience and local knowledge provide strong domain knowledge for ECW.


Trading at a high dividend yield of 8.9% in 9M18
Based on the annualised 9M18 DPU of 4.609 Scts, ECW is trading at 8.9% yield. The stock is also trading at 0.8x 9M18 P/BV.

This represents a 5.42% spread over China's 10-year government bond yield of 3.38% and 6.4% over the Singapore government bond yield of 2.39%.

ECW has been included in the FTSE ST China and FTSE Singapore Shariah indices. Distribution income has been hedged until 1HFY19, according to the company.

Full report here