Here are 8 takeaways from AEM's results briefing with some focus on new customer Huawei and how AEM is securing China as a market for its equipment to test future 5G network cables:


1. AEM Holdings' 3Q18 net profit of S$11.4 million was a quarterly record -- and its executive chairman expressed confidence that the full-year figure would also be a record.



2. On track: With 9M18 net profit already totalling S$29.1 million, AEM said it is on track to achieve its FY2018 profit guidance as announced in January and April 2018.

It expects revenue of at least S$255 million and operating profit before tax of at least S$42 million.

While it didn't pay a 3Q dividend as it did last year, look out for one with the 4Q results. (AEM has a policy of paying out at least 25% of its earnings as dividends).

The business generates strong cashflow: As at end Sept 2018, AEM held S$42.3m in

net cash.


However, with its ramp-up production phase (which started in late 2016) tapering off in line with the requirements of its key customer, Intel Corp, AEM expects 4Q18 to be slower than 3Q18.


3. Test-handler equipment sales in 2019 will be lower than in 2018, and will be driven by new platform launches by Intel, its market share, and its commissioning of new manufacturing sites, according to AEM. And AEM's sales to Intel is expected to be volatile from quarter to quarter.


Stock price

80 c

52-week
range

64 c – $1.94

PE (ttm)

5.6

Market cap

S$217 m

Shares outstanding

269 m

Dividend
yield (ttm)

1.9%

1-year return

5.9%

Source: Bloomberg
4. Why 3Q18 profit before tax margin dropped y-o-y from 20.1% to 16.2%? Reasons: volume discount on tools/equipment, and lower mix of engineering project revenue.

Also: one-off layoff compensation expense (S$624k), higher forex loss (S$1.4M) and intangibles amortisation expense (S$433k), offset by efficiency in operating expense.

5. AEM laid off 75 workers (~15% of workforce), who were mostly doing assembly work in its Singapore and Penang plants, in anticipation of lower overall revenue from Intel Corp. If such workers need to be hired again, they can be trained relatively quickly.

But AEM has continued to hire engineers to support various projects that would bear fruition down the road.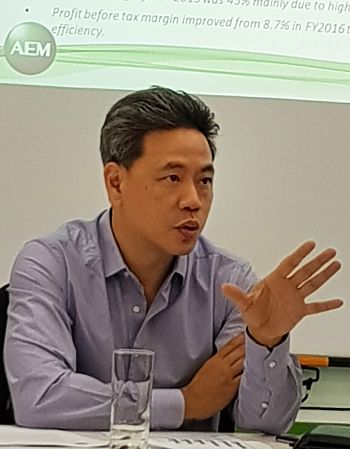 "We and CETC23 will co-author the testing standard for 5G fiber optic cables in China so anyone who wants to sell 5G fiber optic cables for Huawei's infrastructure will need to be tested for the standard. We are, so far, the only ones in collaboration with CETC23 to do something like this, so that is why we're quite excited. Any cable manufacturer which wants to supply to Huawei will need to buy an automated test system from someone like AEM."



-- Loke Wai San (photo),




Executive chairman, AEM Holdings.
6. Major coup: For AEM, securing Huawei as a customer is a major coup. The world's 7th largest IT company by revenue (US$89 billion in 2017, just behind Microsoft) is AEM's first tester customer (Intel being a test-handler customer of AEM).

The project bears AEM's intellectual property. Translate that to mean, AEM's profit margin would be significant.

7. AEM co-opted China Electronics Technology Group Corporation No.23 Research Institute (CETC23) the No.1 research organization for optical fibre cable certification in China, to collaborate and go to market.

AEM will provide test solutions developed in collaboration with CETC23 for qualifying high-performance short reach cabling links for Huawei's 5G backhaul network.

AEM expects to deliver the first test solution for this contract in 2H2019. It's an innovative customised device that could sell for several multiples of the value of the TestPro device that AEM showcases on its website.

And in another win, AEM will deliver a product in early 2019 for a memory manufacturer.

8. Future wins: AEM continues to engage other semiconductor and memory companies to provide its system-level test capabilities. Look out for another brand win, possibly next year.

Look out also for AEM to acquire companies with new technologies that would serve its target 5G businesses.

For AEM's Powerpoint materials, click here.