Excerpts from NRA Capital's report
Analyst: Liu Jinshu
Recommendation
Overall, we make three observations about Trendlines:


Trendlines Group

Share price:
12 c

Fair value:
22.5 c

Source: NRA Capital
1) The group has delivered on its promised cost reductions. Operating, general and administrative expenses fell by 32% from US$2.2m in 1Q17 to US$1.5m in 1Q18, proving effective implementation of its Expense Reduction Plan first announced in October 2017.

2) Trendlines compares favourably in terms of transparency and timeliness of disclosures. It provides regular updates on corporate developments and Portfolio Companies, supplementing its regulatory disclosures with reports such as "10 Companies to Watch" and monthly updates.

3) The group continues to value its portfolio conservatively, with the average Portfolio Company, outside of the top ten most valuable ones, valued at US$0.78m on average, despite a number of small portfolio companies reporting various forms of progress over the last six months.

In this update, we have focused on Stimatix, Leviticus Cardio, BioFishency and mentioned EdenShield.

Other companies such as CorAlert, LiberDi have also made progress. However, we leave detailed updates to a later time as the group will report its second half results in July.


What's the downside?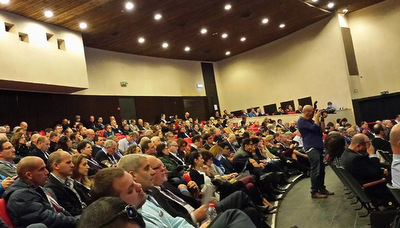 Trendlines actively showcases its portfolio companies to investors. Photo: CompanyOne downside is that Trendlines still suffered from negative operating cash flows in 1Q18.

The prospective receipt of royalties from B. Braun for Stimatix and reduced expenses at Trendlines mitigate this risk.

However, the absence of any exit year-to-date is a cause for concern. Should the group fail to achieve a meaningful exit each year, it probably will have to raise funds again two to three years down the road.

One key obstacle towards the exit companies is that some Portfolio Companies, though revenue generating, may not be growing at exponential rates that would attract buyers to come in at a premium.

On the other hand, some of the faster growing Portfolio Companies such as BioFishency and EdenShield are probably still too small to be sold at high quantums of e.g. US$50m.


Recommendation
Trendlines' Portfolio Companies, its cash and short-term investments and its multi-country incubator platform have value.

Based on its current market capitalisation of S$72.4m (US$55.8m), the market values each of the 48 Portfolio Companies at US$0.8m each.

This is almost equivalent to Trendlines' investment cost in each Portfolio Company and does not factor in upside from demonstrated/reported growth.

Hence, we continue to see Trendlines as undervalued. Potential catalysts include exits or more Portfolio Companies achieving material annual revenues.

In this report, we moderated our forecasts in view of the 1Q18 results. However, the update of our valuation will require a detailed company-by-company review of Trendlines' portfolio.

As the focus of this report is to update on Trendlines' event on 27 June and report on some recent developments, we defer the updating of our valuation to the report on Trendlines' 1H 2018 results.


Full report here.