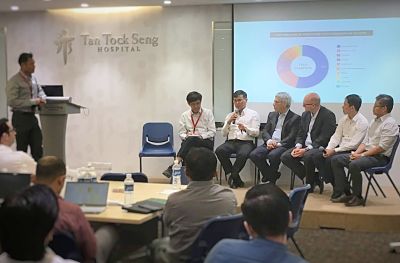 @ Tan Tock Seng Hospital. Photo: CompanyTop management from Trendlines Group was in Singapore to participate in the Centre of Medtech Innovation retreat, an initiative of Singapore's National Healthcare Group.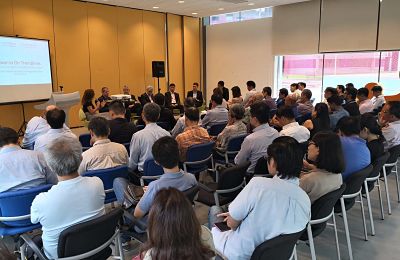 @ JTC Launchpad in Ayer Rajah. Photo: Sua Xiu KaiSubsequently (27 June), Trendlines, an Israel- and Singapore-based incubator of medtech and agritech startups, met Singapore investors and shareholders at the JTC Launchpad.

Trendlines Group

Share price:
11.9 c

Fair value:
22.5 c

Source: NRA Capital
Trendlines' co-CEOs and six key executives, including the CEOs of Trendlines Incubators Israel and Trendlines Labs and the group's VP of business development, fielded questions in a panel discussion. B. Braun's head of innovation was also present.
Steve Rhodes, co-chairman and co-CEO of Trendlines

• On the balancing act that a contemplated exit entails: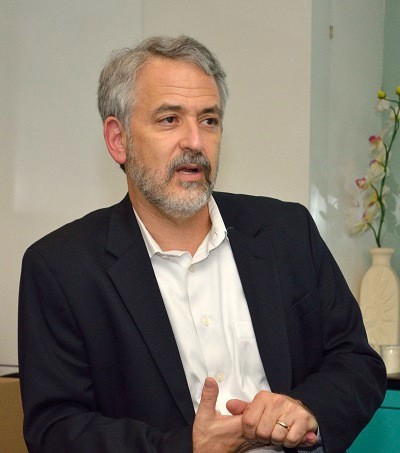 "We have this constant discussion about balancing early small exits with later large exits and it's a balance not only about the amount of money but also about the risks. Stimatix is a great example.

"For us, it was a tremendous exit – it has a US$40 million valuation today based on the present value of the expected royalty stream discounted for many different risk factors.

"After the deal was done, a friend of mine told me that we were stupid to sell the company. He said if you had gone out and raised another US$20-30 million, you could have turned Stimatix into a billion-dollar company and taken it public five years from now rather than selling it to B.Braun.

"He might have been right but I suspect that the risk of doing that would have been so great that it really wasn't justified from our perspective.

"Raising US20-30 million would have led to a very large dilution in our holding, we would have to start mass production of a product which is something we've never done. We would have had to hire a management team that knows how to bring that product to market and then we would have had to hire a sales force to compete with companies like B. Braun that has 900 salespeople and have been selling competing products for years."

• On where to look for the next exits:
"Take a look at "10 companies to watch" that we started issuing a year ago. These are 10 companies that in our estimation have made a lot of progress are getting close to market have created a lot of value and it's those companies and others that we're constantly reviewing and looking at. Is it time? Should we be trying to build additional value? Should we be raising more money for the company and taking it to the next level or should we be looking for an exit?"

• On why Singapore will continue to be the listing place:

"Singapore has been great for us. We found an environment that is excited by what we're doing and a government that has been very welcoming. Singapore is also an enabler for Trendlines' portfolio companies to access Malaysian entities, which typically do not do business with Israeli companies. This may all just take time. I believe that over time, the market will catch on."

Don't know what Stimatix is about? Read: TRENDLINES GROUP: Finally unveils identity of "Most Valuable Portfolio Company"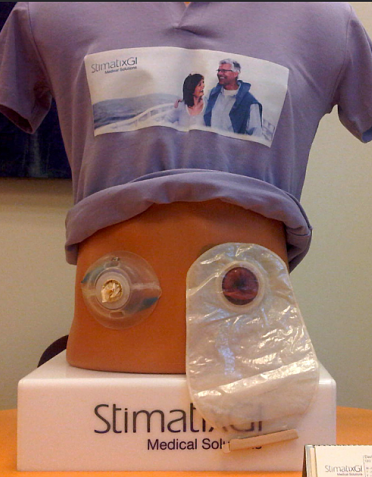 Steve Rhodes, replying to an investor's question: "The product is replaced twice a day at least. A typical person with a stoma will use something like 60 of these devices a month which is why you have to have the ability, as B Braun does, to do high volume manufacturing. We sold the assets to B. Braun, they are responsible now for the manufacturing of the product, for the continuing R&D as well the pricing strategy. We developed the product with the idea that it would be no more expensive than the competing products, which are the bags that hang down, so it was engineered to provide patients with a better quality of life but at the same or a reduced cost."