YCL contributed this article to NextInsight. At $2.61, Delong trades at a PE multiple of 1X, and has a year-do-date gain of 800%. Puzzling? Read on....



When: 18 Dec 2017.
Where: 55, Market Street, #03-01.
Notes from EGM:
1. Very good turnout with 99.92% to 99.97% approval for all 4 resolutions tabled by Delong, which specializes in the manufacture of hot-rolled mid-width steel coils.

2. Responding to shareholders' call to be rewarded for the company's stellar performance for 2016 and 2017 year to date, management indicated that it would consider paying a dividend next year if the Indonesia Morowali Industrial Park (in Sulawesi) and Anhui (in China) steel projects' cashflows are manageable.
The Indonesia steel project is a JV with Shanghai Decent Investment (a subsidiary of Tsingshan Iron & Steel) & PT Indonesia Morowali Industrial Park. The parties will jointly invest in and construct a steel plant with an annual capacity of 3.5 million tonnes at Indonesia Morowali Industrial Park. The steel plant will produce slab, wire rods and bars to be sold mainly to customers in Indonesia. Plant is expected to be operational in 12 months.

The Anhui steel project involves the acquisition of a 51% equity stake in Anhui Shoukuang Dachang Metal Material Co. The target company will operate an integrated steel plant in Liu'an City, Anhui Province, which has an annual steel production capacity of about 3.09 million tonnes. The plant will produce wire rods and bars. Plant is expected to be operational in 6 to 8 months.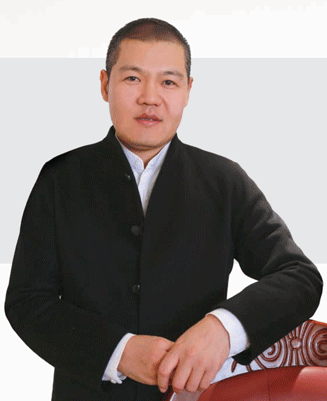 Ding Liguo, executive chairman of Delong Holdings, and his wife own 58.23% of Delong. Photo: Company
3. Ding Liguo, the executive chairman, sounded very passionate and candid. He acknowledged the past few years' poor share performance – hitting a low of 30 cents for most of 2016 -- was due to the absence of dividends and investor engagement.

The company went through a very bad patch in 2014 and 2015. He explained that anti-pollution measures imposed during a very depressed steel price market threatened the survival of the company. At RMB2000 per ton then, steel was cheaper than sand and recycled paper!

Even the "rag & bone" man will chug away any steel plate that one tried to mix with the recycled paper pile for sale. It was really dire. There was also constant pressure from the local government for him to shut down the steel plants.

He pleaded with the government to give him a chance to transform the plant to meet higher environmental standards. Today, the Xingtai steel plant has become the model for steel manufacturers to emulate.

It has managed to reduce its pollutants to a level well below the national standard and recycled much of its waste including waste water into drinking water. This year, the Xingtai steel plant which is surrounded by greenery has received 6000 visitors so far.

He apologized for not engaging with shareholders and investors because he was focusing on steering the company through the challenging period. He thought that the company has seen the worst.

Actually, the share price has done very well in the year to date, having risen from around 30 cents at the start of the year and hitting a high of $4.28 in late October. It was a belated reaction to a strong turnaround in the company's profitability which started from Q1 2016 and continued for the next 6 consecutive quarters.


2016 earnings would have been RMB813mio (RMB7.38 per share or S$1.51 per share) if the RMB600mio impairment charge recognized in 4Q2016 for the Aoyu plant shutdown was not included.

Delong delivered very strong earnings for the first 9 months of 2017, achieving a stellar RMB1.743 bio (RMB15.82 per share or S$3.23 per share). After taking out an extraordinary gain of RMB377mio for capacity transfer consideration, the normal operating earnings for the period was still an astounding RMB 1.365 bio (RMB12.39 per share or S$2.53 per share). That translates to an annualized earning of S$3.37 per share.

By 2Q2017, the company had swung into a net cash position. As at 30 Sep 2017, Delong's NAV was RMB39.36 per share or S$8.03. The company announced on 12 Dec 17 that it had received on that day RMB160mio being part payment of the RMB968mio compensation for Aoyu plant shutdown. The balance RMB600mio remains outstanding. This RMB760 mio is equivalent to RMB6.90 per share or S$1.41 per share.

The share had since given back quite a bit of its gain, last trading at $2.61. I would attribute that to concerns over the huge capex required for the Indonesia and Anhui projects which I thought was very well addressed in the EGM.

At $2.61, even though the share price is more than 8x its January level, it is only trading at a paltry P/B multiple of 0.32X and PE multiple of 0.77X. This is in stark comparison to its industry peers in the region.

Fellow shareholders, in their letter to the company which was released on the SGX website on 12 Dec 17, noted that the average PE multiple for the steel industry was 21.09X (please refer to Attachment C in that announcement). Comparable steel producers in the region trade at PE multiples from a low 7.5X to a high 22.0X (attachment D).

So why is Delong being punished so hard by the market? I would conclude that it is simply MISTRUST of the company.

I believe Mr Ding got the message during this trip and I trust the company would start to engage shareholders and investors to address any misconception or mistrust. When that happens, I would expect the market to start according the company a fair valuation.

Here's an abstract of the company's response on 12 Dec 17 to "Certain Shareholders" to show its intent:

The Board fully subscribes to the importance of having a strong investor relations unit so that meaningful engagements can be undertaken by the Company with its investors. In view of the comments raised by the Certain Shareholders, the Company will conduct an internal review to identify how the Company's investor relations policy can be further strengthened.


4. Management played a decent 10-minute introductory video in English. Showed slides of Anhui and Morowali projects. Was well presented.


5. Anhui and Indonesia plants are very similar in process and product type ie steel bars, steel wire rods. Will have synergistic benefits if successful in Anhui tender. The Anhui project is quite opportune. There are 4 other bidders.

6. China has not issued steel-making licences in the last 6 years. Southern China plant can produce all year round without shutting down in winter.

In a 300km -500km radius of the plant, there is no other steel plant. Demand outstrips supply. Steel bars and wire rods in Southern China command higher price at RMB5000 per ton vs Hot Rolled Coil in Northern China at RMB4500 per ton.

Energy savings expected as Anhui plant will be 80% self-sufficient in energy vs Xingtai plant 65%-70% self sufficiency.

7. Indonesia plant expected to benefit from annual energy savings of RMB180mio given it is 100% self sufficient in energy.

Stock price

$2.61

52-week range

27 – $4.28

PE

1

Market cap

S$288 m

Shares outstanding

110 m

Dividend
yield

--

1-year return

800%

Source: Bloomberg
Transportation savings of RMB300mio annually is expected given the plant is serviced by a dedicated deep water port in which special iron ore from Australia and Brazil stockpiled in Malaysia can be delivered to at a cheaper cost versus that in Xingtai.

That's a combined annual savings of RMB 480 million.

Demand of steel outstrips supply in Indonesia. Annual demand of 20 million tons vs supply of 7 million tons in Indonesia alone. Any surplus products will be exported to other ASEAN markets facing similar shortages. Steel bars and wire rods fetch higher prices in Indonesia than in China.

8. Indonesia JV project partner -- Tsingshan Iron & Steel -- is the largest stainless steel producer globally with a 25% global market share. Produces total 10 million tons - 3 million tons in Indonesia Morowali Industrial Park & 7 million tons in China.


Indonesia Morowali Industrial Park enjoys government-to-government level of interest as it was included in the China One Belt One Road initiatives.

Tsingshan Iron & Steel has been operating in Indonesia Morowali Industrial Park for 7 years with actual total implemented investment standing at USD2.92 billion as at 2Q 2017. It currently employs 17,000 workers in the Park, of which 13,000 are Indonesians. It is the choice employer in the Sulawesi region as it pays higher salaries than others.

9. Delong's recent announcement responding to a list of questions posed by a minority shareholders group will give you a sense of the risk & reward for investors.

10. For me, the biggest takeaway was the capex for the 2 projects is legit with very good prospects. Any investor fear that there is a scam to siphon out money has been put to rest.