To put it in perspective: Golden Energy & Resources (GEAR) is a very large play on coal and it has recently gotten a nascent exposure to lithium which is, in contrast, teeny-weeny.

But lithium is fast becoming a global story and assuming a critical role in disruptive vehicle technology.

GEAR focused exclusively on its gold exposure when it announced on 30 Nov 2017 its proposed A$67.86 million acquisition of a 10% stake in a top gold producer called Westgold Resources.
Listing

Stock price

PE
ratio

Market
cap

Golden Energy & Resources

SGX

39 c

18.3

S$906 m

Westgold Resources

ASX

$1.60

30.9

A$542 m

Liontown Resources

ASX

3.2 c

--

A$31.7 m
Listed on ASX, Westgold itself makes no mention of its exposure to lithium, and for good reason. No revenue has come out of it yet and none will for a long time to come.

So the non-initiated investor is puzzled to see the inclusion of occasional announcements by a company called Liontown Resources on the Westgold website.

Turns out that Liontown acquired the rights very recently -- Oct 2017 -- to lithium and related metals including tantalum in a project which Westgold (through its wholly-owned subsidiary, Avoca Resources) still holds a licence for.

The agreement is that Liontown will pay Westgold A$2 per tonne of any lithium ore mined and and 1.5% of gross sales receipts.


In Oct 2017, Liontown Resources acquired rights to the Buldania and Norcott projects located just tens of km away from Bald Hill and Mt Marion.Interestingly, this lithium project is located in a region in Western Australia called Eastern Goldfields Province which hosts projects that have made headlines:

♦ Bald Hill lithium-cum-tantalum project of Singapore-listed Alliance Mineral Assets (which starts lithium production in 1Q2018);

♦ Mt Marion lithium project of ASX-listed Neometals (which started production in early 2017).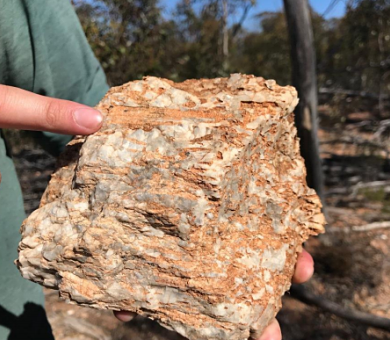 Found @ Buldania project: Spodumene -- the greyish-white aluminosilicate mineral which is an important source of lithium. Photo: Company Liontown bills its mission as "exploring and developing a new generation of battery-related metal projects."

In its 30 Oct 2017 and 5 Dec 2017 announcements, Liontown excitedly announced that "widespread lithium mineralisation" has been detected in the Buldania project.

Liontown, aside from the Buldania and Norrcott projects, also has the Kathleen Valley lithium-tantalum project and the RJC vanadium project. (See Liontown's investor presentation material).

There's a lot more work ahead to ascertain the resources.