The other day, we wrote about Nordic Group's plan to cut about S$2.3 million in expenses in 2018 from a business segment that is going to report losses for the first time this year.

That includes a 40% pay cut for two directors. (See: NORDIC GROUP: How it aims to achieve another record profit in 2018).

Nordic, as a group, however, is on track to achieve record profit this year. And its stock price reflects it: It has reached all-time highs this year.

And the S$2.3 million expense cut is, as Nordic has explicitly put it, to sustain it for record profit again in 2018.


Stock price

15 c

52-week range

14 – 20 c

PE (ttm)

--

Market cap

S$92.5 m

Shares outstanding

608.8 m

Dividend
yield (ttm)

--

1-year return

-7.9%

Source: Bloomberg
Now, here's another company -- Trendlines Group which invests in and incubates innovation-based medical and agricultural technologies -- which has a plan to reduce costs, increase efficiency and enhance shareholder value.

Along with other actions it has announced, Israel-based Trendlines, quite explicitly, is seeking to see its stock price, down by half since its 2015 IPO, reflate and reward shareholders.


Trendlines said it expects to reduce its operating expenses for 2018 by about US$1.3 million.

Co-CEOs Todd Dollinger and Steve Rhodes have agreed to reduce their salaries by 20% starting 1 Nov this year.

Additionally, many other employees, including senior management, are seeing paycuts of up to 10%.

Some employees will be let go and their work distributed among those left behind. Other expenses, including travel, will be trimmed.

The tough act comes, somewhat ironically, after Trendlines reported US$3.0 million in net profit for 3Q17 and an increase in the value of its portfolio of companies to US$94.0 million from US$83.7 million at the start of the year.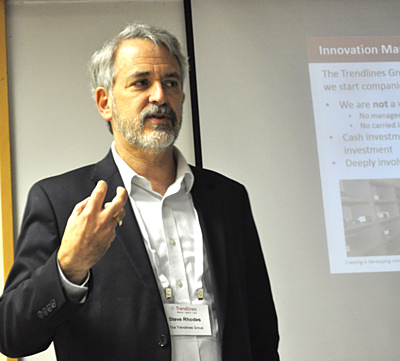 Co-CEO Steve Rhodes has taken a 20% pay cut (about S$107,000 a year) from Nov 2017. NextInsight file photo. "The goal is to increase the profitability of the company and we want to see it pass through to our share price and to our shareholders," said Mr Rhodes at a 3Q17 results briefing last week.

"When we were talking to investors for the recent round of fund-raising, they said they believed in what we were doing, in our business model. They wanted to continue to invest in us.
"But because shareholders have not seen value created for them, we think the company has to try harder."

Trendlines conducted an internal strategic review to enhance shareholder value in conjunction with its Oct 2017 placement of 100 million new shares at 14.03 cents apiece.

Funds such as Asdew Acquisitions became new shareholders while some IPO investors also put in fresh money. (See: TRENDLINES GROUP: Finds new love among big-name S'pore investors)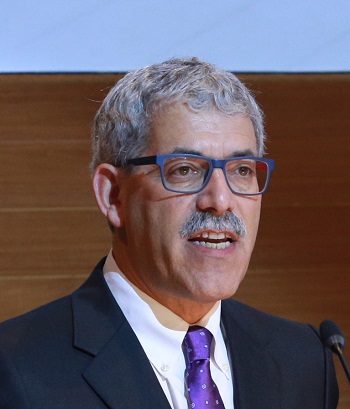 Co-CEO Todd Dollinger has taken a 20% pay cut (about S$107,000 a year) from Nov 2017. NextInsight file photo.Mr Dollinger said one key outcome of the cut in 2018 expenses is, Trendlines is better positioned to pay dividends.

Specifically, Trendlines has announced its intent to pay dividends from two sources:

• A payout ratio of 90% of royalties on the sale of a product -- unnamed for commercial reasons -- from its "Most Valuable Portfolio Company";

• A payout ratio of 40% of net cash after tax proceeds of Trendlines in 2018 and 2019 from exits from any of its portfolio companies.

Thus, for the first time, shareholders can expect a dividend next year.

The royalty stream from the commercial sale of the product -- in Europe and US -- of the Most Valuable Portfolio Company is expected to start in 1H next year.

The stream has been estimated at more than US$90 million over an unspecified number of years (a good guess would be 10-15 years).

Its net present value has been independently (and conservatively) estimated to be US$44 million.

Thus there should be concrete rewards coming along next year for shareholders, so it would not surprise if Trendlines' stock price reflates nicely.

While shareholder enrichment moves up the priority and action list, Trendlines shows no let-up in pursuing its lofty business goal of "creating and developing companies to improve the human condition". (See Trendlines' 3Q17 presentation material here.)

Watch this video to gain insights into its business -->