Memtech International manufactures precision components for diverse industries including consumer electronics, automotive, smartphone, and medical equipment.

Its competitive edge in complex engineering processes, such as in liquid silicone rubber and infra-red light technology, has enabled it to maintain profitability and pay dividends almost every year since its IPO in 2004.

Profitability and dividend track record is remarkable for a precision components manufacturer as the industry is a fiercely competitive one characterised by thin margins and high on-going capex.

The Group's dividend policy is to pay out at least 30% of its net profit.
For more information, refer to its 3QFY2017 financial statements here.
Financial Highlights

3QFY2017
(US$ m)

yoy change

Revenue

46.2

-0.5%

Gross profit

8.5

3.1%

Gross margin

18.4%

0.7ppt

Net profit attributable to shareholders

3.9

26.5%

Cash and cash equivalents

33.2

39.3%

Debt to Equity

4.1%

2.8%
At the Group's 3QFY2017 results briefing on Friday (17 November), Executive Director T.M. Chuang addressed questions raised by analysts and fund managers. Below is an excerpt of the discussion.

Q: What prevents other players from encroaching into your turf?
We used to be one of the world's top 3 keypad manufacturers, supplying to Nokia, Motorola, and Sony Ericsson.

The keypad is a component with plastic on top, rubber below, and framed by metal. Sometimes, there may be a film beneath. It is comprised of different materials. During our first decade as a keypad manufacturer, we accumulated an understanding of hard and soft materials as well as how to put them together.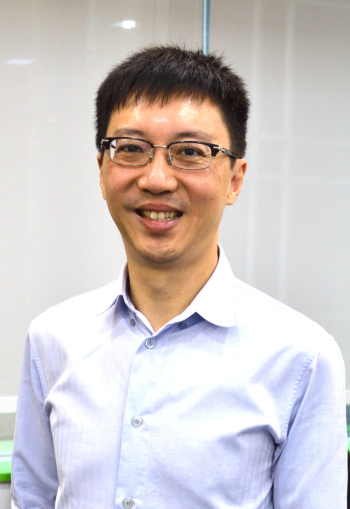 "Liquid silicone rubber is lightweight and more durable rubber or plastic."
– T.M. Chuang
Executive Director / Vice President for Corporate Strategy
(Photo by Sim Kih)
Most companies that we compete with today specialize in either plastic or rubber precision components. Liquid silicone rubber is yet another ball game altogether.

The challenge is producing components comprising of both hard and soft materials in the same mold as they react differently (such as expansion and shrinkage) under different temperature conditions.


Q: What is your debt policy?
We have a conservative debt policy.

We have a 5-year interest-free loan from a PRC bank, an incentive given by the municipal government to help companies which they believe can contribute to the local economy.

There are different types of incentives handed out. We get incentives for intellectual property patents as well as automation of factory processes. The PRC government is weeding out companies with low-value products or contributing to environmental pollution.

We receive support as we pay tax, provide employment for locals, and have big MNC customers and high-value high-tech products.

Stock price

$1.22

52-week range

61c - $1.23

Market cap

S$167.6 m

EV/EBITDA

3.08 x

PE ratio

8.5 x

Dividend yield

2.1%

Source: Bloomberg / Company
Q: Why is your tax rate so low?
We have operating subsidiaries that enjoy a preferential tax rate of 15% for being under China's High and New-Technology Enterprise Program.

Our actual consolidated corporate tax rate varies as there are other incentives as well.

Q: Do you foresee a huge increase in capital expenditure next year?
This year, we had a capital expenditure budget of US$10m to US$12m. This amount was mainly spent on facilities and equipment for liquid silicone rubber components.

Next year, I hope to keep capital expenditure to less than US$8m.