Articles can sometimes be tiring to read, especially when it comes to personal finance. Some people would very much rather have the information be directly provided through a visual that is easy to understand. Here are 10 infographics that can help you make better financial decisions.

#1 Savings Accounts
A good savings account can help you earn interest by having your money sit in the bank (although you should start investing that money as early as possible – refer to #3) . Here is a comparison on 3 popular savings accounts in Singapore. Which is the best for you?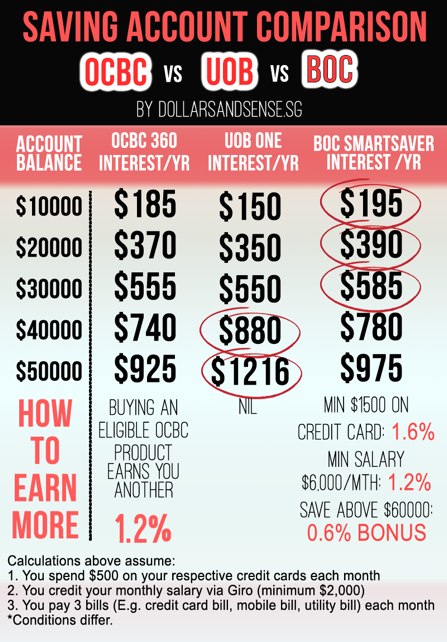 #2 Housing
Where of Singapore would you like to live? Are you willing to give up convenience and location for a cheaper housing unit? DrWealth's infographic shows you the prices of resale HDBs and Condos based on Singapore's MRT map.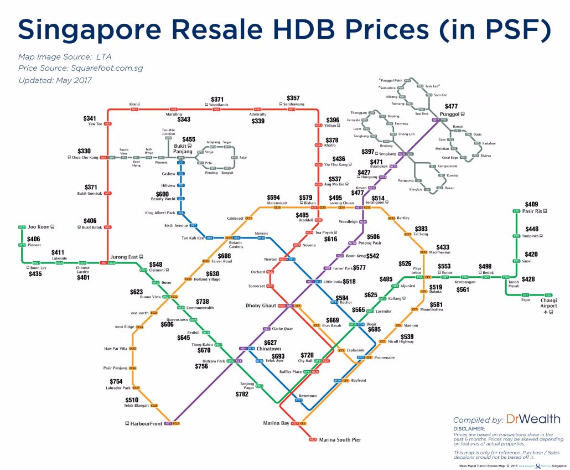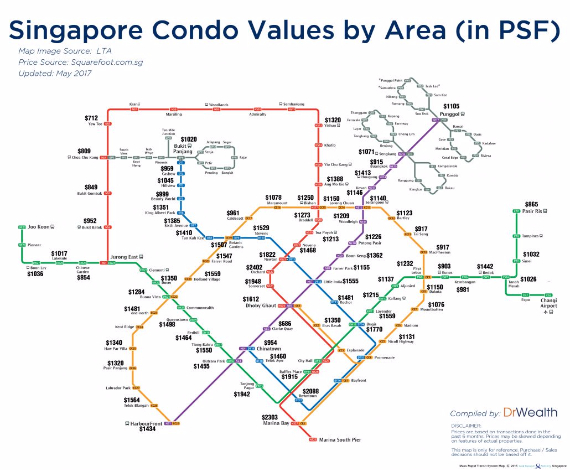 #3 Power of Compounding
This table done by The Fifth Person shows why you should always start investing early. Based on a 12% growth rate, this shows how much you would have if you started investing at 19 years old versus 27 years old. Although 12% is a very high growth rate, it could be achievable should you invest in a profitable growth company. Time in the market is often more important than timing the market.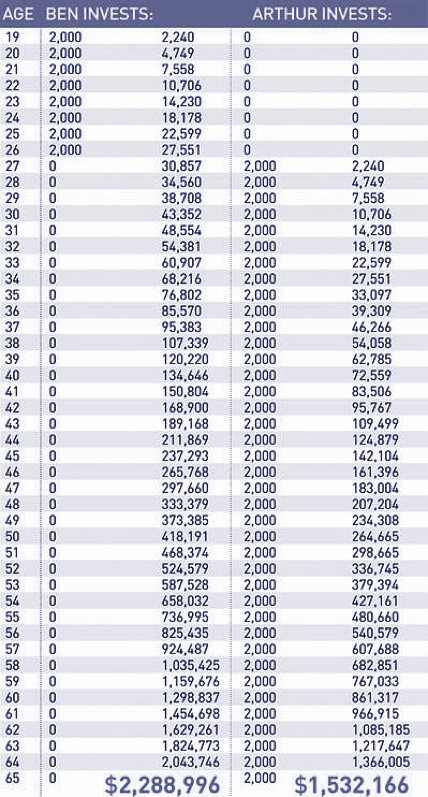 #4 Monthly Investment Plans
Monthly investment plans are a great way to get started with investing. From as little as $100 per month, you can start investing in the STI ETF. Local financial institutions offer these plans for those that wish to invest a relatively small sum each month.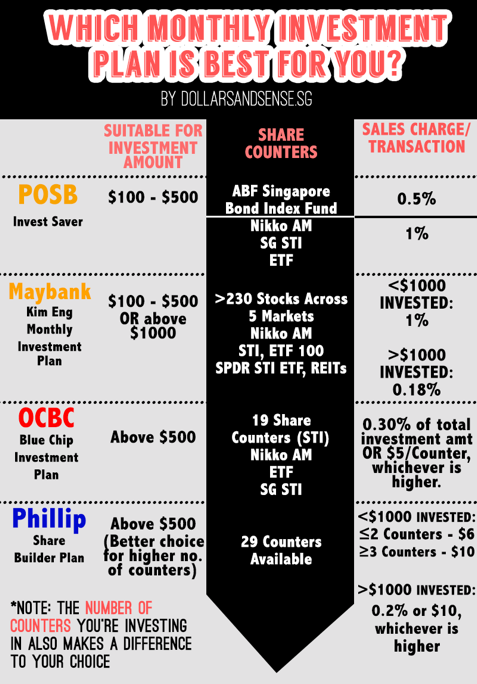 #5 Cars
Cars in Singapore are known to be ridiculously expensive. Besides the price of the car and the COE, there are other factors to consider before you purchase a car in Singapore. This infographic by DrWealth nicely summarises the monthly expenses you can expect to pay for your car.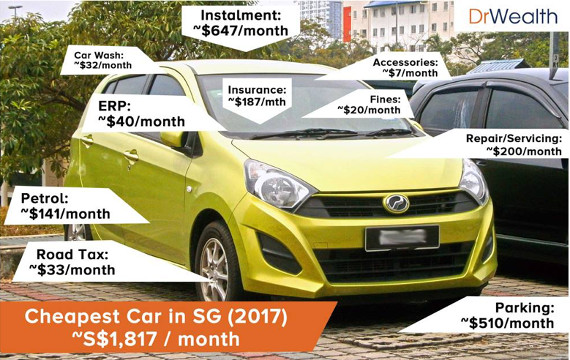 #6 CPF
CPF contributions come from both your employer as well as your wages. Do you know the differences between the CPF Ordinary (OA), Medisave (MA) and Special Accounts (SA)? Based on this infographic by CPF, you can better understand how much of this contribution goes into which account. It is important to understand what each of these accounts can be used for.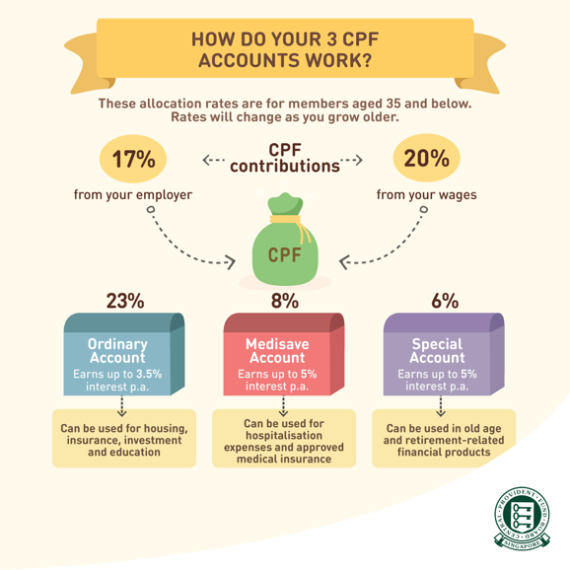 #7 Trading Account
The very first step to starting to trade or invest involves opening a trading account. This can be done at a number of brokerage houses in Singapore. With the many brokerage houses available, which brokerage house should you choose to open your account with? Here are 7 factors to consider when opening your first trading account.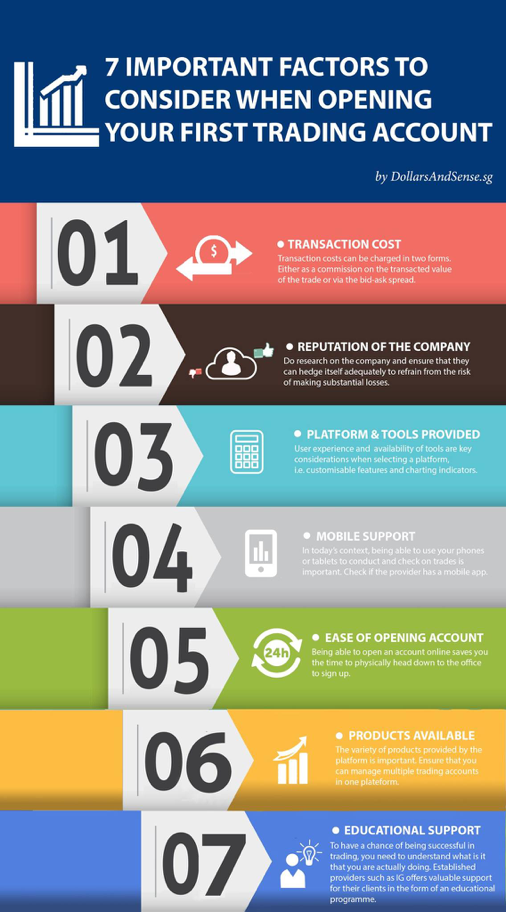 #8 Financial Freedom
A job gives you a steady income every month while savings allow you to have some emergency funds for use during rainy days. Investing a portion of that savings helps you to accumulate more wealth by growing your money through various asset classes. A common, long-term goal is to achieve financial freedom.

The term financial freedom differs from one person to another. InvestmentMoats gives their take on the different levels of financial independence.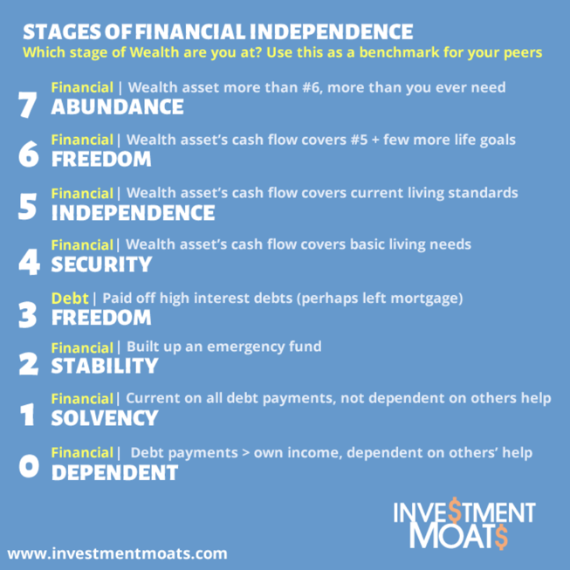 #9 Scams
If an investment looks too good to be true, it probably is. These are red flags to identify that will help you protect yourself from falling prey to investment scams.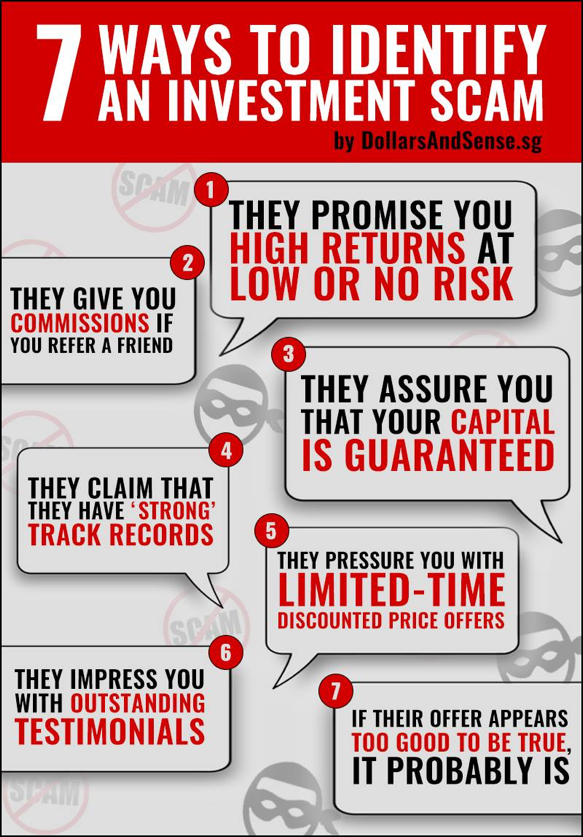 #10 Real Estate Investment Trusts (REITs)
Properties are one of the most popular asset classes Singaporeans like to invest in. Buying REITs is one way investors can "own" a stake in a property without actually having to purchase the entire property. MoneySmart's comprehensive infographic shows how one can invest in REITs and 3 numbers to look at when choosing a REIT.

This article is republished with permission from Dollars and Sense.