Excerpts from NRA Capital's report

Analyst: Liu Jinshu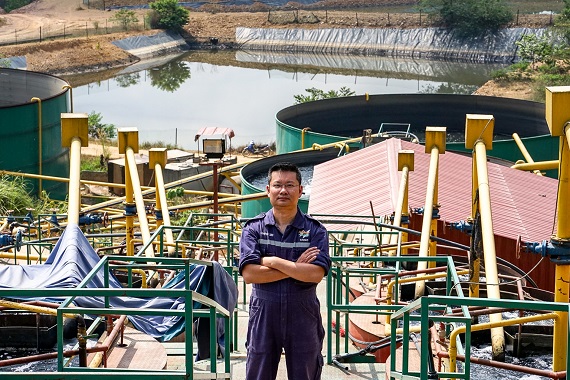 CNMC CEO Chris Lim at mine site. (Photo: Company)▪ Reserves at Rixen indicate low ore grade is temporary. CNMC's gold production fell from a high of 9,807 oz in 2Q16 to 3,669 oz in 1Q17 due to lower ore grade. However, the 2016 Qualified Person's Report (QPR) estimates that the Rixen deposit still has 147,000 oz of probable reserves and additional resources of 269,000 oz as of end 2016.

Rixen's estimated ore grade was also revised higher, from 1.1g/t to 1.3g/t for probable reserves and from 1.2g/t to 1.3g/t for additional resources. At the minimum, the economic viability of extracting the reserves has been established and that output will recover when mining reaches the higher-grade ore.

▪ Production likely to have stabilized in 2Q17 with new plant to raise output in 2H17. We expect gold output in 2Q17 to be slightly higher than that of 1Q17 due to seasonality. While we do not know when output at Rixen will recover, we expect the carbon-in-leach (CIL) plant to start operation in 2H 2017.


CNMC

Share price:
26 c

Target:
38 c
The CIL plant has a capacity of 500 tonnes per day (tpd) and can be used to treat ore from the higher grade southern deposits where reserves have grades of up to 4.0 g/t, with recovery of up to 95%.

The CIL plant can also be expanded to 1,000 tpd. In our forecasts, we assume contribution from the CIL plant to start from the beginning of 4Q17.

▪ Appreciation of the Ringgit to add FX gains. During 1Q17, CNMC recorded an unrealized foreign exchange gain of US$0.31m as the MYR appreciated by 1.4% against the USD, boosting the value of CNMC's MYR denominated cash deposits.

Consequently, CNMC reported a PATMI of US$54.8k for 1Q17. The MYR has since appreciated by 2.8% from 31 March to 22 June. Therefore, we can expect higher foreign exchange gains in 2Q17. Coupled with slightly higher output, we would expect CNMC to report improved results in 2Q17 compared to 1Q17.

▪ Exploring plans to start base metals production. CNMC also made mention of monetizing its base metal resources. Hence, we can expect base metal production to start in mid to second half of 2018 and forecast US$6.7m of revenue from the sale of base metals in 2018.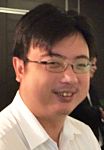 "We hold the view that the correction in CNMC's share price over the past few months has been overdone and that CNMC presents reasonable upside at the current share price of S$0.26. Potential catalysts include the definition of JORC-compliant resource estimates at Pulai and KelGold, which we have yet to factor in.

"As a base case, we expect CNMC to break even in 2017 before reverting to higher profitability in 2018. Therefore, it may take time for value discovery to occur. On balance, we decide to rate CNMC Overweight with a high average return and low-average risk classification."

-- Liu Jinshu (photo)
Analyst, NRA Capital
▪ Share price has retreated to levels prior to acquisition of Pulai and Kelgold mines. We see three drivers that will drive future growth – 1) commencement of production at the CIL plant, 2) base metal extraction and 3) the development of the Pulai and Kelgold mines.

Exploration at Pulai has advanced to diamond drilling and the acquisition of KelGold was completed in May, paving the way for exploration to start. CNMC has net cash of US$24.2m as of end 1Q17, translating to 31% of its market capitalisation as of 24 June.

Our updated model values the Sokor mine at S$0.380 based on available resources of 623,000 oz of gold. Therefore, we have yet to factor in exploration upside from all three mines – Sokor, Pulai and KelGold.