And its valuation? In its recent Powerpoint presentation, it noted that its stock traded at 29 cents, which was a historial PE of 5.6x and price/book of 0.5x. Federal International (2000) is a rare performer in the oil & gas space: It is profitable, it delivers dividends consistently, and it has a low level of borrowings.

After achieving $7.3 million in net profit in 2016, it proposed a final dividend of 1.5 cent a share (2015: 1.5 cent).

It surprised with a special dividend of 0.5 cent a share. Together, they translate into a yield of 7.1%.

Federal is paying 2 cents a share in dividend -- which constitutes 39% of its earnings -- despite a 65% fall in 2016 net profit on a 31% fall in revenue.

The weaker performance stemmed in part from a fall in sales to Chinese shipbuilders.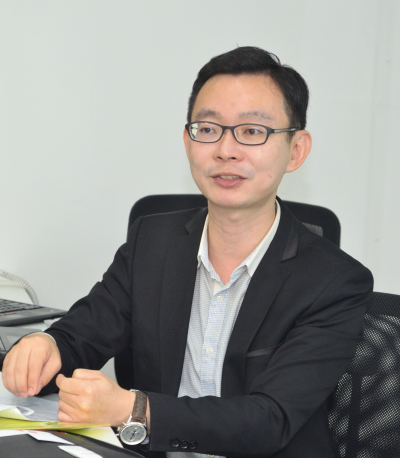 Loh Chee Meng, CFO.
Photo by Sim Kih Several factors, however, point positively to its prospects:

• Federal is not highly leveraged, unlike many of its oil & gas peers. Its net debt to equity ratio is only 13.7%.

• Cash & bank balances (including deposits): S$ 17.0 m.

• Earnings visibility with order book of S$94 m, including orders for the Zawtika Development Project Phase 1C.

Compare this with its 2016 revenue of S$ 89.5 m. The order book is for procurement of equipment for oil & gas projects.

• Its key partner, an established EPCIC (Engineering, Procurement, Construction, Installation & Commissioning) contractor, PT Gunanusa Utama Fabricators (PTG), is planning to bid for projects totalling about USD1 billion in 2017.

(PTG currently has an order book of US$305 million for the offshore platform fabrication and installation under the Zawtika project awarded by Thai state-owned PTTEP International.)

Federal is working closely with PTG in its upcoming tenders and continues to provide procurement services to PTG, under a master agreement they signed in 2015.

The ties are tight given that the founder and executive chairman of Federal, Mr KK Koh, is also the President Commissioner of PTG. Furthermore, an executive director of Federal, Don Koh, is a Commissioner of PTG.

And there there is real Federal money in PTG. It's not a straightforward case but Federal has potentially a 62.5% stake in PTG via a US$9 million loan to a shareholder of PTG. (For more details, see the Powerpoint presentation here.)

That stake is poised to raise Federal's value: PTG is working on a 2018 listing on the Jakarta Stock Exchange.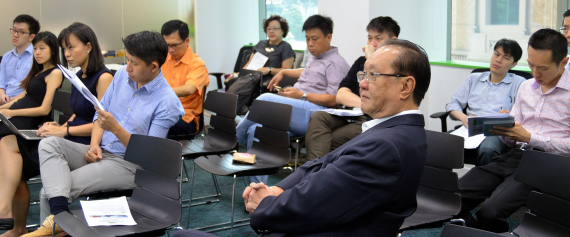 @ Federal's FY2016 briefing. Photo by Sim Kih