Excerpts from CIMB report

Analyst: William Tng, CFA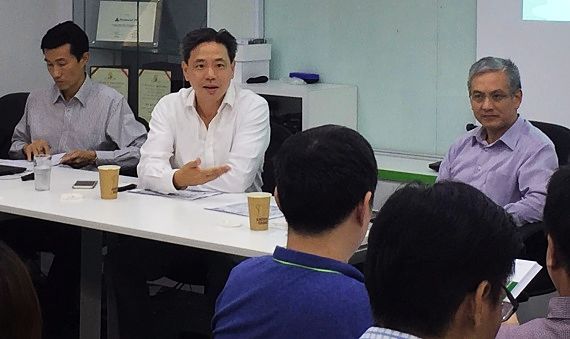 Loke Wai San, Non-Executive chairman, AEM Holdings (centre), is flanked by CEO Charles Cher (right) and Finance Director Soh Wai Kong. NextInsight file photoWhat has changed?
According to management, in FY12, AEM started collaborating with a major customer to develop the next generation of high density modular testers that are able to test various types of computer chips on a single machine.

Management highlighted that all associated costs in developing this new generation of testers have been expensed off. On 18 Mar 2016, AEM announced sales orders worth S$24.5m. This was followed by further sales orders announcements in Oct, Nov and Dec 2016.

Key risks
Key risks include:
1) exposure to the cyclical semiconductor industry. The company noted that the semiconductor industry is cyclical and it needs to keep abreast of rapid technological changes;
2) customer concentration risk -- based on the 5 Dec issue of The Edge Singapore, AEM's key customer is Intel. Management estimated that its key customer accounted for at least 80% of its FY15 revenue.


Peer comparison

Price (local currency)

Historical PE

Price
/BV

Historical Div. Yield

AEM Holdings*

0.92

6.8

1.54

1.1%

Cohu (Nasdaq)*

13.83

62.9

1.53

1.7%

Xcerra (Nasdaq)**

7.72

36.8

1.49

0.0%

Sources: Bloomberg, Company reports
* FYE Dec-15A except P/BV which is based on the latest quarter (Sep-16A).
** FYE Jul-16A except P/BV which is based on the latest quarter (Oct-16A).
Outlook
Management believes that its future prospects are strong with its next generation high density modular test handlers entering volume production in the coming years. It also highlighted that demand for high-margin related consumables should also improve. On 9 Dec 16, AEM announced that it had an outstanding order book of S$66.7m, to be delivered in 2017.

Net cash balance sheet
AEM resumed its dividend payment after returning to the black in FY15. As at end Sep 2016, its balance sheet was in a net cash position.

In its FY15 annual report, AEM CEO wrote that "As our business grows, we will need to look for more avenues to support our working capital needs. To date, we have relied solely on internal sources to fund our operations. However, going forward, it may be helpful for us to consider financing from financial institutions to complement our growth."