The Ongs last bought Lian Beng Group shares in Feb 2014 but are making a comeback on lower share prices:


Buyer

Buy
date

No. of shares

Average price

Ong Sek Chong & Sons Pte Ltd

19 Dec

500,000

46 c

8 Dec

329,200

45.456 c

8 Dec

1,500,000
(off-market buy)

45.5 c

7 Dec

200,000

45.5 c

6 Dec

195,200

45.482 c

Ong Pang Aik

26 Sept

2,000,000
(Off-market buy)

48 c
♦ This month (Dec 2016), Ong Sek Chong & Sons Pte Ltd bought 2,724,200 shares. (This is a vehicle controlled by Lian Beng Group executive chairman Ong Pang Aik and an executive director, Ong Lay Huan, who heads the group's contracts department.)

♦ In Sept 2016, chairman Ong Pang Aik made a single purchase of 2 m shares.

In total, the share purchases cost S$2.2 m.

They were made at prices which were way below the 70-c level they had traded at for many months in 2014.

The share price is down as Lian Beng Group is facing headwinds from its core construction business.

In its most recent quarterly report, 1QFY2017, revenue decreased 47.8% year-on-year (y-o-y) to S$70.8 million mainly due to a decrease in revenue generated from the construction segment and ready-mixed concrete segment.

Gross profit, however, was up 21.7% to S$18.5 million on higher profit recognition from the construction division.

Net profit fell 59.8% to S$13.5 million.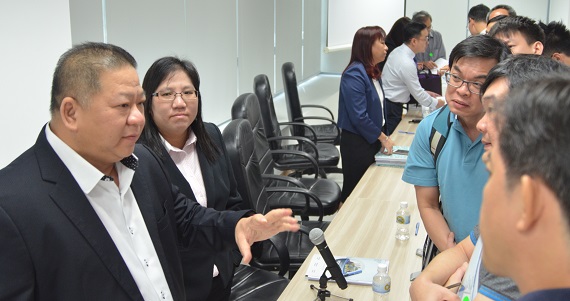 Executive Chairman Ong Pang Aik (left) and Executive Director Ong Lay Huan speaking with shareholders after the recent AGM.
(Photo by Sim Kih)Lian Beng Group has been making property investments for recurring income.

In FY2016 (ended May 2016), among other things, it paid S$51.5 million for Broadway Plaza in Ang Mo Kio. It also bought commercial HDB properties in 4 locations for S$151 millon.

Stock price

45.5 c

52-week range

39.6 - 49.4 c

Market cap

S$230 m

Price Earnings (ttm)

2.77 x

Year-to-date return
- 7%

Dividend yield

4.35%

Source: Bloomberg
Management has said that Broadway Plaza has long-time tenants and decent rental yield. As for the commercial HDB properties, NTUC Fairprice is the tenant in three of them while Courts is the tenant in the fourth property.

Overseas, in UK, Lian Beng Group has acquired a hotel jointly with Singapore listcos Heeton Holdings and KSH Holdings. In fact, this is the fifth joint acquisition in UK by the three partners to date.

Other property acquisitions:
♦ Khong Guan Industrial Building, an 8-storey freehold light industrial building in the Tai Seng area. Cost: S$31 million.

♦ Freehold property in Melbourne, with a net lettable area of 11,447 sq m in an 18 storey office building. Cost: A$51,500,000.