Singapore-listed Regal International Group has delivered a more than five-fold improvement in gross profit for its property development business.


"In the next few quarters, our performance will benefit from the even more successful completion and revenue recognition of several large scale on-going projects such as the Tropics City, Regal Corporate Park,
Treetops@Kemena in
Bintulu."

-- Dominic Su, executive chairman, Regal International

Gross profit jumped to RM8.3 million for the three months ended 30 Sept 2016 from RM1.3 million for the same period a year ago.

This significant gain came on the back of a 233% year-on-year increase in revenue to RM37.2 million during the quarter which saw higher project completions and sales.

Gross profit margin improved to 22% from 11% in 3QFY2016 as a result of more higher yielding property development units being sold.

Net loss from continuing operations for 3QFY2016 was RM0.4 million against RM5.8 million in 3Q2015.

Mr Dominic Su, Chairman and CEO of Regal International, said, "We are pleased with our property sales momentum which has continued to gather strength despite the rather benign property market.


Regal International

Share price:
15.1 c
Fair value:
33 c
Source: NRA Capital
"Our reputation as a quality developer, combined with our resilience, adaptiveness and strong market network, has enabled us to rise to the challenges and kept us on growth track. While our administrative expenses remain significant, these ground work are necessary to lay the foundation for future growth."

For more details, see press release.


Regal venturing beyond property development
♦

In September 2016, Regal International has entered into a Heads of Agreement with China-Malaysia Qinzhou Industrial Park Administrative Committee in conjunction with the development of the Halal Industry Zone within the China-Malaysia Qinzhou Industrial Park. This venture potentially enables businesses from China and Malaysia to collaborate and tap the global Halal market.

Regal, through its leverage on Malaysia's widely accepted accreditation in Halal certification, has a strategic edge in providing the platform for aspiring businesses to expand into the fast-growing Halal market.



♦

Regal established a logistics arm in October 2016 to collaborate with a Singapore-headquartered freight forwarding and logistics solutions provider to manage and run the latter's business for six months. This venture complements RIG's vision to be a Halal hub Industries park operator.



♦

Regal established in October 2016 two real-estate focused asset management companies, setting the Group's initial pace into the asset management business. The extension into asset management complements the Group's existing property development business, enabling Regal to work with its partner and future investors to acquire a target portfolio of quality real estate projects.

♦ Regal has incorporated a 70%-owned subsidiary, Regalia Properties Pte. Ltd., to market international investment properties located in Australia, United Kingdom, Malaysia and Thailand, based on a "high-touch" bespoke approach targeted at discerning qualified investors from Malaysia and Singapore.
♦ Wooing investors in

Taiwan

& potential partners in China fair


Regal had linked up with the Sarawak Tourism Board Regal International's real estate projects, largely concentrated in Sarawak, gained exposure in a tourism event in Taipei early this month.

to promote Sarawak as an eco-tourism destination in a three-day Mini Travel Seminar in various cities of Taiwan and in Taipei International Travel Fair

on 1 – 5 November.

The trip heightened Sarawak's exposure to international travel operators and publicized Regal's real estate projects.

For more info, visit Regal's webpage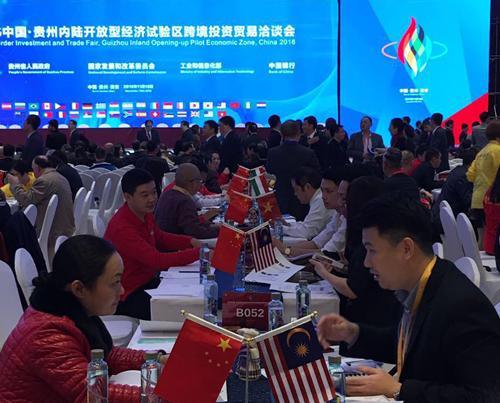 On Nov 10, Regal participated in the Cross-border Investment and Trade Fair in Guizhou, China, to explore business investment opportunities to value-add to the development of Halal Industry Zone within the Qinzhou Industrial Park in Guizhou, China.


The event attracted over 1,600 participants from countries such as UK, Russia, Indonesia and South Korea, providing a platform for Regal to connect with companies from industries such as big data, food, health, tourism, agriculture and high-end manufacturing.


For more info, visit Regal's webpage.