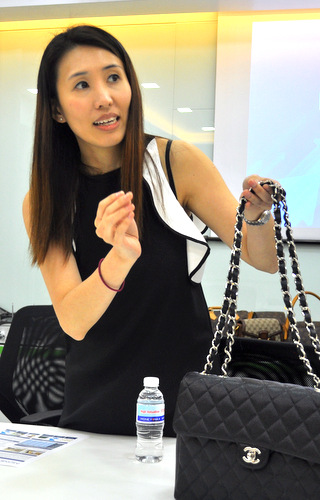 MoneyMax marketing manager Elim Lau sharing some tips on how a branded bag will be appraised for authenticity.
Photo by Leong Chan TeikFor years, MoneyMax Financial Services has taken in gold items, jewellery, precious metals and luxury timepieces in its pawnbroking business as well as for resale.

Now, it is adding luxury bags to the list, attracting in the process a new customer base.

More interestingly, because of its network and listed company status, it becomes the leader not only in Singapore but the region of a market which currently is served by a scattering of players in shopping malls and online.

MoneyMax reckons it gives its customers more confidence in selling or buying branded bags. After all, it is ISO 9001 certified (for commitment to meet customers' expectations) and CaseTrust-accredited for fair trading and transparency.

It also has a money-back guarantee in the unlikely event a bag it sold is later found to be fake. It also has insurance coverage for items which are pledged to it for a loan.

It has hired in-house appraisal experts to determine if a bag is authentic and, if so, assign a value to it.

If the customer wants a loan, it would be at an interest rate of 1% a month for a maximum of six months -- the same terms that apply for other assets pledged to MoneyMax. Beyond six months, the company is entitled to exercise ownership rights if the pledge is not redeemed or renewed.

MoneyMax reckons that some 40% of its customers with a luxury bag are interested in a loan.

The remaining 60%, according to management's forecast, are interested to either sell or buy a pre-owned (or unused) luxury bag.

Many among the 60% (read: women) are in need would like to carry a different nice bag at different times.

(MoneyMax already has a selection of bags for sale at its website. Click here.)


♦ Starts @ Woodlands MRT and HDB Hub (Toa Payoh) outlets
This pawn-or buy-or sell your bag business is available initially at two MoneyMax outlets -- in Woodlands MRT and Toa Payoh HDB Hub.

It will be offered at the rest of its Singapore chain by the end of 2016, and possibly its Malaysian outlets subsequently.

Already, customers who wish to sell can just take a photo of their bags and upload it to MoneyMax's website for an indicative valuation.

If they wish to proceed with the sale (or wish to buy), they should go to MoneyMax (initially at its Woodlands or Toa Payoh outlets) to finalise the transaction.

In the initial phase, MoneyMax will invest up to S$5.0 million to build up a selection of bags (including buying from overseas suppliers), renovation of its current outlets and staff training.

The renovation of the outlets is necessary in part to create storage space for the bags.

"By giving customers greater assurance and through our bigger business volume, we are injecting positive energy into the market. Customers have more choice and probably even better prices," said MoneyMax executive chairman Dr Peter Lim.

"We have seen examples of such a business in Japan and Hong Kong. We see that Singapore has the potential to be a regional hub for this kind of business."