CORDLIFE GROUP has brought cheer to its shareholders with its share price on an uptrend and touching a record $1.535 recently despite the sharp decline in the broader market.

Now, the company has another piece of good news: It has been accredited by the Foundation for the Accreditation of Cellular Therapy (FACT) for the next 2 years.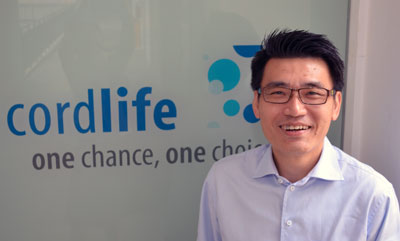 "We are committed to providing the best laboratory facilities and patient care system," said CEO Jeremy Yee. NextInsight file photoThis feat by Cordlife has put Singapore on the industry's world map, as there are only six private cord blood banks in the world with double-accreditation status from AABB and FACT-NETCORD.

With this new accreditation, Cordlife becomes the first private cord blood bank in Singapore and South East Asia that fulfils two world-class accreditation standards.

The latest accreditation was attained after undergoing successful documentation and inspection that confirm that it is in compliance with NetCord-FACT international standards for cord blood collection, processing, testing, banking, selection and release.

Today, NetCord-FACT standards are universally recognized by stem cell transplant programs. NetCord-FACT standards are set by world-renowned experts vested in the improvement and progress of cellular therapy, including knowledgeable clinicians, scientists, technologists, and quality experts who represent the entire continuum of cell manufacturing and administration.

In 2005, CordLife became Southeast Asia's first cord blood bank accredited by AABB (formerly known as American Association of Blood Banks).

Cord blood, that is, blood samples taken from a newborn baby's umbilical cord, is a rich source of hematopoietic stem cells, which are precursors to blood cells. Cord blood has been used to treat certain diseases of the blood and immune system, including lymphoma and diseases related to leukemia.

"The FACT accreditation provides physicians and families with the assurance that Cordlife has the industry's gold standard," said CEO Jeremy Yee.