A Forise shareholder contributed this article to NextInsight

Time & date: 10 am,10 Dec 2015.
Venue: SGX Centre



The EGM was to seek shareholders' approval for Great Group to change its name to Forise International Limited.

In attendance were about 25 shareholders and the company's Executive Director, Mr. Peng Weile, and the two independent directors, Mr. Christopher Chong Meng Tak (Lead Independent Director) and Ms. Lee Kim Lian, Juliana. The Finance Manager (newly-appointed) also was present.

Mr Peng is both Singapore and China-based, and speaks very local English, having lived in Singapore for many years. He says that he has known Mr. Wang Xin for several years BEFORE his appointment to the Forise Executive Director role.

I also learnt that Mr. Chong is a new appointment by the new owner and management whereas Ms. Lee and Mr. San Meng Chee are Independent Directors from the previous board.

I would like to share my recollection of my chat after the formal EGM with some members of the management team. The actual wording in the Q&A below is not necessarily 100% accurate but the substantive meaning is as best as I can recall. Bear in mind also that the conversation was largely in Mandarin and I'm sharing a translated version.

#1. Question - Are you not concerned about the 1 March 2016 deadline for the Minimum Trading Price ruling (main board stocks must trade above $0.20) of SGX?

A - We are already on the SGX Watch List and are trying our best to see how we can get off this watch list as soon as possible. Hence, for now the MTP deadline is not relevant to us as we are already on the watch list.

#2. Q - What is the direction of the new businesses for Forise (FIL)? Will these businesses be related to the Forise Group (also known as Fu Hua) parent company's businesses?

A - We are earnestly working with the management team to explore all possible options for new businesses.

#3. Q - What will the company (FIL) do with the existing undergarment business?

A - We are earnestly working with the management team to explore all possible options for new businesses. Please wait patiently for our announcements. We cannot reveal our options to you in such a meeting.

#4. Q - What is the business of your Forise Group (Fu Hua) parent company (owned by Mr. Wang Xin)?


A - It is best characterised as a mini-conglomerate. We are in asset management, development and management of tourism projects, property development (non-residential), and environmental projects and products. We are in businesses that ride on current and future big trends in China (and the world). We have offices in major capitals of the world.

#5. Q - Are the businesses of your parent company profitable?

A - Very profitable

#6. Q - Is your parent company a private entity? Can you give me an estimate of your latest annual revenue?

A - Yes, Mr. Wang Xin is the (majority) owner of the parent company and it is all private. The annual revenue estimate is about a few hundred "YI" in RMB . (Note: one 'yi' in Chinese is 100 million. I interpret the answer to mean the parent company's annual revenue should range from RMB 10 billion to possibly 50 or 60 billion RMB).

#7. Q - Is any of your owner's (Wang Xin) entities listed anywhere in the world? Is FIL on SGX the only listed company he has among all the companies in his FORISE / FUHUA groups.

A - Yes, FIL on SGX is the only public company in Mr. Wang Xin's portfolio of companies.

#8. Q. I cannot find much information on Mr. Wang.

A - Please use BAIDU rather than Google and search his name especially in Chinese 王新.

#9. Q - Why does Mr. Wang Xin want to have a listco in Singapore?

A - Singapore, like Hongkong, is an international financial capital in Asia. We have offices in major capitals of the world. Our Hong Kong office is well established. We also have a financial licence to manage assets in Hong Kong.

#10. Q - Your company stock is over-valued based on its current undergarment business (losing money in the last few years). That is why I am hoping to understand your future business direction for FIL in order to justify its pricing. Honestly, many Singapore investors are wary of China-owned listed companies.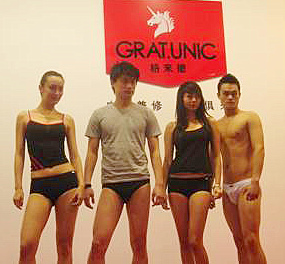 Great Group (now Forise International) targets the higher-end undergarment market. Photo: CompanyA - Many Chinese companies that came to list in Singapore in the first wave had strong fundamentals. This was followed by a later wave of 'weaker performing' Chinese companies came to list on SGX. Nowadays, the Chinese companies that do come to list (rarely) outside of China (or HK), they will have a big picture or grand plan for such a listing (for the whole group). After all, Chinese companies can get much higher PE ratios back in China, and you have witnessed US listings (of Chinese entities) that are trying to de-list and go back to Chinese bourses.

We can get a higher PE ratio if we list in China compared to Singapore but we have chosen to be listed in SGX. (No further elaboration)

#11. Q - The previous owner under Great Group Holdings issued 138 million private warrants to an associate SAPO group. So far 10 million warrants have been converted. Can you elaborate on this as it "seems" to be something that is "hanging over" and affecting the stock price of FIL? Will the conversion of these warrants be publicly announced and shares held by SAPO be publicly announced?

A - This is an old issue from the previous management. The conversion of these warrants by SAPO will be publicly announced (since it affects the entire market cap), but the shares held by SAPO will not be publicly announced since they are below the 5% threshold. These warrants will expire in July 2016. (No further elaboration as the management team do not appear to be too concerned with these warrants issued to SAPO).

#12. Q - Your company has not announced a new Financial Controller (FC)?

A - We have already (recently) appointed a Finance Manager (to replace the former FC). We have no need for a more senior Financial Controller for the time being. For the current rank of the incumbent, we felt there was no need to make an announcement.

#13. Q - Your parent company is building a new mega retail/condo project is the Gold Coast in Australia. Is there anything else you can tell me about FIL (or the parent group)?

A - Please wait patiently for our announcements. We cannot reveal our options to you in such a meeting.