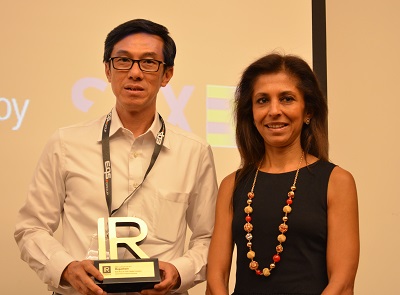 MegaChem CFO Francis Yau (left) receives the award for Best Investor Relations by an SGX Catalist company from Mita Natarajan, SGX Head of Corporate Services. Photo by Sim Kih
INVESTORS AND ANALYSTS have voted a relatively small cap stock as having the best investor relations practice among Catalist stocks.

IR Magazine Awards & Conference – Southeast Asia 2015 invited investors and analysts to vote for their favourite company in various categories that range from overall investor relations (large cap / mid cap / Catalist) to best investor relations via sector or country.

MegaChem's market cap is only about S$50 million, relatively small compared to Catalist stocks such as TalkMed (~S$650 million) and Astaka (~S$420 million). Yet, it garnered the most votes among about 170 Catalist stocks.

"Investor interest in Catalist companies dwindles down easily. The challenge for small cap companies is to ensure that investor interest can be sustained over the long term. Retaining shareholder loyalty is about building a sound and sustainable business, which can in turn enhance long term shareholder value," said MegaChem's CFO, Francis Yau, at the awards ceremony last Friday (4 December).

"We also need to keep communication channels open in good times and bad," he added. However, he qualified that while it is important to be consistent in its investor relations activities, it is even more important to deliver the results. MegaChem has won investor relations, corporate transparency and annual report awards almost every year in the past decade.
How MegaChem distinguishes itself

MegaChem earnings stability has enabled it to pay dividends every year over the past decade. At a recent stock price of 37 cents, the stock has a dividend yield of 2.8%.

As its products are part of the downstream stage of the chemicals supply chain, the Group is relatively unaffected by the current oil price slump. According to the CFO, the specialty chemical manufacturer and distributor reduces earnings volatility through active diversification of product range, market coverage and customer industry.

The Group exports a wide range of products to over 30 countries worldwide from its facilities in 11 countries - Singapore, Malaysia, Indonesia, Thailand, Vietnam, Philippines, China, UAE, India, Australia and the United Kingdom.

It has over 2,000 customers across a wide spectrum of industries, ranging from construction, automotive and electronics to pharmaceuticals, personal care products and beverages. This diversification strategy has enabled it to be profitable since inception.

"To maintain earnings growth momentum, we intend to deepen our market penetration by increasing our customer base," said Mr Yau.

Most listed companies organize results briefings for analysts and investors. To address the needs of retail investors, MegaChem has gone a step further. Its corporate website hosts webcasts of its results briefings as well as transcripts of the CFO's answers to investor queries after every half-yearly results announcement.

In fact, Megachem has an admirable track record of webcasts and online Q&A for more than 10 years.
Financial PR was the official public relations partner for the IR Magazine Awards & Conference – Southeast Asia 2015.