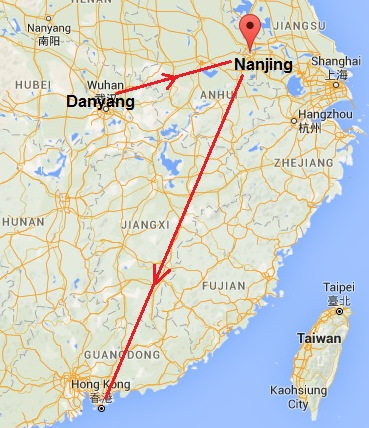 Itinerary: Visit factory in Danyang, attend F&B fair in Nanjing, check out stores in HK. Map: GoogleNEXTINSIGHT AND SEVERAL analysts will soon be visiting Sino Grandness' year-old beverage manufacturing plant in Danyang in Hubei province.

Over a four-day period, starting this Friday, we will also attend a F&B trade show in Nanjing which Sino Grandness is taking part in.

From Nanjing, we will fly a domestic airline to Hong Kong to catch a SIA flight home. There will be a couple of hours for us in HK to check out some city stores which carry beverages of Sino Grandness.

Our visit to the factory in Danyang is of particular interest. It officially started operations in Oct 2014 after securing all the necessary permits.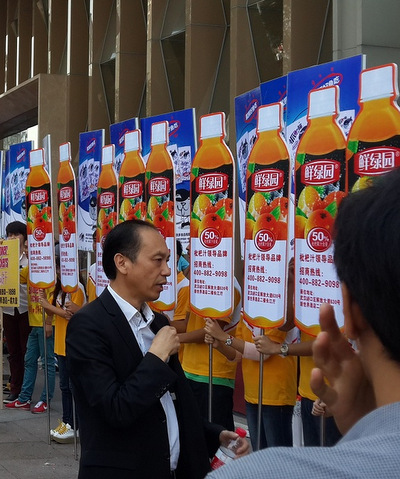 CEO Huang Yupeng @ a previous F&B trade fair.
Company photo.The lack of factory activity in periods prior to Oct 2014 led 'researchers' hired by a short-seller, 'newman9', to conclude that the factory is just "sitting idle".

The report said: "Our researchers found no sign of production within the Hubei factory, which was supposed to be operational in 4Q13 and have up to 200,000 tonnes capacity this year. During the first day, there were no wagons or trucks entering or exiting the main gate. On the second day, an empty truck entered the complex at 9am and remained idle while workers loaded small red boxes onto the vehicle. We do not know what was in the boxes, but we doubt it was juice products. The truck remained at the factory that evening."

The short-seller's report was dated 4 Sept 2014, which implies that his field work was carried out in August, if not earlier -- ie, the timing was premature.

Well, what would you like to know? Please put down your questions below, so we can try to find answers as we walk the grounds, observe the F&B fair and visit stores in HK.