Live Multi Game (LMG) machines encircle live dealers handling table games such as baccarat, roulette and sic bo. There is a live feed of the results of each game to the terminals. Bets are placed on each terminal and payouts are made automatically. Photo: CompanyIF YOU'VE EVER been to a Macau casino, you've likely tried your hand – and luck – at gaming machines of Paradise Entertainment Ltd (HK: 1180).

"Our game products are in over 90% of the casinos in Macau including all the big names like The Venetian Macao, Sands Macao, Wynn Macao, Galaxy Macao, Hard Rock, City of Dreams and Casino Lisboa," said Paradise Entertainment Chairman Mr. Jay Chun in a recent interview with NextInsight.

He is particularly bullish on the firm's home market of Macau, which overtook the Las Vegas Strip in terms of gaming revenue for the first time nearly a decade ago -- in 2006.

"We expect continued good growth in Macau's gaming sector over at least the next 20 years."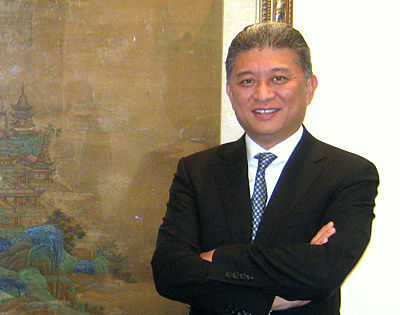 Jay Chun, executive chairman of Paradise Entertainment, owns a majority stake in the company which currently has a market cap of HK$8.1 billion Photo by Shane Li/Aries ConsultingAnd there is immense potential for growth in the number of people travelling to the former Portuguese colony to set up a date with Lady Luck.

"There were nearly 30 million individual visits to Macau last year with the vast majority from the PRC.

"But if you do a bit of math, you will discover that 95% of Mainland Chinese have not yet been to Macau," he added.

Paradise Entertainment is engaged in both casino management as well as the development, supply and leasing of gaming machinery and equipment.


Investment analysts have been bullish on Paradise of late with DBS Vickers and Macquarie initiating coverage of the Hong Kong listco with "Buy" and "Outperform" recommendations, respectively.

DBS has a 9.80 hkd target price while Macquarie's is slightly higher at 10.00 hkd (recent share price 6.91).

DBS forecasts a 2014 net profit of 337 million hkd for Paradise while Macquarie expects 210.5 million.

DBS is most bullish on Paradise's gaming machine business.

Paradise's LMG (live multi-game) machines are proprietary gaming products patented in the US and Macau with an initial 24 machines installed at The Palazzo, Las Vegas already performing better than expected (>US$350 daily net win per machine).

"This is sending a ripple across The Strip and we expect 700 machine sales this year," said DBS analyst Lee Wee Keat.
DBS expects Paradise's gaming machine sales to more than double in 2015, reaching 4,000 total units.

"We estimate that the US market is worth US$2.35bn conservatively. Overall, we expect 3,000 unit sales in 2014 – Macau (1,000 units), Australia (1,000), US (700) and ASEAN region (300)."


Meanwhile, Macquarie noted: "Paradise's LMGs have already started to be deployed (in Macau) with strong reception and the order book looks strong into 2014 and beyond, while its casino management business in Macau also adds to the strong outlook."

Investors can bet on a strong return on the shares of Paradise. "Over the next three years, we think Paradise can generate over 100% return," said Macquarie analyst Gary Pinge.

To date, the company's main cash flow contribution has come from managing its flagship gaming asset – the Casino Kam Pek Paradise in Macau, officially opened on December 28, 2007 -- which has delivered 45% revenue CAGR over the past three years.

Paradise has just signed a deal that gives it control of a second casino, 'Waldo', and it expects to finalize a third contract this half.

"We think the next two years will be break-out years for Paradise, with EPS rising 422% on the back of a 196% rise in revenues and EBITDA margin going from 26% to 29.6% -- in line with averages of the main comparables," Macquarie added.

Paradise Entertainment's shares could be had for about HK$2 as recently as Oct 2013. Today, they go for more than HK$7 and a trailing PE of 19X. Chart: Yahoo Finance

Paradise's Mr. Chun, fellow executives and perhaps most of all – shareholders – have also been very upbeat about the Hong Kong-listco's share price of late after it soared 569% in calendar year 2013.

And in 2014, it is already up some 70%.

Boosting the share price of late was the recent announcement that Paradise Entertainment unit Letou Macau (樂透澳門) agreed to provide sales, marketing, promotion, customer development and recommendation services to Galaxy Waldo Casino, including 30 game tables and 200 slot machines.

Letou Macau will obtain approximately 56% of pre-tax net gains from gaming tables, live Baccarat and slot machines.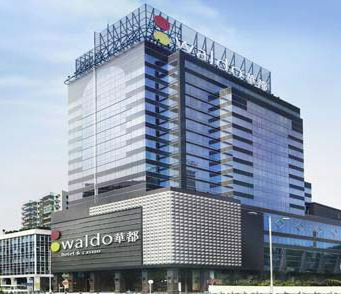 Waldo has just become the second Macau casino to be managed by Paradise Entertainment. Photo: Company Mr Chun shared insights into the business in the following Q&A session with NextInsight:

Q: With Waldo Casino coming under the management of Paradise, do you expect the Macau market to constitute a larger percentage of total group revenue going forward? Or will Paradise Entertainment's steady overseas order growth mean ex-Macau revenue will contribute a greater proportion to the top line?

Mr. Chun: We are extremely excited to provide our patrons with our diverse quality services and state-of-the-art technology in order to offer them an unrivaled, exciting gaming experience and a memorable time.

We predict the new deal could -- along with Kam Pek -- contribute up to 60% or more of total group revenue going forward.

Q: What other established gaming venues are major possibilities in Macau for your firm on the casino management side?

Mr. Chun: We are always keeping an eye out for opportunities but it is much easier to have a breakthrough on the gaming machine supply and leasing side because more than one supplier can serve a single casino.

First we try to lock in a supply contract before attempting to move into casino management.Q: There is already open talk that a third casino will come under the management of Paradise as early as 1H this year. Can you share insights into this matter?

Mr. Chun: Paradise targets to take over another casino site in 1H2014 – the Macau Jockey Club. The facility has been closed since 2004 and we hope to reopen it and move a minimum of four tables there.

The Macau Jockey Club is located in Taipa District, which has recently seen improved infrastructure, including a Light Rapid Transit Railway. Our company is well positioned to provide management services to Macau Jockey Club upon local government approval. While 4-6 tables sounds small, the strategy is to leverage these tables with up to 400-600 LMG terminals.

Q: As machine sales are a core and successful business segment of your company, and past sales have been significantly propelled by machines supported by US patents, can you share with us the trend of R&D spend by Paradise, the number of R&D staff out of the total 354 staff (as at June 2013), and any information about the staff's capabilities? Will Paradise be developing new machines?

Mr. Chun: Paradise's business model is asset-light. The only capex required is minor maintenance capex and R&D expenditure (~HK$10m per annum). We have around 80-100 software engineering staffers in our Zhuhai and Shenzhen offices. Paradise will introduce a new generation of LMG machines (Double 32) in Macau this year.

Early simulation shows that the Double 32 machine is capable of turning over 1.5 games every 45 seconds from 1.07 games currently. In other words, a player can bet up to 120 games an hour (versus 85 games currently). The new machines will sell at a higher ASP of US$25,000 each.

Q: Looking ahead, which markets offer the most growth potential, and are there any regional rivals that might challenge Macau?

Mr. Chun: We just finished our peak season, if one exists for this industry, with the completion of the extended Chinese New Year holiday. The next peak comes for us in July.

And our industry has proven to be relatively recession proof. Yes, we do get fewer VIP visitors during economic downturns but the mass market is less sensitive to slowdowns.

Macau, Australia and the US are our top growth markets going forward. Our flagship Casino Kam Pek Paradise in Macau attracts 14,000 people per day which is very high.

In November 2013, our LT Game division launched its first deployment of patented LMG terminals into the US market, with the first batch of 24 LMG terminals having gone live inside the Palazzo Casino in Las Vegas. We are extremely excited about this.

We are also confident that our patented LMG terminals represent a huge opportunity for US-based casinos to see tremendous supplemental revenue growth and organic demand from a new as well as under-served player base.

Plans for a new casino in Russia's Far East are not a major worry as Macau is much more developed and accessible to our target market. Also, plans to develop a gaming industry on Taiwan's offshore islands seem to have hit a regulatory wall.Q: What are the significant challenges, if any, that you need to navigate in order to make further headway in the US market?

Mr. Chun: Nevada is the first jurisdiction to open up. Paradise secured a license to sell LMG machines in Nevada on November 13, and has since deployed 24 machines at The Palazzo, Las Vegas.

Commercial success will see the total number of machines in the property ramping up to 80 units in 1H14. The success at The Palazzo will determine how fast the machines will be adopted across The Strip. The Palazzo's machines are currently delivering daily net wins in excess of US$350 per machine on a US$5 minimum bet. This is 50% higher than initial estimates. There are 256 commercial casinos in Nevada and we expect 700 unit sales from this market this year.

Licenses in other states are set to drive sales exponentially. We expect US sales estimates will continue to increase in 2015 upon the securing of a California state license in 2014. The licenses have to be applied for in individual states due to different gaming governing commissions. There are 70 tribal casinos and 88 card rooms in California. Securing the California state license is essential as it could set a precedent for similar licenses in other gaming jurisdictions, such as the tri-state area of New York-New Jersey-Pennsylvania.

Q: How important are referral services to entice customers to desired gaming establishments? And how effective are they compared to word of mouth, TV advertising, marketing on Cotai Ferries, etc...?

Mr. Chun: All are important and effective. Overall, trade shows are the most effective for marketing our machines and equipment, while traditional marketing and advertising – as well as referrals – are key to bringing more visitors into our managed casinos.

Q: On February 19, Macau's highest court ruled again in favor of you and your subsidiary -- Natural Noble Ltd. How important is this, especially in the Australia market, to your firm's future growth strategy?

Mr. Chun: SHFL Entertainment (Asia) Ltd (SHFL Macau) was seeking to nullify the injunction I filed with Natural Noble in May 2012 which prevented SHFL Australia from showing their products at G2E Asia 2012, but we won and SHFL's request was fully rejected.

We fully expected the ruling and see it as a big boost to our Australia business, a country which has the highest per capita annual spending on gaming at 1,000 usd.

Q: How will it be a big boost? As background, how much did Australia contribute in revenue in the last reporting period to Paradise, and what can you say about the potential growth in Australia this year?

Mr. Chun: Australia is a big market for gaming machines. In fact, Australia has higher gaming machine density (110 people per machine) than the US (365 people per machine), and consistently ranks among the top 10 countries with the most number of gaming machines. Paradise would have had to compete against other big-name peers such as Aristocrat and IGT without the patents protection.
Paradise started work in the market in December 2012, installing its first 20 LMG machines at Crown Casino, Melbourne (Topline revenue contribution in terms of Australian sales is roughly 20 x US$17,500 – ASP of LMG machines).

Subsequent orders raised total machines at the property to 200 units in 2013-14. We believe that the other 12 casinos in Australia will adopt similar stadium-style multi-gaming. Crown Casino has an average daily net winnings per machine of US$370. We expect 1,000 machine sales in Australia in 2014.

The real jackpot in the Australian gaming market lies in the 6,000 pokies (gaming machines) clubs spread across the six states. They account for >60% of the country's total gaming revenues (estimation total market size is 60,000 machines, around 10 units per pokies club). Paradise has also recently announced the strategic alliance with Ainsworth for the exclusive distribution rights for the machines in New South Wales.



See also:

DBS Vickers: 'Buy' PARADISE ENTERTAINMENT, 62% Upside
PARADISE ENTERTAINMENT Expects 'Remarkable Business Growth' In Gaming