CHINA IS undergoing a massive National Grid project to power the country's homes and industries, a development that Jiangnan Group Ltd (HK: 1366), a major supplier of high-tension wire and cable products, is stepping up to contribute to, management told investors.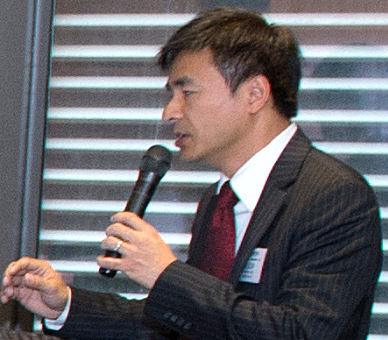 Jiangnan CFO Joseph Chan speaking with investors in Shenzhen. Photo: Aries ConsultingJiangnan CFO Mr. Joseph Chan said: "Our super high-tension cable project is underway and since October 2013 has already been winning orders from National Grid clients.

"And in the month prior, we inked a 313 million yuan supply deal which includes 25.3 million in high-tension power cables and 80.8 million in multi-function cables."

He was speaking to investors on January 10 in Shenzhen at the Aries Consulting-organized "3rd Scaling New Heights – Asia Investment Forum 2014."
Billion Yuan in Recent Deals

Jiangnan is one of the PRC's top manufacturers of wires and cables for power transmission, distribution systems and electrical equipment, and management is keen to see the firm become No.1 in the sector in China.

On November 25, 2013, Jiangnan announced newly-awarded contracts for the Ultra High Voltage Power Cable from the State Grid Corporation of China in Nanjing, Xuzhou, Nanchang and Baofeng totaling 91 million yuan, while also winning tenders in Jiangsu Province worth nearly 50 million.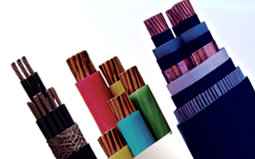 Jiangnan is one of the largest manufacturers of wires and cables for power transmission, distribution systems and electrical equipment in China. Photo: CompanyJiangnan Chairman and CEO Mr. Rui Fubin said at the time of the orders announcement: "Starting from September 2013, Jiangnan Group has won contract tenders worth over one billion yuan, and as a result, we are planning to increase three ultra-high voltage power cable production lines in 2014 in order to meet the large volume of order demand and decrease costs.

"Under the increasing demand for cables from national grid system development and with the growing brand awareness of our products in overseas regions, we are confident of becoming the leading power cables manufacturer in China."

The geographic and functional diversity of Jiangnan's customers and products is evident in the fact that the most recent orders saw cooperating partners from Xiamen, Shandong, Qingdao, Tibet, Sichuan, Hebei and Guangxi, with new contracts for subways in Dalian and Wuxi as well.

Jiangnan's wide spectrum of wares are widely used in the power generation sector and in general industries including metals and mining, oil and gas, transportation, shipbuilding and construction.

Jiangnan's products feature different characteristics to meet customer needs including low smoke, zero halogen, water and heat resistant, flame retardant and pest proof features that keep gnawing pests like rodents and termites at bay.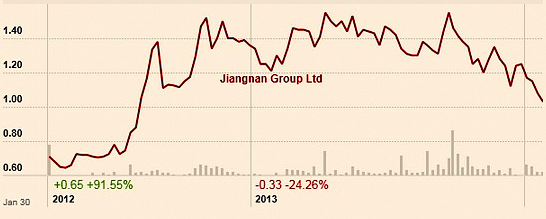 Jiangnan stock declined following a fall in 1H2013 profit. The stock (recently at HK$1.03) trades at a trailing PE of 6.50, translating into a market cap of HK$6.5 billion. Chart: FT.com

Grid-Powered Sales



Based in Yixing, Jiangsu Province, Jiangnan Group saw its most recent interim results impacted by copper and aluminum price volatility – two key raw materials used in the production of its cables and wires (see table).

But looking forward, especially in light of a recent influx of orders, the Hong Kong-listed firm expected stronger growth going forward – especially from China's fast growing National Grid.

"As the top domestic manufacturer of super high-tension power cables capable of transmitting up to 1,000 kV – and with 1,000 square meters of raw wire production space – Jiangnan enjoys an unassailable market position in the PRC.

"We have already successfully supplied the first super high-tension 800 kV power cables between Yunnan and Guangdong Provinces and have won many awards and certificates in the industry," Mr. Chan said.

And it wasn't just electricity from coal-fired plants that were transmitted through Jiangnan's cables and wires, but "green" electricity as well as Jiangnan also supplied cables used by solar and wind power producers, as well as selling optical fiber composite cables and aluminum-alloy cables.
He said the firm's competitive manufacturing costs and market-oriented output means even more orders in the future to help electrify the country.

"Our cost-effective production methods allow us to offer competitive prices to our clientele.

"We believe our 1,000 kV and 220-500 kV cables are well poised to meet growing market demand."

But the firm was not wedded to the China market, and has won export tenders from three markets worth 364 million yuan in the first week of September alone, which equaled 17% of the total top line for the January-June half.

The tenders include the supply of power cable to Power Works Pte Ltd of Singapore, aluminum conductor steel-reinforced cable to National Power Transmission Corp under Vietnam Electricity and all aluminum alloy conductors to Ethiopian Electric Power.

In fact, Jiangnan's products have been exported to more than 50 countries.

It is a qualified supplier of Eskom Holding Ltd, which is a state-owned power generation and transmission company in South Africa -- a fast growing market for power cables.

Jiangnan began supplying to Eskom in 2007 and is one of only a few PRC-based firms that received certification from the South Africa Bureau of Standard (SABS) to supply power grid wires and cables to South Africa.

See also:

JIANGNAN Lands Major Orders

View this TV programme highlighting the Aries Consulting conference -- with interviews of fund managers and corporate honchos!