MING FAI appeals trademark case
Ming Fai International (HK: 3828) has filed an appeal on behalf of three subsidiaries sued by a competitor in Fujian Province for alleged trademark infringements. The plaintiff originally sought compensation of 100 million yuan in 2012, but a provincial court recently awarded it 30 million yuan.
Ming Fai
decided to file the appeal with the Supreme People's Court of the PRC, and "will take necessary actions to protect its interests," the company said on its website.
On January 3, 2014 Ming Fai received the judgment made by the Higher People's Court of Fujian Province which stated that:

(1) the defendants (Mingfai's three subsidiaries) shall stop infringing the trademarks;
(2)
廣州七色花投資顧問有限公司
shall change its company name within one month of the judgment and its new company name shall not contain the words "
七色花
"; and
(3) the defendants shall pay the plaintiff a total of 30 million yuan in damages.

As advised by their PRC legal counsel, the defendants have strong ground, petition, evidence and legal basis to appeal, Ming Fai said.

Upon commencing the appeal proceedings by the defendants, the judgment will cease to be legally binding on the defendants until the judgment of the Supreme People's Court of the PRC.

Ming Fai is a leading global supplier to the hospitality, airline, travel and skin care industries. In November 2007, Ming Fai successfully listed on the main board of the Hong Kong Stock Exchange, becoming the first China-based hotel amenities supplier to go public. Ming Fai stepped into the cosmetics market in the PRC, launching a professional skin care brand "everyBody Labo" in December 2009. The brand now sells in Harvey Nichols and Mannings shops across Hong Kong, and is actively seeking expansion in the PRC market. In August 2010, Ming Fai successfully entered the domestic retail market with the acquisition of retail-chain brand "7Magic." Ming Fai was awarded "Best Eco-Friendly Hotel Supplier of the Year" and "Most Outstanding Contribution Award of Low-Carbon Supplier" in 2010, and was ranked on the annual list of China's Greatest Potential Enterprises by Forbes in 2008, as well as being named as a China Hotel Industry Top 100 supplier.


---

SHENZHEN INVESTMENT hives off non-core business

Shenzhen Investment Ltd (HK: 604) has sold an 80% stake in Shum Yip Shumkang to Shum Yip Group for 340 million yuan, with pretax profit for the transaction expected to be 160 million.



Shenzhen Investment's recent Hong Kong share performance. Source: Yahoo Finance

The property play plans to continue to focus on real estate development in South China, particularly in Shenzhen.

Shenzhen Investment, listed on Hong Kong's main board since 1997, enjoys a strong market position in its home city with its controlling shareholder being the Shenzhen Municipal Government.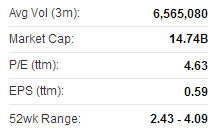 SZ Investment recently 2.74 hkdThe developer has a total land bank of over 10 million sq m (GFA) in various cities in the PRC.

Shenzhen Investment focuses on investing, developing and managing mid-to-high end properties, with 1.6 mln sq m under construction.

Last month Shenzhen Investment established a JV with Shenzhen Metro Co Ltd (SZMC) to participate in the development of a parcel of land beside a downtown subway station in Shenzhen.

Shenzhen Investment signed the contract with SZMC to acquire a 50% stake in the metro property for 1.21 billion yuan.

The project has a land area of 43,584 sq m and GFA of 261,510 sq m.


---

See also:

MING FAI Interim Profit 45.8 Mln Hkd

SZ Investment Inks Metro JV