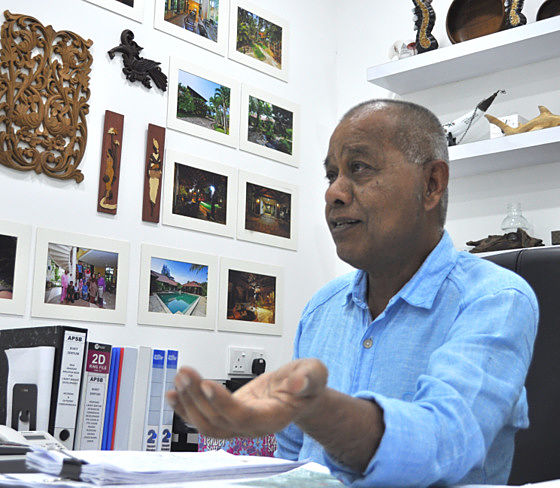 Dato' Zamani Kasim, MD & CEO of Astaka Padu: Taking pride of place in his office in Johor are photos of his family-owned 8-room resort in Kedah which he built over 13 years. Check out Zamani's Place! Photo by Leong Chan Teik


»THE Reverse Takeover:First, there was Westminster Travel. It sold its travel business early this year and became a cash company with a new name -- E2-Capital Holdings.

Then on Sept 17 this year, E2-Capital announced that it would be reverse taken over by a Johor property developer, Astaka Padu, which owns two plots of land in Johor Bahru and is in the process of acquiring an adjacent plot too.

The news sparked a rally in the share price of E2-Capital. Upon the RTO, shareholders of Astaka Padu Limited will be paid in new E2-Capital shares for a total consideration of S$428 million.

The deal is expected to be completed in 1H2015.

» The inspiration: Incorporated in 1993 as a family business, Astaka Padu was dormant until 2005 when it began to acquire freehold land land in Johor Bahru from the state government.

In 2006, Malaysia launched its Iskandar Malaysia vision. Khazanah, the government investment arm, invested heavily in infrastructure and in various mega projects, boosting market confidence and acceptance, noted Dato' Zamani.

With the pick-up, Astaka Padu upped significantly its ambitions for its land on Jalan Tebrau in Johor Bahru city, just 800m, or a mere two minutes' drive, from the Sultan Iskandar Customs, Immigration and Quarantine Complex.

Recalls Dato' Zamani: "I was shown a proposal and I thought -- this is a goldmine because of the location. I came on board Astaka Padu as the CEO in 2012, and decided we should go back to the drawing board."

It was not just about a grander scale: "We wanted to create differentiation."

Citing the acumen and boldness of his chairman Dato' Daing Malek, Dato' Zamani said they envisioned only large apartment units being built in two residential towers. One of these towers would have the distinction of being the tallest (70 storeys) residential building in Malaysia and Singapore.

"Condos are usually 35, 40, 45 storeys high. To build higher, there is higher incremental cost of construction, and we have to meet the fire safety requirement of lifts that will take no more than one minute to travel from the top to the bottom. There are other challenges but all these can be done," said Dato' Zamani.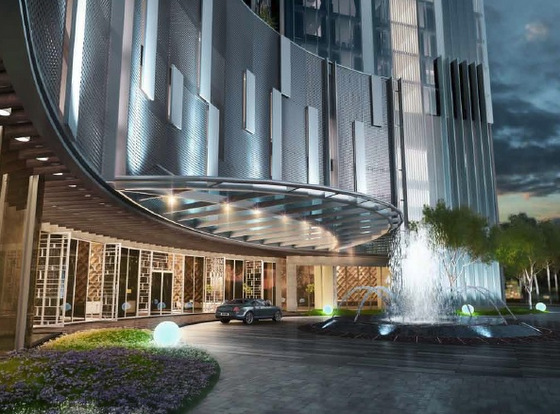 The Astaka @ Bukit Senyum offers 3-bedroom units (2,207 sq ft and 2,217 sq ft) and 4-bedroom units (2,659 sq ft) -- and duplex penthouses (5,408 sqft). Artist's impression.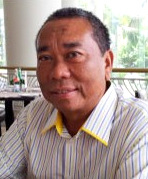 Dato' Malek owns 83.34% of Astaka Padu currently.» The leaders: Over a career spanning 35 years, Dato' Zamani, 60, has led many significant property development projects in Malaysia, including Sebana Cove Resort, Puteri Harbour, and The Royale Bintang Resort & Spa Seremban (formerly known as Hilton Seremban)

These range from landed properties to industrial buildings, to hotels, resorts and condominiums.

He joined Astaka Padu from UEM Land.

His chairman is Dato' Malek who, among other things, is a member of the royal court -- an advisory committee -- of the Sultan of Johor.

Dato' Malek has more than 30 years of experience in property development and construction-related fields including property valuation, reclamation works and port management.

» The progress: The Astaka project got off to a quick start. "We got the consultants on board in June 2012 and by July 2013 we had awarded the contract for the sub-structure," said Dato' Zamani.

The sub-structure -- including basements 3, 2 and 1 -- was completed on schedule, in early Dec this year, by Penta-Ocean, the Japanese contractor whose construction track record includes Vivo City and Ion Orchard.

Astaka Padu is now set to award the contract for the super-structure.

The Astaka, a 438-unit project with psf prices ranging from RM900 to RM1,300, was launched for sale in 2013, a boom year for the market in Johor.

Some 60% of the units in the two residential towers have been sold with a quarter of the buyers paying cash (ie, not taking up loans), said Dato' Zamani.

Singaporeans form about 55% of the buyers. Other buyers are from Indonesia (17%), Malaysia (14%), India (7%) and China (5%).

The target delivery date of the condos is Feb 2018.

» Future phase: Besides the two condo towers, the land site adjacent to the condos will be developed in phases stretching to 2020 comprising commercial and office towers, SOHOs, a retail mall, a hotel and serviced apartments. Astaka Padu will seek to partner with reputable developers to proceed with this.

» Slowdown in market: Dato' Zamani acknowledged that the property market this year is not as buoyant as in 2013, mainly due to government policies such as the doubling of the minimum purchase price of properties sold to foreign buyers to RM 1 million. He, however, is confident that favourable policies would be introduced to encourage foreign buyers to invest in Johor properties.