'SG Investor' contributed this article to NextInsight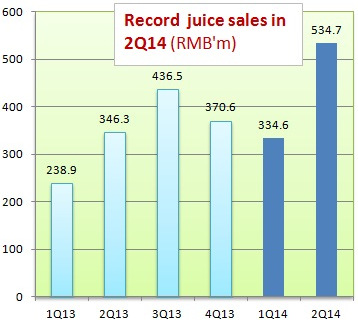 Seasonality plays a part in Garden Fresh's beverage sales, with 3Q being the best-selling period. Will 3Q2104 see another record? Data: Sino Grandness.SINO GRANDNESS has reported a 2Q profit of RMB 161m, which is 57% higher than the RMB 103m for the corresponding period last year.
The performance was boosted by its beverage segment whose quarterly sales revenue hit an all-time high of RMB 534.7m, way surpassing the previous peak of RMB 436.5m recorded in 3Q 2013.

This performance is excellent.

It was largely the result of favourable response to Garden Fresh juices from distributors who visited the Chengdu Trade Exhibition in March 2014, according to the management.
Another highlight of Sino-Grandness' results briefing last Friday (13 Aug) after the release of its 2Q financial results was an update from the management regarding the proposed spin-off of Garden Fresh.

Management revealed that as part of the preparatory work for Garden Fresh's proposed spin-off on an international stock exchange, research company Frost & Sullivan has estimated that the value of the retail market for loquat juice in China totalled RMB 2,481m in 2013.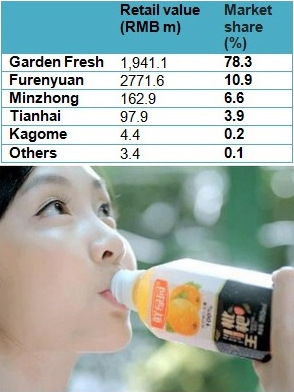 Data: Frost & Sullivan. As the first mover in the loquat juice market, Garden Fresh has streaked ahead and entrenched itself as the No.1 player (see table on the right).
The management also shared that in retail outlets, Garden Fresh juices sell for roughly twice the ex-factory price.

And Sino Grandness has previously indicated that of the RMB 1,392m worth of juices it sold in 2013, loquat made up 70%.
In other words, it sold RMB 974m (1,392 x 0.7) worth of loquat juice which were retailed for RMB 1,948m (974 x 2).
The figures appear to be corrobated by Frost & Sullivan, which has just estimated that Garden Fresh's loquat juice had retail value of RM1,941 m in 2013.

Yes, the two figures in bold are uncannily close. However, this is likely to be a coincidence.

Since 2X is actually a rough estimate, the two figures would vary by 10% from each other if a 1.8X factor or 2.2X were used instead.

By Frost & Sullivan's estimate, Garden Fresh has an overwhelming 78.3% market share, far ahead of the No.2 player, Furenyuan, which Frost & Sullivan determined had 10.9% market share.

Recent story: SINO GRANDNESS -- $1.02 target, DMX -- 23 cents fair value