Excerpts from analysts' reports
CIMB expects "explosive FY15 and FY16 earnings growth" from Swissco
Analysts:
Lim Siew Khee & Yeo

Zhi Bi
n

▊ The acquisition of Scott and English (S&E) by Swissco is in fact an injection of assets by owner Kim Seng Holdings (KSH) into Swissco. The new entity allows KSH to tap on public markets as a source of funding to scale up rig count. We expect aggressive expansion from the combined entity: the true story of Swissco could well lie beyond FY15.

Our target price of S$1.44 is based on 9x FY16 P/E, a 29% premium over the P/E of Singapore OSV owners. We derive our FY16 EPS by factoring in a likely expansion of eleven rigs (four from JV, seven 100%-owned) by FY16, based on US$60m capex and US$8m profit per rig. That said, we think that some fundraising is needed to ensure an ample cash balance. We initiate coverage with an Add call.
Explosive FY15 and FY16 earnings growth
We think that Swissco could experience a 2.6x increase of its FY13 pro-forma consolidated core net profit level to S$107.5m by FY16, aided by an expected rise in profit contribution equivalent to additional 6 full rigs. Core EPS should hit 16.0 Scts after factoring in interest cost. We expect Swissco to pursue new rig contracts aggressively through a mix of joint venture partnership and rig acquisition.

Emulating Ezion
With the addition of S&E, Swissco's service offerings are similar to Ezion's (EZI SP, Add, TP S$2.41), though with a lower base. Apart from providing vessel services to O&G companies, Swissco inherited and operates four service rigs via a 50:50 JV with Ezion, backed by long-term bare boats charters of 4-7 years from 2013 onwards. Given KSH's network and expertise, Swissco could follow Ezion's growth trajectory, and this stock could appeal to investors who have missed Ezion's rally.

Management: the silver bullet
KSH has what it takes to pull off an aggressive expansion. KSH's owner, Mr Tan Kim Seng, was previously the founder of KS Energy. Being in the business since 1974, he offers a strong network in securing contracts for his rigs as well as the financial knowhow to fund the expansion. His abilities are backed by good track records: KS Energy had multiple contracts under his charge while S&E was able to secure four contracts more recently. Mr Tan's familiarity with the business should also remove any doubts over his technical prowess.
Recent story: TREK 2000 in US$25m Rely/Mattel deal; SWISSCO M&A with rig owner
---

UOB Kay Hian says: "Watch out for special dividend from Crowne Plaza divestment"

(OUE SP/BUY/S$2.37/Target: S$2.80)
FY14F PE (x): 50.5
FY15F PE (x): 26.3

Analyst: Vikrant Pandey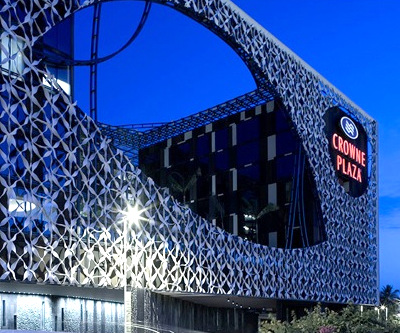 OUE is looking to divest Crowne Plaza Changi which it acquired in 2011 for S$299.5 million. Photo: CompanyOverseas Union Enterprise (OUE) reported a 2Q14 PATMI of S$4.4m, down 70% yoy, while revenue declined 11% yoy to S$100.2m.

The results are below our expectations mainly due to lacklustre sales at the Twin Peaks project and lower contribution from Mandarin Gallery and Mandarin Orchard post the deconsolidation of OUE Hospitality Trust.

There were positive contributions from US Bank Tower and Lippo Plaza acquisitions. The group completed the refurbishment of One Raffles Place shopping mall and paid down S$385m in debt during the quarter.

The group declared an interim dividend of 1 S cent/share.

Maintain BUY with an unchanged target price of S$2.80, pegged at a 30% discount to our reduced RNAV of S$4.01/ share (from S$4.02). OUE is trading at a deep 44% discount to its RNAV.

• Watch out for the Crowne Plaza divestment. Crowne Plaza Changi Airport registered a healthy occupancy of 90% and a RevPAR of S$232 up 0.8% yoy, bucking the industry trend. While the asset enhancement of an additional 243 rooms is expected to be completed by 2H15, management is keen to divest as early as possible, citing that interest rate rise later could mean less favourable valuations.

Look out for a special dividend from the divestment of Crowne Plaza hotel (potentially over 10 S cents/share).

Full UOB Kay Hian report here.

Recent story: OUE -- Creating significant value; MENCAST -- On track for $50m goal